Arrest warrant against Indian cricketer Mohammed Shami in dometic violence case
Mohammed Shami has been asked to surrender in 15 days and apply for bail. If he fails to do that, Shami will be arrested.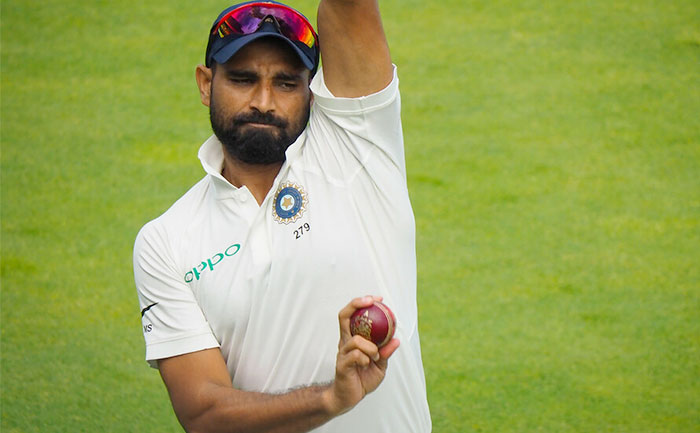 India's right-arm fast bowler Mohammed Shami seems to be landed in trouble again as an arrest warrant has been issued against him. According to the India Today report, Mohammed Shami has been asked to surrender himself in next 15 days and apply for bail. Notably, an arrest warrant issued against Shami months after his wife Hasin Jahan accused him and his brother of domestic violence. Both the brothers have been booked under the IPC Section 498A.
Post Hasin Jahan made allegations against Shami last year, he could not appear in the court. Soon after she went public with allegations, both husband and wife involved in war of words on social media.
During their social media tiff, Shami had made it clear that he is ready to face whatever life offers him and won't be bothered about anything else than cricket. He also stated that he is not bothered about this kind of allegations made on him, won't let such allegation affect him.
Mohammed Shami is currently playing the second and final Test against the West Indies. The right-arm pace played a crucial role in the 2019 Cricket World Cup. Notably, Shami has 131 wickets from 70 ODIs and recently achieved yet another milestone of taking 150 wickets in his 42nd Test match.
In an interview with Indian Today, Mohammed Shami has said, "I hope everything remains fine. Whatever is the outcome, I am ready to face it. Cricket life mein hai to sab kuch hai (cricket remains everything in life). That is the only thing I am bothered about. I don't care about the allegations or what will happen eventually. Right now, I am not thinking even zero percent about it. I won't let it affect me."
Mohammed Shami and Hasin Jahan tied the knot ion 6th June 2014. The couple was blessed with a beautiful girl, Airah Shami in July 2015. Everything in their married life was fine until Shami returned from South Africa tour earlier last year. Things took an ugly turn when Jahan decided to come out to the media and speak about domestic violence that the cricketer was subjecting her to.
Also Read: Mohammed Shami's wife, Hasin Jahan Arrested For Creating Rukus At Shami's House