Arsenal's Sead Kolasinac, Mesut Ozil Fight Off Knife-Wielding Attackers
Sead Kolasinac and Mesut Ozil fought off knife-wielding carjackers in London, watch video here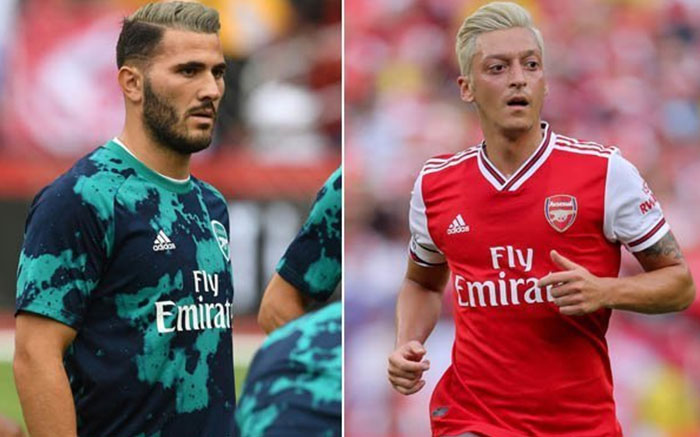 Arsenal footballers Mesut Ozil and Sead Kolasinac were caught on camera fighting knife wielding attacker in London. The duo escaped unhurt after an attempted carjacking by the attackers in North London. The terrifying ordeal is captured on video and circulated on social media.
Check out the video here:
Get yourself a friend that fights for you the way Sead Kolasinac fights and defends Mesut Ozil.
Give this guy a medal! ??? pic.twitter.com/jzWSSuWMPA

— ThatNaijaYarn (@Thatnaijayarn) July 25, 2019
The footage shows Kolasinac, who plays internationally for Bosnia and Herzegovina, confronting the masked aggressors as one of them brandishes a knife.
Ozil is shown in a photograph talking to police outside a Turkish restaurant. The paper said waiters and chefs had rushed to the players' aid.
The Daily Mail website reported The two players were driving along Golders Green district of London on Thursday evening. As Ozil's black Mercedes came to a stop the car was boxed in by motorbike riders wearing helmets. The robbers attempted to smash the windows with stones and a brick they had kept in a rucksack.
As reported by a source to Daily Mail, "Ozil looked absolutely terrified, as anybody would after being chased by men with knives. He looked like he was running for his life. And I suppose he was."
Arsenal said both players were fine and the incident is being treated as a "private matter".
Kolasinac and Ozil are not the first footballers to be targeted on London's streets. In 2016, Andy Carroll, a former West Ham player, was threatened at gunpoint on his way home from training.
Also Read: Premier League: Roberto Firmino score a hat-trick as Liverpool hammer Arsenal