Ayushmann Khurana's Article 15 Banned in Uttarakhand For THIS Reason
The screening of Article 15 is banned in Uttarakhand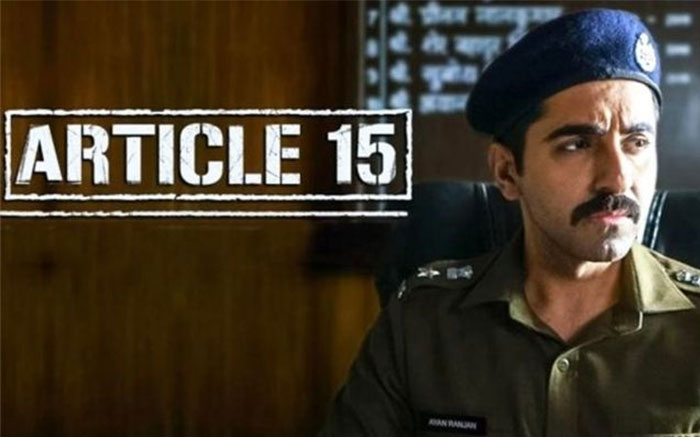 After Padmaavat and Kedarnath, yet another Bollywood film titled Article 15 has been banned in Uttarakhand. Ayushmann Khurana starrer Article 15 has received excellent reviews from both critics and audience alike and doing well at the box office. Apart from Uttarakhand, Article 15 had to face the heat from some organisations in Kanpur and Uttar Pradesh as well.
Directed by Anubhav Sinha features Ayushmann Khurana as an honest IPS officer named Ayan Ranjan, who investigates the matter deeply and vows to put the culprit behind the bars. Notably, the story of the film revolves around the investigations of three girls who go missing from a small village.
The film is basically based on Article 15 of the Indian Constitution, prohibiting discrimination on grounds of religion, race, caste, sex or place of birth. The film is inspired by multiple true life events including 2014 Badaun gang-rape allegations and 2016 Una flogging incident.
There are cities in Uttarakhand when people belonging to the Brahmin community staged protests against the screening of Ayushmann Khurana starrer, Article 15. Citing Law and Order disruption in many cities, Hindu Sena urged police to ban the film. 
The Sub Divisional Magistrate (SDM) mentioned to Bombay Times that the representatives of Hindu Sena met him and expressed their concerns that the film shows a community in a negative light. 
The SDM of Roorkee told Bombay Times, "Representatives of Hindu Sena met me on Friday and expressed their concerns that the film, Article 15, portrays a particular community in a poor light. They demanded a ban on the screening. My view was that if the film is screened in the city, it could lead to law and order issues."
Following their demands, the orders were issued to RR Cinema to cancel Article 15 shows in the city.
A theatre employee told the publication, "We don't want to invite any trouble, particularly because the SDM's order states that we will be held responsible if something untoward happens."
Also Read: Article 15 Movie Review: Ayushmann Khurrana Delivers Strong Message With Brutal Honesty