Article 15 Movie Review: Ayushmann Khurrana delivers strong message with brutal honesty
Looking for how much stars Ayushmann Khurana's Article 15 has received, check out Article 15 movie review here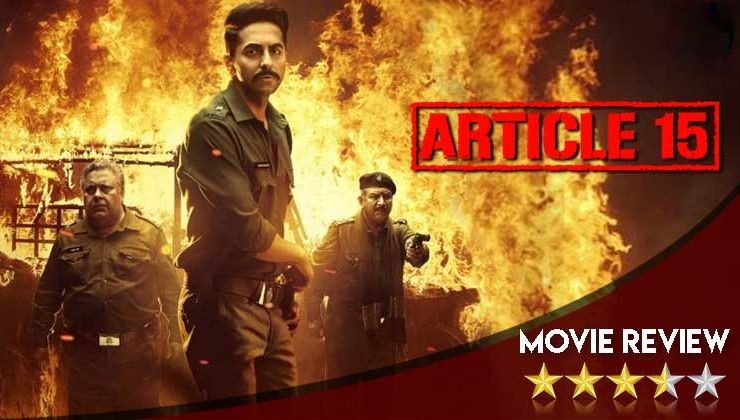 Article 15 Movie Director:  Anubhav Sinha
Article 15 Movie Producer:  Anubhav Sinha
Article 15 Movie Duration:  2 hours 20 minutes
Article 15 Cast: Ayushmann Khurrana, Isha Talwar, Sayani Gupta, Kumud Mishra, Manoj Pahwa
The film is once again a fabulous performance by Ayushmann Khurrana. He has over and over shown it to the world that he is a versatile actor. This film also shows of Anubhav Sinha's mettle as an excellent director.
While we are residing in the comforts of our own worlds in the cities away from the major discriminations happening, India still resides in the darkness. People are beaten up, killed, raped and kidnapped in the name of gender, religion, caste, creed and race in this nation whose constitution boasts of Unity in Diversity, Secularism, sovereignism and equality. Article 15 makes an apt name for the film.
Ayushmann Khurrana's character is Ayan, an IPS Officer. He is very honest with his job. he does not understand why justice given to people should vary with their status in society. He wants justice for all the crimes committed must be given to all the victims and their kins. In spite of this police officer being a filmy character, he lacks filmy elements but has imbibed every element of a realistic cop of that level and that what makes it believable for all the viewers.
The film shows off every element in the form of brutal honesty. The murders are shown as they are rather than any form of filmy glamorization. The scene of the crime was based on the Baduan rape incident of Uttar Pradesh. All the important factors which give us the feel of the crimes taking in that north Indian state were shown in the film.
Apart from all the perfections, there were minor flaws like a long storyline which cuts slack on certain moments. Overall the movie ensures to deliver a very powerful message.
Final verdict for the film is that it is a must watch. Also, one may not even need popcorn while watching the film. It has got enough thrill and suspense to keep you on the edge of your seat. so gear up for an undisturbed watch of 'article 15'.
Also read: Article 15 Trailer: Ayushmann Khurrana Squashes Caste Based Bickering
Watch Trailer here.