Centre Scraps Article 370 from Jammu & Kashmir: Amit Shah in RS
Article 370 to be scraped from Jammu & Kashmir, Amit Shah told in Parliament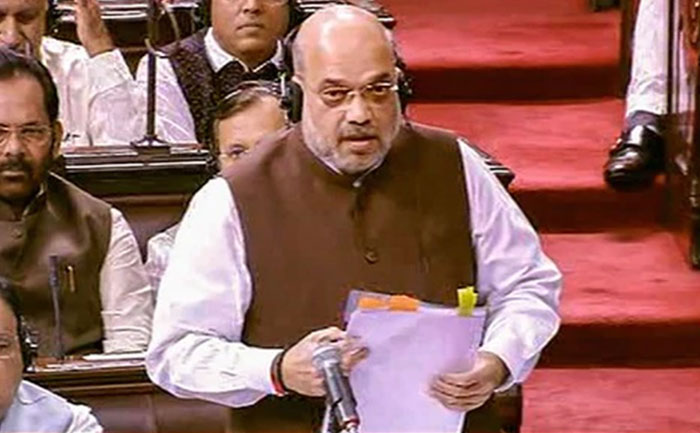 Days after Government of Jammu & Kashmir requested all Amarnath Yatra pilgrims to curtail their trip and leave Valley as soon as possible, there are reports doing the rounds that Bharatiya Janata Party (BJP) government has scrapped Article 370, which gives special privileges to Jammu & Kashmir.
The announcement of scrapping Article 370 was made by Home Minister Amit Shah in the Parliament today. Notably, the development comes a time when people of Jammu & Kashmir are in fear due to the recent terror threat. The government has taken the historic decision after deploying a massive army in J&K in order to prevent any untoward incidents.
Ahead of the big announcement, former Chief Minister Mehbooba Mufti and Omar Abdullah have been kept in house arrest since midnight. Prime Minister Narendra Modi led-BJP government had promised to scrape Article 370, which gives Jammu & Kashmir special privileges in public sector jobs, on buying property in the state, scholarships and other public aid and welfare.
The government has imposed Article 144 in the state while mobile internet and landline phones have been blocked in several places.
Ahead of Cabinet meeting, PM Modi and Home Minister Amit Shah reportedly met for an hour today. The meeting was attended by PM Modi, the Home Minister, Defence Minister Rajnath Singh, External Affairs Minister S Jaishankar and Finance Minister Nirmala Sitharaman.
The announcement of requesting Amarnath Yatra to leave the valley had spiked fears among the residents of Jammu & Kashmir and the politicians of the state predicted that the government is planning to modify special status granted to the state under the constitution through Article 35A and Article 370. Notably, the BJP party included this in its recently concluded election's manifesto.
Yesterday, all major political parties in J&K had a meeting at Farooq Abdullah, National Conference chief's home to discuss the centre's actions in the Valley and their fear that they may be part of a larger effort to repeal the state's special status.
Hours after his house arrest, Omar Abdullah took to Twitter and wrote: "I believe I'm being placed under house arrest from midnight tonight and the process has already started for other mainstream leaders. No way of knowing if this is true but if it is then I'll see all of you on the other side of whatever is in store. Allah save us."
Also Read: Kashmir Crisis: Home Minister Amit Shah To Introduce J&K Reservation Bill