Telangana Assembly elections: Will Amit Shah change his Persian surname, asks Asaddudin Owaisi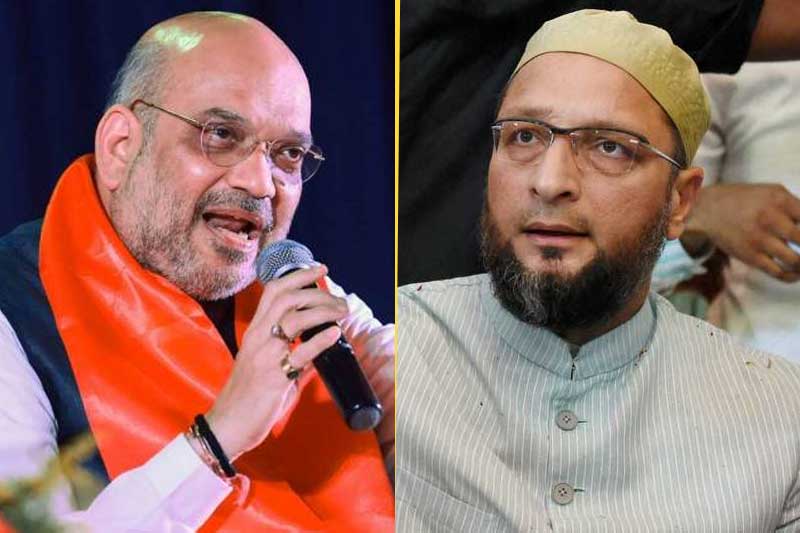 The Bharatiya Janata Party is on mode to change the name of the places. With elections in mind, AIMIM chief Asaduddin Owaisi attacked the saffron front. He was of the opinion that the BJP supremo has a Persian word in his surname and asked if it would be changed.
Addressing an election campaign in Hyderabad on Sunday, Owaisi took on Shah and BJP on the 'name-changing spree'. He said, "Shah is a Persian word…will they change it or not… don't know."
As per to the reports, the Bharatiya Janata Party-led Central government has given consent to the renaming of at least 25 towns and villages across India in the past one year. Latest addition to the list were Allahabad and Faizabad in BJP-ruled Uttar Pradesh, while there were few more suggestions being made my BJP lawmakers to change names of cities.
In Himachal Pradesh, the government wants Shimla to be changed to Shyamla; while in Gujarat Ahmadabad might be changed to Karnavati. Lawmaker Sangeet Som has sought Muzaffarnagar in Uttar Pradesh to be changed to Laxmi Nagar, while MLA has sought Hyderabad to be changed as Bhagyanagar.
Attacking the BJP on other issues, Owaisi took on the election manifesto of the saffron front in which they have promised to distribute one lakh cows free of cost every year. Owaisi asked, "They have to give and it is my responsibility. Indeed, I will respect it. But first tell me, will you give me a cow or not?" further asking whether 16 kg of fodder per day would be provided with that.
Accusing the BJP, the AIMIM chief stated that the central party is trying to spread hatred and Majlis-e-Ittehadul Muslimeen (MIM) will expose it. He claimed that, he would wipe out BJP and Congress from Telangana. The Assembly elections in the state will take place on December 7 and the results will be announced on December 11.
ALSO READ: After Giriraj Singh's warning, Owaisi dares PM Modi-led govt to bring ordinance on Ram Temple