Asaduddin Owaisi Challenges Rahul Gandhi to contest from Hyderabad, Congress hits back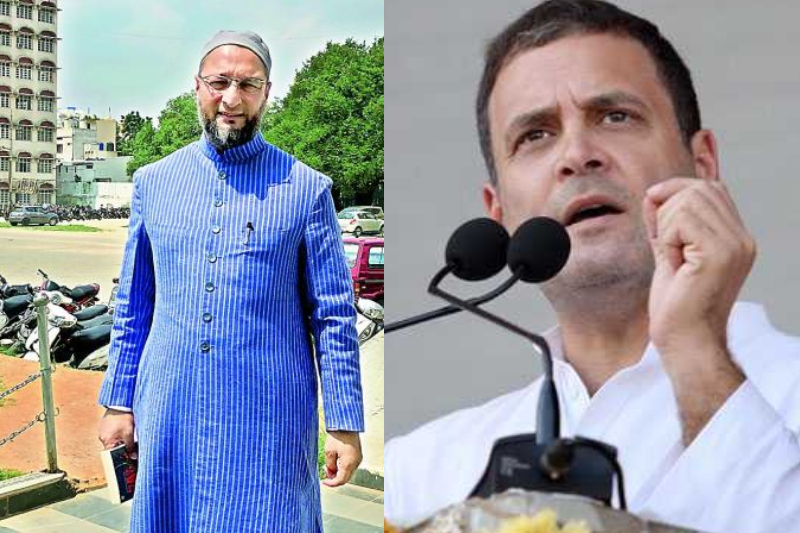 All India Majlis-e-Ittehadul Muslimeen (AIMIM) Chief Assaduddin Owaisi has challenged Congress president Rahul Gandhi to contest from Hyderabad in the 2019 elections. Owaisi humbly requested both Chiefs Rahul Gandhi and Amit Shah to contest 2019 election from Hyderabad.
Interacting with journalists about an editorial of Shiv Sena's mouthpiece Saamna that questioned if he was an Indian, and Mr Gandhi's visit to Charminar. Owaisi said, "I am sure that when he sees this great, historical and beautiful monument of Charminar which belongs to the culture of my ancestors, I can only tell Mr Gandhi that 10 days ago Mr Amit Shah visited my constituency and said that they will ensure that Hyderabad will be Owaisi and Majlis Mukt Hyderabad."
Mr Owaisi said, "I am humbly requesting both party chiefs to contest against me and the people of Hyderabad will give them a befitting reply."
Responding to Sena's mouthpiece asking him to return to Afghanistan and claiming his ancestors were the descendants of the Mughal emperor Babar. Owaisi said his ancestors were from India and he is an Indian. "Wherever you go, you will find Muslim graveyards, those graveyards are a sign of my loyalty to this great country."
When asked about to begin the construction of Ram temple Owaisi said, "We will see how you will do it. I challenge them."
In a counter-challenge to Owaisi, AICC secretary and Telangana Congress Affairs in-charge Bose Raju has asked Asaduddin Owaisi to contest from the Rae Bareli Lok Sabha Constituency in Uttar Pradesh.
Reacting to Owaisi's challenge to Rahul Gandhi to contest from the Hyderabad Lok Sabha constituency, Bose Raju quoted by Deccan Chronicle as saying, "Rahul Gandhi is a national leader, he can contest from anywhere in the country. However, who is Owaisi to decide where Rahul Gandhi should contest from."
Speaking to the reporters on Saturday, Mr Bose Raju said that Rahul Gandhi is likely to visit Telangana again on October 27, the TPCC will decide where Rahul Gandhi's meetings should be held.
Also read: General elections 2019: BJP to field 'Son of the Soil' against Asaduddin Owaisi