Asian Champions Trophy: India extend winning streak to three matches with 9-0 thrashing of Japan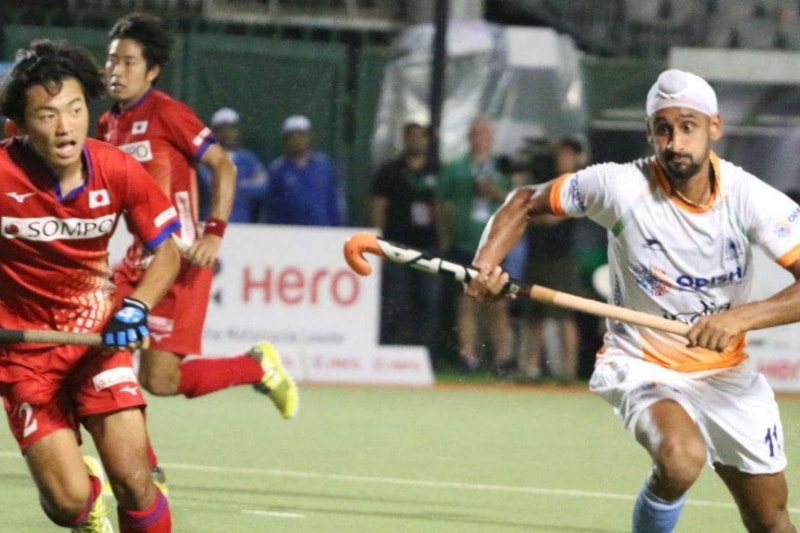 After a stunning comeback win against arch-rivals Pakistan a day ago, defending champion India once again turned on the style with an emphatic 9-0 thrashing of Asiad gold medallists Japan in Muscat on Monday.
This win was India's third in as many games. The Asiad bronze medallists saw a total of six different goal-scorers on the night as they now top the table with nine points. Malayasia follow at the second place six points from two matches.
Lalit Upadhyay scored the first goal in the fourth minute and again scored in the 45th whereas Harmanpreet Singh also netted a brace, striking in the 17th and 21st minutes.
Also read: Asian Champions Trophy: India register stunning comeback win over arch-rivals Pakistan
In the last quarter, Mandeep Singh, who had scored against Pakistan the other day got two good chances to go through the Japanese defence in the last quarter and made use of them, finding the net in the 49th and 57th minutes.
Akashdeep Singh and Sumit were the other goal-scorers in the 36th and 42nd minutes respectively.
Japan was dealt with a huge blow when their goalie Takashi Yoshikawa was injured while attempting to block a penalty corner from Harmanpreet as the ball hit Gurjant on the rebound as he slotted it in. Yusuke Takano replaced Yoshikawa in the Japanese goal.
Praising his team's dominant show, coach Harendra Singh lauded the performance and said that it all went according to plan.
""The way we played was good. We played to a plan and did not allow Japan's team to play in a certain manner," he said.