Canada: Triple earthquakes shake Vancouver Island, no injuries reported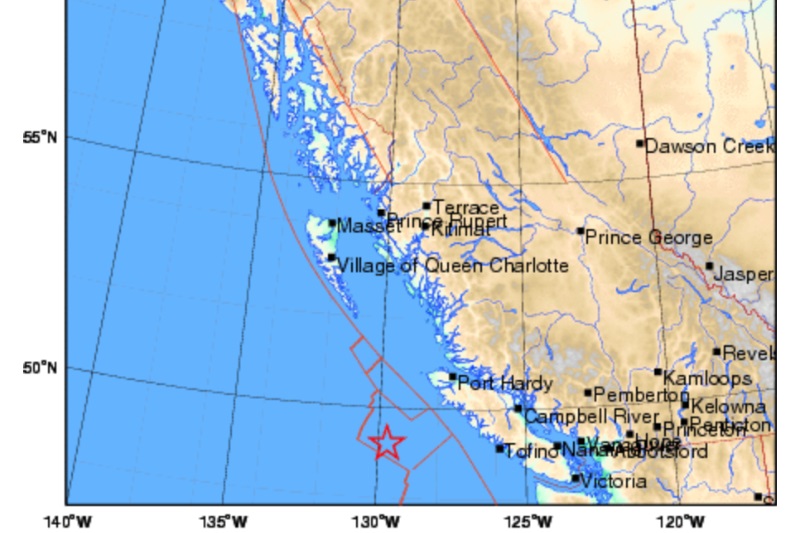 Three earthquakes shook Vancouver Island on Sunday night. The magnitude of the earthquake were measured between 6.5 and 6.8 and the epicenter is believed to be 200 kilometres from the Vancouver Island community of Port Alice. Though no  casualty have been reported as of yet, people living in the vicinity are terrified.
As per the reports of Global News, the first earthquake — measuring 6.5-magnitude — hit at 10:39 pm, second — measuring 6.8-magnitude — hit at 11:16 pm, while the last one of 6.5-magnitude on Richter scale took place at 11:22 pm. The details were shared by Natural Resources Canada (NRC).
The NRC stated that the earthquake took place at 208 kilometres west-southwest of Port Alice and 478 kilometres west of Vancouver. Also, it happened at a depth of approximately 10 kilometres and no tsunami was expected.  Since the magnitude was large, the authorities were little concerned.
Earlier this year, an earthquake of magnitude 7.9 took place just under 600 kilometres south of Anchorage, triggering a tsunami that was less than a foot high. Compared to the previous earthquakes, this one was far less and the damage to property is even not considered.
ALSO READ: 6.0-Magnitude earthquake hits Indonesia, at least three killed