Assembly Elections 2018: PM Modi's poll campaign schedule out; Read here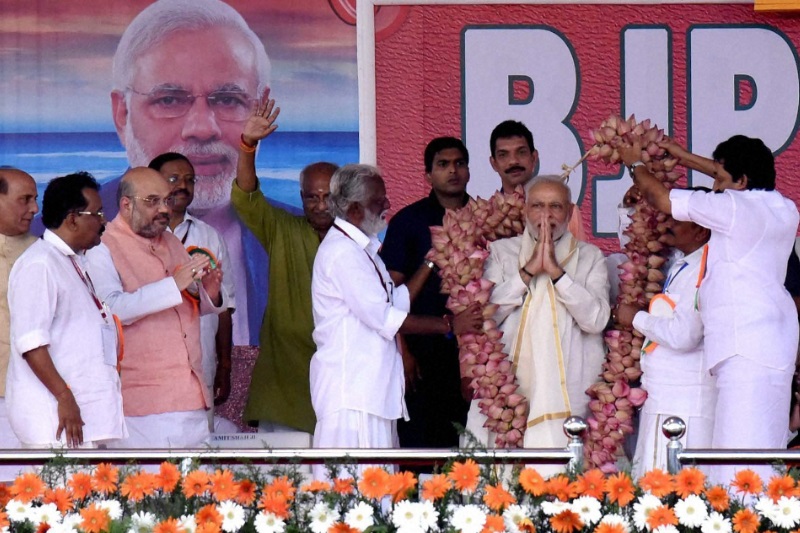 Prime Minister Narendra Modi is all set to hold public rallies in poll-bound Chhattisgarh and Rajasthan. According to a release, the tentative schedule of PM Modi's will hold public rallies from 9 November and spans till December 4.
PM Modi is expected to hold high-voltage public rallies for the incumbent Raman Singh government in Chhattisgarh from November 9 till November 18. His schedule also includes a rally in Chhattisgarh's Bastar, which is a Naxal-violence hit area and is going to polls in the first phase of elections on November 12.
After taking a gap of four days, the Prime Minister will begin public rallies from Rajasthan's Alwar on November 23 and wind up in Jodhpur on December 4.
Prime Minister Narendra Modi's schedule for poll campaign in Chhattisgarh and Rajasthan:
Chhattisgarh:
On Friday, PM Modi will hold his first poll rally of the election season in Bastar's Jagdalpur.
On November 12, PM Modi will campaign for BJP in Bilaspur and Raigarh.
On November 16, he will hold a rally in Ambikapur
Last day of his poll trail, November 18, will be spent addressing a public meeting in Mahasmund.
Rajasthan:
On November 23, PM Modi will hold rally in Alwar.
On November 26, PM Modi will address the public in Jaipur and Bhilawada
Next day, PM Modi will campaign for incumbent-BJP in Nagora and Kota
On November 28, PM Modi will campaign for BJP in Baneshwar Dham and Dausa
On December, the Prime Minister will wind up his campaign trail for BJP with three rallies – in Hanumangarh, Sikar and Jodhpu.
Polling for the 90-seat Chhattisgarh Assembly is scheduled to be held in two phases – on November 12 for 18 seats and on November 20 for 72 constituencies. Polling in Rajasthan will be held on December 7. The results will be declared on December 11.
Also Read: Rajasthan minister shamelessly justifies urinating in public, terms 'age old tradition'