Assembly Elections 2018: Congress leader Ram Dayal Uike joins BJP, does 'Ghar Wapsi'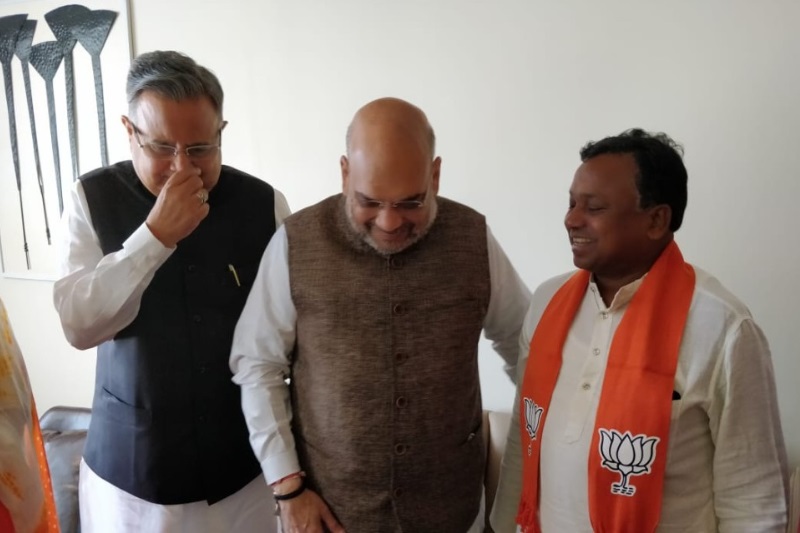 With the announcement of Assembly polls by the Election Commission of India last week, looks like Congress is in troubled waters in Chhattisgarh. Just before the semi-final of the 2019 Lok Sabha elections, Congress' State party working president Ram Dayal Uike joined Bharatiya Janata Party on Saturday in presence of Amit Shah.
Uika, a tribal leader and MLA of Pali Tanakhar, is a renowned face in Chhattisgarh and his joining BJP before Assembly elections is a like a jolt to the Congress. Prior to 2000, Uika was a BJP leader and was inducted to Congress by Ajit Jogi. Now the return of Uika into BJP is being termed as 'Ghar Wapsi'.
The Adivasi leader's popularity can be examined with the fact that he won the 2013 Assembly elections with a margin of over 28,000 votes. It is also said that Uika leaves no stone to attack opposition parties. In April this year, he had even said, while addressing a gathering that Congress  would throw BJP out of power from Chhattisgarh and would resort to "sticks and bullets" if needed, reports the Indian Express.
Shah is on a two-day visit to Chhattisgarh to take a stock of the electoral arrangements by the party members and is also planning to meet Bahujan Samaj Party president Mayawati in Bilaspur — campaigning for the BSP-Chhattisgarh Janata Congress (CJC) alliance.
On the contary , Congress has recently inducted former Editor of the Hindi news daily Navbharat — Ruchir Garg — reportedly to contest from Raipur in Chhattisgarh. He is considered as one of the most respected journalist of the state.
ALSO READ: Tamil Nadu: Kamal Haasan ready to join Congress, provided DMK is out of alliance