Twitter lashes out at KL Rahul for getting cheap dismissal in ongoing second Test against West Indies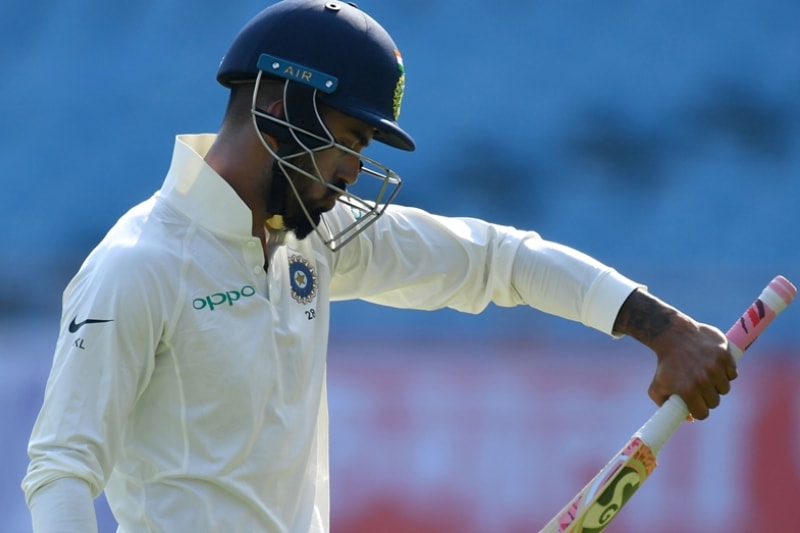 Indian opener KL Rahul failed to make an impact once again in the second Test match against the West Indies after having fallen for a duck in the first match in Rajkot a few days ago.
In the ongoing Test match, it was the same outcome for the right-handed opener who, this time could score just four runs before he was sent back by opposition captain Jason Holder in the ninth over.
This repeated failure, however, didn't go down too well with the Twitterati, who severely trolled the batsman for his failure.
If God gives you Rahul, make it Rahul Dravid not KL Rahul

— Mohan Gutta (@Mohan9999999) October 13, 2018
Its clear that KL Rahul is having some technical issues in his batting. What is Sanjay Bangar doing? Just giving throw downs ? #INDvWI

— Shashi Naik (@Shashinaik6794) October 13, 2018
I want someone in my life who trust me the same way Virat and Management trust KL Rahul😫😔😩#INDvWI

— Aparna (@AppyFizzzzzzz) October 13, 2018
A user even pointed out that Virat Kohli is "biased" for his decision to play Rahul despite his failure.
If @imVkohli is gonna pick @klrahul11 , then everyone will call Kohli as biased for a few players & also doing politics with the careers of players like #shikharDhawan & #RohitSharma & #MVijay & #MayankAgarwal

— Vinod Basnure (@imVB45) October 13, 2018
The lanky Holder bowled a length ball which slightly moved away and it was a moment of poor decision-making for Rahul, who wanted to leave the ball but jabbed at it, only to see it crashing back onto the stumps.
Also read: Asia Cup 2018: Apologetic KL Rahul regrets not keeping review for Dhoni
West Indies despite falling behind in the first half of the match, came back strongly with Roston Chase, who scored a hundred to take their first innings total to 311 on the second day.
Image credit- Free Press Journal