Avengers: Endgame: Robert Downey Jr, Mark Ruffalo and others get immortalized
Avengers: Endgame stars immortalised at hand and footprint ceremony at Hollywood's Chinese Theatre.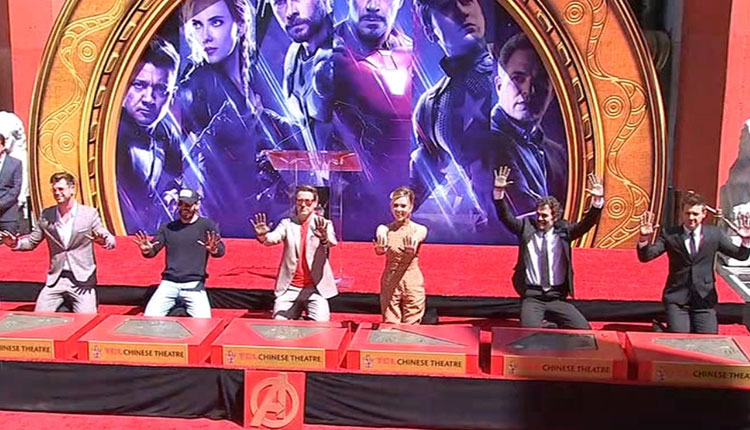 The Avengers: Endgame stars (Robert Downey Jr. as Iron Man, Chris Evans as Captain America, Chris Hemsworth as Thor, Mark Ruffalo as Hulk, Scarlett Johansson as Black Widow and Jeremy Renner as Hawkeye) have left an indelible mark on fans and have a huge following throughout the globe. The stars have left a treat for their Chinese fans. They have left an imprint of their hands and feet on cement floor outside of the TCL Chinese Theater.
Check out the Avengers' imprinting ceremony at Hollywood's Chinese Theatre below:
Their hands and feet will join those of some of Hollywood's biggest stars across the decades who have done the same. One of the stars the group will be joining is Marvel legend Stan Lee on the iconic cement floor. Lee's imprinting ceremony was in 2017. The other stars whose imprints can be found outside the theater are Anthony Hopkins, Michael Douglas, Samuel L. Jackson, and Mickey Rourke. Downey Jr.
The premiere of the much-awaited film was recently held In Los Angeles, the entire cast slew us with their stylish entry on the purple carpet. Hollywood critics have been going gaga over the three-hour spectacle calling it a roller coaster ride of emotions.
The movie is all set to release on April 26, 2019. In India and many other places due to the high demand multiplexes are opting for a 24/7 screening of the epic drama. The movie is expected to break the record of 'Infinity War' across the globe.
Also Read: Avengers: Endgame: Theatres to remain open round the clock in India for fans?