Avengers: Endgame Premiere: Scarlett Johansson, Brie Larson, Miley Cyrus and others dazzle at the event
Check out the Avengers: Endgame Cast at the Movie Premiere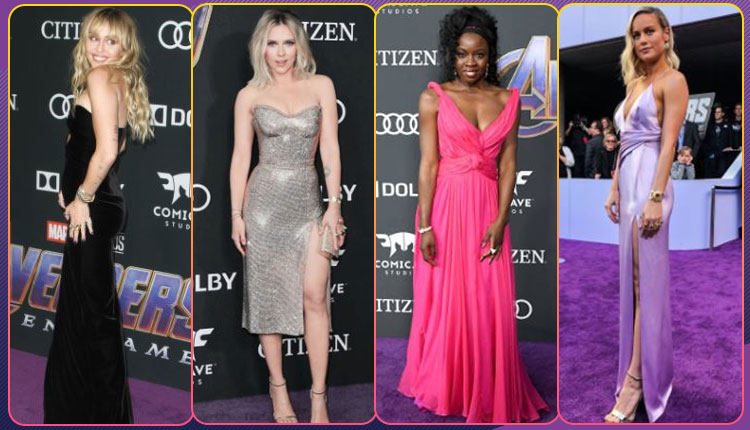 'Avengers: Endgame' is the most anticipated movie of this week. The movie has been creating a lot of buzz much before its release and fans of Marvel superheroes are waiting with bated breath for the movie to release on April 26. The grand premiere was held last night in Los Angeles and it saw the who's who of Hollywood.
From Black Widow Scarlett Johansson, Captain Marvel aka Brie Larson to Miley Cyrus, Gwyneth Paltrow and Zoe Saldana, everyone dazzled at the red carpet event. From their accessories to outfits, every single thing caught our attention and they will set a trend this season for sure.
Have a look at the pictures of the ladies from the grand evening.
Brie Larson
Brie was in a strappy silk lavender gown by Celine. In the high slit gown with a deep neckline, she looked drop-dead gorgeous. What caught our attention is her jewellery that is an amulet bracelet with infinity rings by Irene Neuwirth Jewelry.
Scarlett Johansson
#AvengersEndgame Los Angeles premiere! #ScarlettJohansson #BlackWidow pic.twitter.com/iQIhV5FbWC

— Scarlett Johansson (@Scarlett_Jo) April 23, 2019
The Black Widow aka Scarlett Johansson dazzled in a shimmery strapless dress. She completed her look with high heeled stilettos and an amulet with all the infinity rings.
Natalie Portman
NATALIE PORTMAN SAID JANE FOSTER RIGHTS #EndgamePremiere pic.twitter.com/SY8A2fdOkm

— A (@fierysadness) April 23, 2019
She wore a black shimmery thigh-high slit skirt. She kept her make-up minimal and tied a neat bun. To complete her look, she opted for drop earrings.
Miley Cyrus
Appreciates Miley Cyrus with black dress tonight at the premiere of Avengers: End Game. It looks great! ???#AvengersEndgame pic.twitter.com/OoOswW11eP

— Miley Ray Cyrus (@MileyOfficialy) April 23, 2019
Miley was in a black off-shoulder gown and with lots of silver jewellery. She styled her hair with soft curls and fringes.
Gwyneth Paltrow
Gwyneth Paltrow na premiere de Avengers Endgame 2019 pic.twitter.com/JUNYYrEkfp

— ʙᴇsᴛ ᴏғ ɢᴡʏɴᴇᴛʜ ᴘᴀʟᴛʀᴏᴡ (@BPaltrow) April 23, 2019
Pepper Pots aka Gwyneth Paltrow turned heads with her short black dress which she teamed with a coat of the same colour. She flaunted her toned legs in the dress. She wore a black pair of ankle-strapped heels.
Elizabeth Olsen
Elizabeth Olsen attending the Avengers: Endgame Film Premiere in Los Angeles on April 22, 2019. #1 pic.twitter.com/Mn7lPCQBBT

— Elizabeth Olsen News (@EIizabethOIsen) April 23, 2019
Elizabeth Olsen, who is known for playing Scarlet Witch in the Marvel Cinematic Universe was in a shimmery peacock green dress with a plunging neckline and a thigh-high slit. We loved her blonde straight hair with fringes.
Danai Gurira
Pretty in pink! Danai Gurira at the Endgame premiere pic.twitter.com/mcTNHOUojj

— Danai Gurira Source⭐ Fan Page (@djgsource) April 23, 2019
Danai Gurira was in a fuchsia pink long gown. She completed her look with a golden bracelet, a ring, a pair of earrings and a black and pink hairband.
Zoe Saldana
#ZoeSaldana ya esta en la premiere. pic.twitter.com/MFyTLY2ae7

— The Hype (@Hypefilo) April 23, 2019
Zoe Saldana who portrayed Gamora in the Marvel Cinematic Universe sizzled in the purple one-sleeved asymmetrical own. She wore a matching pair of heels with the gown.
Also Read: Avengers Endgame: Here Are Two New Unmissable Posters Of The Superhero Drama