Avengers: Endgame – Tony Stark aka Iron Man's Final Snap To Kill Thanos Revisited
Audience Reaction to Tony Stark aka Iron Man's Final Snap To Kill Thanos Revisited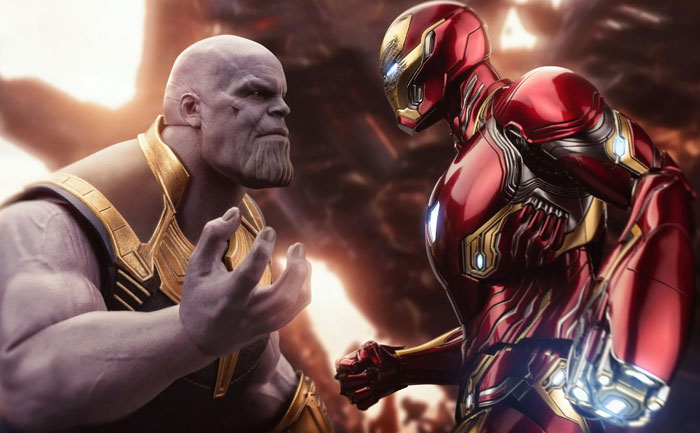 Avengers: Endgame was full of surprise moments be it Hulk as Smart Hulk, Black Widow sacrificing her life, or Captain America lifting the Mjolnir. But the best was left for the climax. It had Iron Man sacrificing his life for others. Robert Downey Jr.'s portrayal of the iconic character was heartbreaking for Marvel Cinematic Universe fans, but it was also epic at the same time.
One scene stood out among others, it had Iron Man wearing the infinity gauntlet, and snapping his fingers to kill Thanos.
During the climax, in the final battle against Thanos, Robert Downey Jr aka Iron Man tricks Thanos and takes away the infinity stones from him. Without wasting any time, Tony Stark snaps his fingers and kills Thanos and his army. A video is viral on the internet that shows the opening night reaction of fans to the epic scene.
Watch the video here:
As soon as Iron Man comes on the screen, fans can't stop cheering for their beloved superhero.
The other viral video is of when Captain America finally started to wield Thor's hammer. Or when the portals opened and all of the dead heroes made their return to the battle.
And of course the theater reaction to PORTALS was bonkers. pic.twitter.com/tllxg9aqMG

— Scott Gustin (@ScottGustin) April 7, 2020
When Female Avengers Unite,
Female Avengers Unite

(cc @CentralMorgan) pic.twitter.com/n8TC8eB1l9

— Scott Gustin (@ScottGustin) April 7, 2020
when Scarlet Witch and Thanos battled each other.
The #AvengersEndgame opening night crowd reacting to Scarlet Witch fighting Thanos is EVERYTHING. That kind of hype is exactly what she deserves. pic.twitter.com/LIOgiXAKtR

— ????? (@itsjustanx) April 7, 2020
There are reports Iron Man aka Robert Downey Jr will be making a special appearance in Scarlett Johansson's Black Widow. The movie is slated to release this year in November. However, there is no confirmation on this news yet.
Also Read: Avengers Endgame Deleted Scene Reveals Tony Stark's Death Tribute…