Killing of tigress Avni: Rahul Gandhi takes potshots at government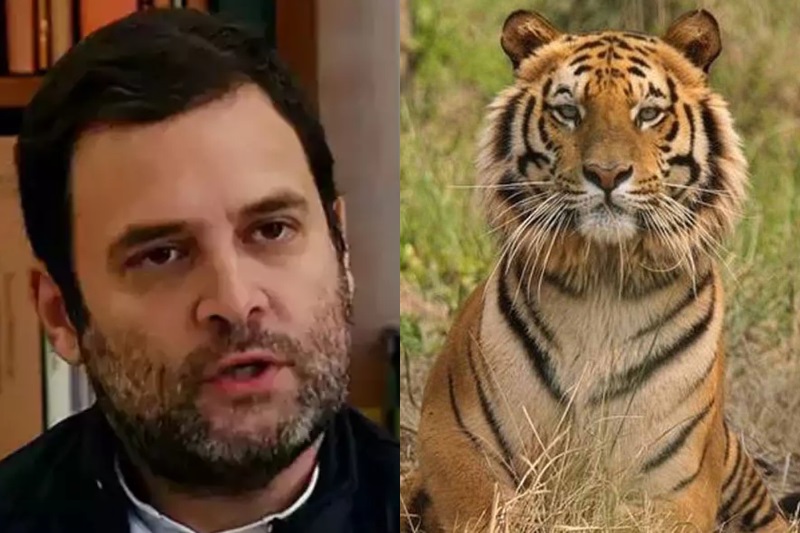 The killing of tigress Avni violating norms will have a telling effect on the government in Maharashtra and Centre as well. With activists and Union Minister Maneka Gandhi blaming Maharashtra Forest Minister Sudhir Mungantiwar for the killing, Congress president Rahul Gandhi also took a swipe at the government for the act.
Gandhi's tweet on Monday also pointed fingers to the Maharashtra government. The tigress, who is believed to have killed 13 people in Maharashtra, was shot dead in Yavatmal district last week.
"The greatness of a nation can be judged by the way its animals are treated," the Congress president tweeted, quoting Mahatma Gandhi. The killing has created a huge furore in the country in which animal activists have directly blamed the government for this decision.
The greatness of a nation can be judged by the way its animals are treated.

Mahatma Gandhi#Avni

— Rahul Gandhi (@RahulGandhi) November 5, 2018
Earlier, Maneka Gandhi also condemned the killing calling it a "ghastly murder" and "straight case of crime". She also urged to take the case "legally, criminally as well as politically". Maneka Gandhi didn't mince her words in criticising the BJP government in the state led by Chief Minister Devendra Fadnavis.
Sudhir Mungantiwar, the state Forest Minister, also hit back at Maneka Gandhi saying "If she thinks any tiger or tigress should not be killed even if it is a man-eater, then the decision should be taken by the Centre." That was tiger was killed as the last resort was also mentioned by the Forest Minister. The tigress, officially known as T1, was killed on Friday night.
According to a police officer, sharp-shooter Asgar Ali shot Avni dead though not having permission to accompany the team.
Forest officials searched for Avni for three months by using trap cameras, drones and a hang-glider, sniffer dogs, expert trackers and sharp-shooters.
They were successful on Friday, when they could trap the tigress with another tigress' urine and American perfume. Police though claimed that attempted to catch her alive but failed to do so due to dense forest and darkness. The bullet hit Avni and she fell on the spot.
ALSO READ: Maneka Gandhi: Killing tigress Avni a straight case of crime