Twitter reacts to Azhar Ali's bizarre run out in the second Test against Australia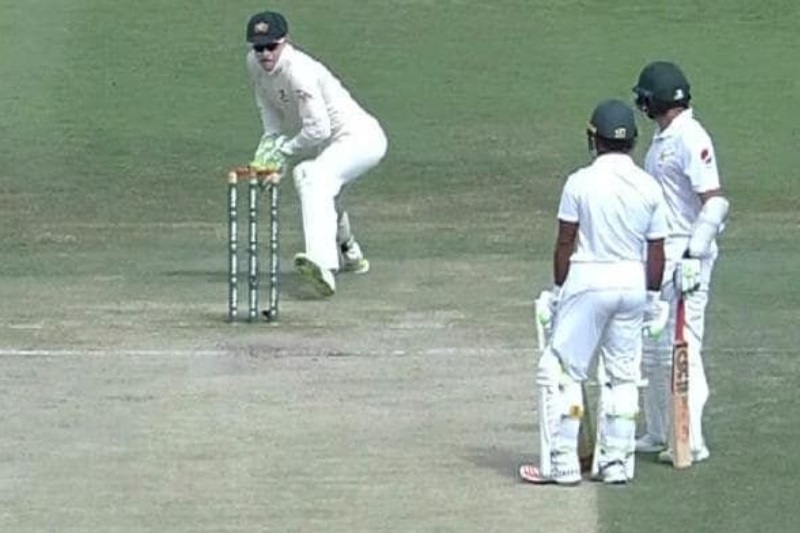 Pakistan middle-order batsman Azhar Ali was involved in a hilarious run-out on Day 3 of the second Test between Pakistan and Australia in Abu Dhabi. The incident, which took place in the 53rd over of Pakistan's innings, will most likely go down as one of the funniest run-outs ever in the history of cricket.
Ali was batting on 64 when he edged a Peter Siddle delivery that went past the gully fielder and was racing towards the boundary. But lack of pace meant the ball stopped just before the boundary line.
Assuming that the ball had crossed the boundary rope for a four, Ali stopped in the middle of the pitch and began conversing with his batting partner Asad Shafiq. He was completely unaware that Australian fast bowler Mitchell Starc had run towards the boundary line and threw the ball to wicket-keeper Tim Paine, who dislodged the bails without any hesitation.
The Australians soon began to celebrate even as Ali stood in utter disbelief, shocked at what had just unfolded. He was eventually given out and had to return after scoring 64 from 141 balls.
LOL …pic.twitter.com/OZOwsl7Mmd

— Taimoor Zaman (@taimoorze) October 18, 2018
Also Read: Mexican boxer signs the most lucrative contract in sports history; to earn Rs 10,000 per minute
Twitter could not hold itself back with laughter after watching such ridiculousness from the former Pakistan skipper and his lack of game sense.
Without question the greatest Run out of all time !!!! https://t.co/PDGpXMAtkb

— Michael Vaughan (@MichaelVaughan) October 18, 2018
That run out is one for the ages… Azhar Ali has just raised the bar for his fellow batsmen to an unprecedented level…

p.s – Coach Mickey Arthur's reaction… ?

— Chetan Narula (@chetannarula) October 18, 2018
The list of insanely ridiculous run outs of Pakistani batsmen is long but Azhar Ali has just turned in an all time top five entry.

— Ahmer Naqvi (@karachikhatmal) October 18, 2018
Unbelievable. ?

Azhar Ali run out whilst chatting with Shafiq in the middle, thinking he's hit a four. Except he didn't. Dumb and dumber.

Easily the stupidest piece of cricket I've ever seen in 35 years of watching and playing cricket.

Pakistan bloody Zindabad.#PAKvsAUS pic.twitter.com/nhFgRoq2aw

— Abu Eesa Niamatullah (@Niamatullah) October 18, 2018
Pakistani batsmen engage in middle-of-the-pitch discussion even though the ball hasn't reached the boundary
Result: Azhar Ali gets run out.
Thank you Pakistan for the stupidity.pic.twitter.com/EZPIwgj390

— Soumyadipta (@Soumyadipta) October 18, 2018
"We'll get Marnus and Azhar Ali to star in a movie – Dumb and Dumber."

Gold from AB!!! @FoxCricket

— Neroli Meadows (@Neroli_M_FOX) October 18, 2018
Australia being Australia again.
Some cheeky cheap wickets have became a trademark of Australia.#PAKvAUS #AzharAli

— Ahmad Malik (@Ahmad_Malik_13) October 18, 2018
The greatest/worst run-out in the history of cricket? Pakistan's Azhar Ali, take a bow… #PAKvAUS pic.twitter.com/mLHXTKyM81

— Zeba Tahir (@ZebaTahirKhan) October 18, 2018
When my friend is eating my share of pizza but I can't do anything about it !!#PAKvAUS #AUSvPAK #Azharali pic.twitter.com/2SPVU1lQxH

— Saurabh Shinde (@imsgshinde) October 18, 2018
Wtf was Azhar Ali's run out?. I mean totally didn't know that the ball hasn't reached the boundary line and started sharing his expert techniques with Asad Shafique?. Most funny moment in Cricket history for me??

— Malik Bilal Amjad (@MalikBilalAmja4) October 18, 2018