Meet Baadal Nanjudaswamy who made the Bangalore potholes moonwalk video
Bengaluru-based street artist Baadal Nanjundaswamy wore a space suit in a viral video highlighting potholes on city roads.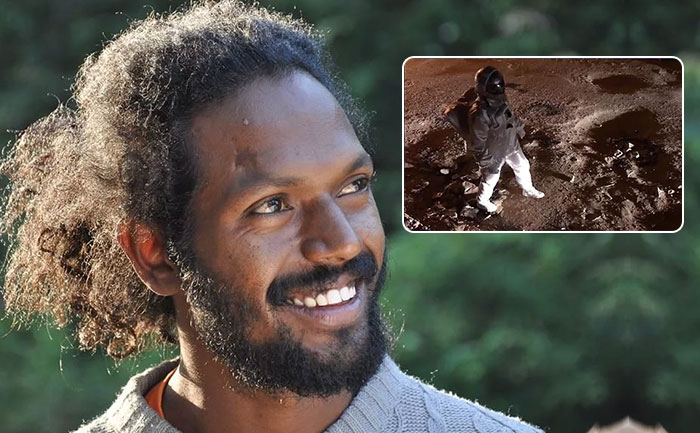 You must have watched a video of a man walking over the potholes of Bengaluru dressed up as an astronaut, which has gone viral on the internet in no time. Yes, the video has garnered more than 2 million views, 28,000 thousand likes and over 35,000 shares on Facebook.
When you watched it for the first time, you must have thought that an Astronaut is walking on the moon's surface. But, gradually as the camera pans away, you see the vehicles passing by and realise that this is just the state of the roads in Bengaluru. Do you know that who is the man behind this idea of highlighting potholes on social media? If not, do not worry.
Watch moonwalk video here:
Hello? BBMP Commissioner #thelatest #nammabengaluru #streetart #potholes #herohalli

Baadal Nanjundaswamy ಅವರಿಂದ ಈ ದಿನದಂದು ಪೋಸ್ಟ್ ಮಾಡಲಾಗಿದೆ ಭಾನುವಾರ, ಸೆಪ್ಟೆಂಬರ್ 1, 2019
Meet Baadal Nanjudaswamy Who Made The Bangalore Potholes Video
The man behind this creative video was Baadal Nanjudaswamy, who belongs to Mysore. After shooting the video, he posted on social media highlighting the problems that people of Bengaluru or many parts of the country face every day.
Speaking about the concept of the viral video, in an interview with news agency ANI, Nanjundaswamy said, "There are bad roads everywhere in the city. As residents of Bengaluru, we face a lot of problems. These potholes even cause accidents. This is why I am trying to highlight these issues."
He further said, "Earlier, I had painted on a pothole in the road and posted it on social media. The civic authorities fixed it immediately. My experience so far has been good."
Artist Baadal Nanjundaswamy who dressed as an astronaut & walked on potholes in Bengaluru; says, "Poor condition of roads is one of the major problems in Bengaluru. It leads to accidents. That's why I'm highlighting this issue". #Karnataka pic.twitter.com/6QhFFUDXXW

— ANI (@ANI) September 3, 2019
The video has gone viral on social media instantly and liked by thousands of people. However, there are people who did not like the concept behind the video and threaten him against doing such things.
Nanjundaswamy said that he does not pay any heed to the threats because he knows he is creating awareness for the betterment of society. The popular artist has many black and white portraits to hit credit including Sachin Tendulkar's portrait in the Students' Activity Center in IIT Bombay.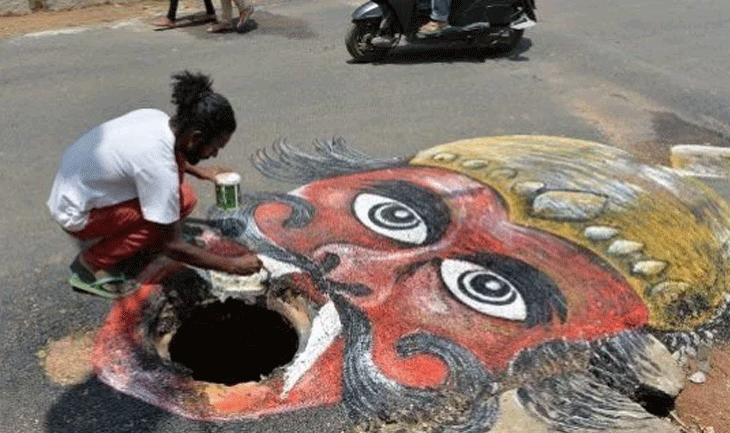 Bengaluru Civic Body Fills Potholes highlighted by Baadal
Following overwhelming public and media response to Baadal Nanjundaswamy's video, Bengaluru civic authorities reportedly filled the potholes on the road seen in his viral video.
Thanking them on Twitter for their prompt response Baadal wrote, "Thank you for such an overwhelming response and support. Work in progress. Quick and prompt response from @BBMP. Thanks to Prabhakar, CE RR Nagar who is overlooking the situation on ground currently," he tweeted with a video of the repairs being made.
Thank you people for such a overwhelming response and support! ♥️♥️♥️??

Work in progress.. Quick and prompt response from @BBMP. Thank you very much @BBMPCOMM @BBMP_MAYOR and Mr. Prabhakar, CE RR Nagar who is overlooking on ground currently. pic.twitter.com/clgoLAIKzU

— baadal nanjundaswamy (@baadalvirus) September 3, 2019
Bengaluru civic body spokesperson LB Suresh told news agency IANS that they have filled the potholes highlighted by the artist "Under the supervision of our chief engineer S Prabhakar, the potholes on Tunganagar main road have been filled. We responded at the earliest to the artist's complaint," he said.
Baadal Nanjundaswamy education
He studied art at the Chamarajendra Government College of Visual Arts (CAVA), made his debut into the street art when he painted a "lake" across the illustrious Mysore Palace.
After moving to Bengaluru in 2004, he had a stint with the advertising company Ogilvy & Mather (O&M) and was an art director for the Kannada film U-Turn. Baadal said that his soul is fed by working as a painter and freelance artist.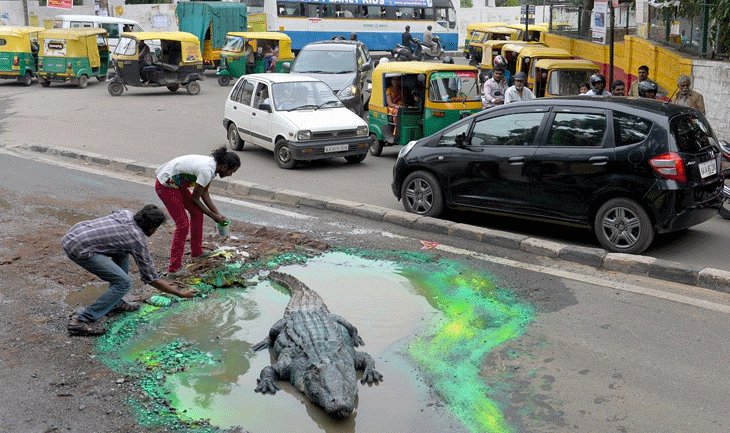 He won Rotary Club Exemplars' award in 2017
Nanjundaswamy's work ranges from painting, creating large-scale murals to making public installations, but has now been dubbed the "pothole artist". Notably, his splendid work earned him the Rotary Club 'Exemplars' award in 2017 for "Pride in Workmanship".
Nanjundaswamy has always been vocal about issues that common people face in day to day life and as an artist, he is known for his artwork aimed at highlighting the daily issues of the people to the civic authorities.
Also Read: The Ultimate Chandrayaan 2 Quiz