Delhi: Barely 100 participate in Sankalp Yatra for Ram Temple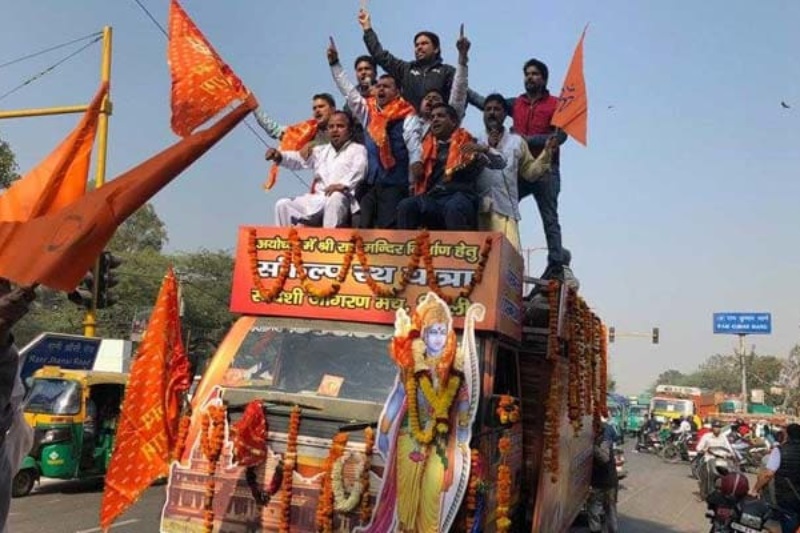 On Saturday, the Rashtriya Swayamsevak Sangh (RSS) had taken out a rally called the Sankalp Yatra in New Delhi to push for the early construction of the Ram temple, but got off to an underwhelming start. Barely hundred activists turned up to show support. Whereas RSS had expected a huge crowd of people to participate in the rally.
The Sankalp Yatra which was flagged off from New Delhi's Jhandewala temple, will run for nine days before culminating at the Ramlila Ground on December 9, this year. The Swadeshi Jagran Manch, a group affiliated to the Rashtriya Swayamsevak Sangh had organised the Sankalp Yatra.
However, Swadeshi Jagran Manch co-convenor Kamal Tewari, tried to shrug off the poor showing at the event. He said, "These are just a few karyakartas (activists) from a particular segment. Soon, they will be joined by another 100-200 karyakartas from a different segment. There are hundreds of karyakartas from different segments who will join us eventually." He also adding that he expects to see around 6-8 lakh people at the Ramlila Maidan on the final day of the event.
Ahead of the Lok Sabha elections next year, the Ram temple issue has gained much significance, with several right-wing groups — including the RSS and the Vishwa Hindu Parishad (VHP) — demanding an early decision. According to the organisers of the Sankalp Yatra believe, the Supreme Court is purposely delaying its construction by not taking up the matter urgently, and want the centre to introduce an ordinance in this regard.
Recently, lakhs of people had attended a similar rally organised jointly by the Vishwa Hindu Parishad and Shiv Sena in Ayodhya on November 25.
A RSS supporter said the media, "We are taking out this rally to send a message to the Supreme Court. While the court opens its doors at night even for small cases, it doesn't believe the Ram temple is an important public matter."
Also read: PM Modi names first Japan-America-India trilateral meet 'JAI'