Bigg Boss 14, Oct 23, Written Update: Nishant loses captaincy; contestants celebrate Navratri
Here's all that happened in tonight's episode of 'Bigg Boss 14.'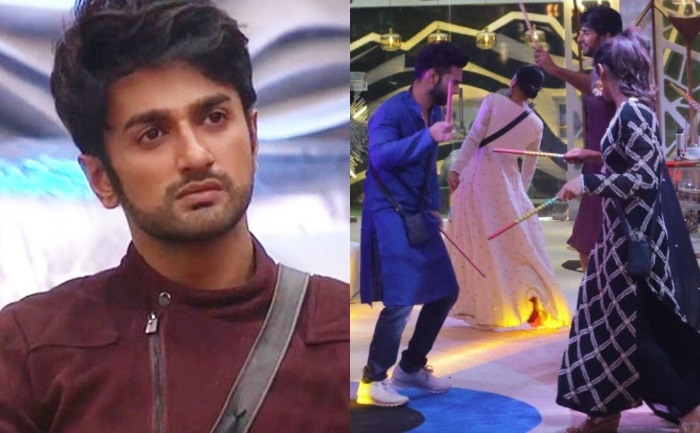 Bigg Boss 14, Oct 23, Written Update: Tonight's episode begins with Jaan trying to convince Nikki to come out of the red zone, Nikki stays adamant and refuses to come out. Nishant was also seen convincing Nikki to come out of the red zone. He even tells Nikki that they can sit and talk, she says that she wanted to become the captain. Pavitra tries to sort the issues between Nishant, Jaan, and Nikki. Rubina tells Jasmin that Nikki is doing drama and is punishing Nishant for becoming the captain. Nikki cries and tells Pavitra that she was mistaken by trusting her own friends. Jaan comes out of the red-zone.
Rubina tells Nishant that as a captain, he has the authority to punish Nikki for staying in the red zone. Nishant approaches Nikki and tells her that if she does not come out of the red zone, her samaan will be locked in the BB mall, she denies and says that she will not accept the punishment. He also says that along with Nikki, he will also punish Eijaz and Pavitra. Jaan asks Nishant who gave him this idea, to which, he says it was his call.  Nikki continues to stay in the red zone as the lights go out.
Nikki finally comes out of the red zone and sorts her differences with Jaan, Nishant, and Rahul. Jaan walks out because of his tiff with Rahul. Later, Rahul sorts his problem with Jaan.
It's the next day, and contestants wake up to the song Radha from Student of the Year. Abhinav and Rubina talk to Pavitra, Abhinav tells Punia that Rahul, Nikki, Jaan, and Nishant are sitting together, Punia says that everyone is hiding behind masks and playing for themselves.
Nishant asks Rahul to clean the toilet also, Rahul tells him that they made him the captain so that their duties can be reduced, instead, he is adding more duties. Nishant says I will help you when it matters, these are small things. Jaan says they have to make Nishant's captaincy successful.
Later, Jaan and Nikki discuss nominations. Nishant tells them that that they cannot discuss nominations, Jaan says that friends can discuss who they will nominate.  Jaan decides to nominate Rubinav and Abhi. Nishant, Rahul, Nikki, and Jaan share a talk with each other, they tell Rahul that they don't trust him. The latter calls it shocking and disappointing. Nikki even calls Rahul two-faced. Rahul talks to Punia about the same.
Nishant gets schooled by Bigg Boss for breaking the rules in the house. Bigg Boss tells Nishant that his own friends broke the rules and went to the red-zone side. BB also said that the most punishable thing he did was discussing nomination with Jaan and Nikki. Finally, Bigg Boss decides to take the captaincy title back from Nishant. Nishant apologizes to Bigg Boss.  Abhinav, Rubi, and Jasmin cheer Nishant and tell him not to take it to his heart. Abhinav tells Rubina that Nikki has followed the show and still didn't guide Nishant, he tells the same to Nishant.
Pavitra blast Rahul for saying that Abhinav is his crush, the duo get into a heated argument over the same. Pavitra gets angry at Rahul for questioning her character. Pavitra breaks down, Rubina and Abhinav console Pavitra. Nishant tells Punia that the whole house except one person is with her. Nishant tells Rahul to apologize to Pavitra, he refuses. Nikki tells Nishant that Rahul does speaks behind everyone's back and says bad words but then talks sweetly to them.
It's the next day and Nishant, Jaan and Nikki start talking to Rahul. Jasmin tells Abhinav that their friendship is shallow and their fights are shallow also. Later, Nikki tells Rahul that he is not playing on the front foot. Rahul says it is her point of view.
Later, a Navratri task is announced, Jaan is told to do Nikki's facial while Abhinav does Rubina's and Rahul has to shoot their videos. The participants perform, later, the housemates declared Nikki as the winner of the task. Bigg Boss announces that the Navratri celebration will be held, and 2 contestants will not be performing and this decision has to be taken by the winner Nikki. Nikki takes Abhinav and Rubina's name, the red zone members Pavitra and Eijaz can also be part of the celebrations.
(Episode Ends)
ALSO READ: Bigg Boss 14, Oct 22, Written Update: Nishant Singh Malkani Becomes 1st Caption Of The House