Bigg Boss 14, Oct 16, Written Update: Seniors get into an argument over Nikki and Jasmin's task
Here's all that happened in tonight's episode of Bigg Boss 14.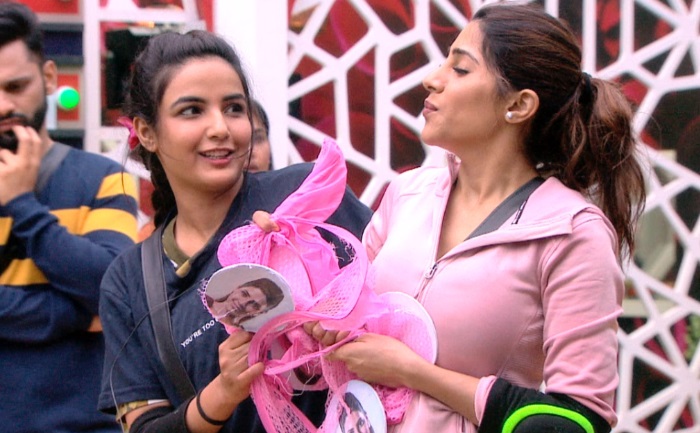 Bigg Boss 14, October 16, Written Update The episode begins with the contestants waking up to the song, Lucky Tu Lucky Me, soon after, Sidharth Shukla complains to Nikki about the dirty toilet and she accuses Eijaz and says that he could have left it dirty. Later, Shukla calls Eijaz and conveys the same to him, to which, he denies.
Later, in the bathroom, Eijaz asks Nikki that she should know by now who is civilized and who is not. He tells her that if he can clean the bathroom slab every day, he can also clean the bathroom if he has made it dirty.
Gauahar tells Nikki to keep an eye on the contestants and command them if they don't do their duties, later, she tells Nikki that if she is not doing her chopping duty, she should allot it to someone else, she says that she has given it to Rahul. Gauahar tells Rahul, who is on the treadmill, to do his chopping work, to which he says he lost track of time and starts his work. Gauahar warns everyone that she will lock the kitchen if they fail to do her duties. Nikki, Nishant, and Jaan call Rubina-Abhinav a weird couple, later, Hina and Jasmin tell Jaan to play his own gave and not to get influenced by others
The task in which the freshers have to fight it out with each other to get their belongings, begins, it's Abhinav Vs Jaan, the buzzer rings, and the task starts, the men start collecting the balls and start putting it in their respective baskets and finally, Abhinav wins the task.
Next up, the final round between Jasmin and Nikki begins, Gauahar hints at Jasmin to talk to each other. Nikki says it's about the competition, let us fight. Pavitra asks seniors to not guide them. Gauahar tells Punia that she can do whatever she wants to. Hina starts cheering for Jasmin and instructs her, to which Sidharth tells her not to be biased and not support anyone as she is the sanchalak of the task. The task goes south and they rip each other's basket. As Nikki and Jasmin's are ripped apart, leaving the seniors in a dilemma. They start discussing, however, it ends in an argument as Hina and Gauahar want Jasmin to be the winner, whereas, Sidharth says that nobody is the winner and it should be a draw. After a long discussion, the seniors agree to make Jasmin the winner of the task.
Rubina congratulates Jasmin and says,  'I'm proud of the women power,' which leaves Sidharth furious and he questions Rubina and asks her why did she say so. The argument continues, Hina and Gauahar try to calm Shukla and finally the argument ends.
Nikki and Nishant talk about the task, Nishant tells her that Hina and Gauahar said it in the camera that they are favoring Jasmin, to which, Nikki says that she has understood who is supporting whom. Hina and Nishant discuss Rubina's women's power. Hina then says that there are situations where they don't agree with Shukla but they mutually come to a conclusion.
Later, a new task comes up, in which the girls have to style their hair according to the character given to them by the boys. Jaan gives 'Miss Queen' title to Nikki. Eijaz gives Pavitra the' Perfect Player' title, Jasmin gets the 'Miss Nautanki' tag, and Rubina is given the 'Miss Confused' titled. The task begins and the girls perform. The seniors have been told to become the judge of the task, they discuss and choose Pavitra as the winner.
It's the next day, Rahul, Sidharth, and Gauahar discuss the chopping duty. Abhinav says that he needs a helper to chop, however, Sidharth disagrees with it and says that Pavitra and Jasmin never had an issue with chopping as they do both, chopping and cooking work.  The argument continues and Sidharth, Rubina, Abhinav, Gauahar argue about the chopping duty.
(Episode Ends)