Navratri 2020: 7 food items you can eat while observing fast
Here are 7 delicious fasting recipes you can enjoy while fasting this Navratri.
The auspicious occasion of Navratri or the nine-day festival celebrates the goddess Durga and her many avatars. Navratri means 'nine nights.' 'Nava' means 'nine,' and 'Ratri' means 'night.'  This festival is celebrated during the Hindu calendar month of Ashvin, which usually falls in the Gregorian months of September and October. This year, Navratri begins on October 17, 2020, and will end on October 26, 2020. During the festival, people do fast, pray to the nine incarnations of Mother Durga, and follow rituals and traditions attached to the festival, the other highlight of this occasion is playing Garba and Dandiya.
During Navratri, meditation and fasting is a common practice observed and the most common celebration begins on the first day of Navaratri with Ghatasthapana (sthapana of a ghat), which means "mounting of a jar". Without any further ado, we present to you 7 vrat tasty recipes to make during these nine days, check it out.
Navratri Vrat Food Recipes:
1. Aloo Ki Kadhi
Ingredients:
1/2 Kg Potatoes, boiled
2 tsp Rock salt
1/4 tsp Chilli powder
1/2 Cup Singhare ka atta
For deep-frying Oil
1/2 Cup Sour yogurt
1 sprig Curry leaf
1/2 tsp Cumin seeds
2 Whole red chilies
1 Tbsp Ginger, chopped
1/2 tsp Coriander powder
4 Cups Water
Coriander leaves
Recipe:
Mix the potatoes, 1/2 teaspoon salt, chili powder, and singhare ka atta into a thick batter.
Put aside 1/4 of the mixture and the rest will be made into pakoras.
Heat oil till a drop of batter dropped in comes up at once.
Drop spoonfuls into oil, lower the flame, and fry to a golden color.
Drain on an absorbent paper and keep aside.
Add the yogurt to the mixture, make a smooth paste, and mix in water.
In a heavy-based pan, reheat 2 tbsp of the same oil, add curry leaves, cumin seeds, and whole red chilies.
When slightly darkened, add ginger and sauté a little.
Add the yogurt mixture, salt, and coriander powder and bring to a boil and then simmer over low flame till it
thickens a bit; stirring frequently to avoid scorching.
Add the pakoras, simmer a couple of minutes more and serve hot, garnished with coriander leaves.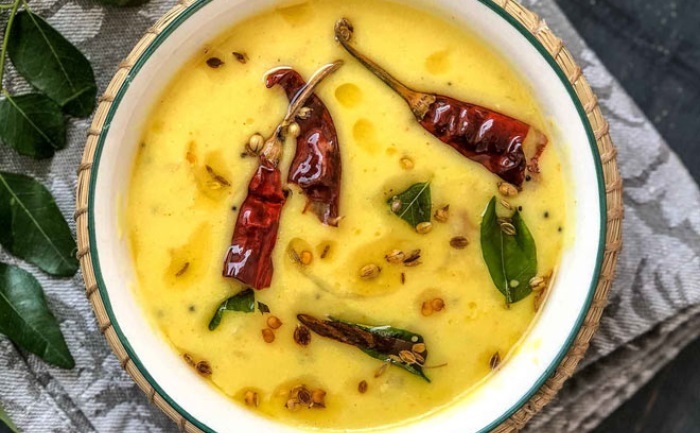 2. Sabudana Khichdi
Ingredients:
1 1/2 Sago cups
1/4 Peanutscup
4-5 green chilies
1 Potato
3 tbsp ghee
1-2 sprigs curry leaves
1 tsp cumin seeds
Salt
1 tsp lemon juice
coriander leaves
2 tbsp fresh coconut scraped
Recipe:
Wash sabudana two to three times and then soak in one-cup water for three to four hours. Sabudana grains should be separate and moist. Roast peanuts on a hot griddle, peel off the skin, and then grind coarsely.
Wash green chilies, remove stem, and then chop finely. Peel and wash the potato and cut it into half cm. cubes.
Heat ghee in a pan, add curry leaves, cumin seeds, and chopped green chilies. When cumin seeds crackle adds the potato cubes.
Cook till the potatoes are done. Add sabudana, scraped coconut, and peanuts, sauté for four to five minutes, stirring well.
Sprinkle a little water, add salt and lime juice. Mix well. Remove from heat. Sprinkle chopped coriander leaves.
Serve hot.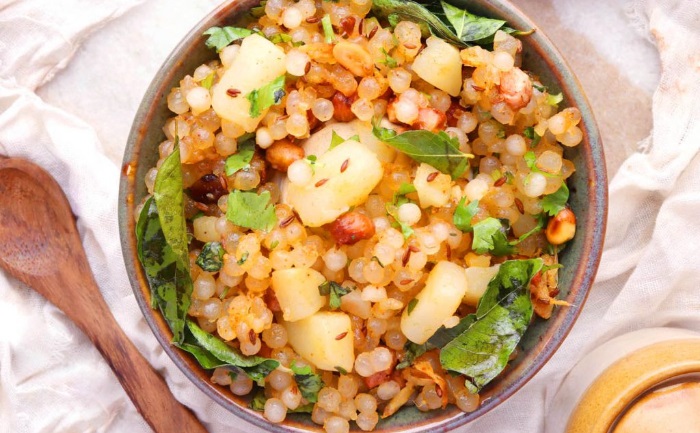 3. Kuttu Ka Dosa
Ingredients:
For Dosa:
1 cup Buckwheat Flour
1/2 cup yogurt
1/4 cup water
Rock salt or any salt
2 tablespoon oil
For Aloo Ki Sabji:
2 boiled potato
Green chili
1/4 tsp mustard seeds
1/3 tsp cumin seeds
2 Tbsp oil
Recipe:
For Dosa:
To prepare this delicious dosa recipe, mix the flour, yogurt, and salt. Add water as required. Mix them.
Heat a tsp of oil in a large non-stick pan.
Pour a ladle of the batter and spread it.
Cook from both sides until it turns golden brown.
Serve hot with mint and coconut chutney.
For Aloo Ki Sabji:
Heat the oil
Add cumin and mustard seeds, as soon as they crackle, add turmeric, salt, and potatoes.
Cook for a few minutes till it becomes light brown in color.
Serve separately or fill it in each dosa.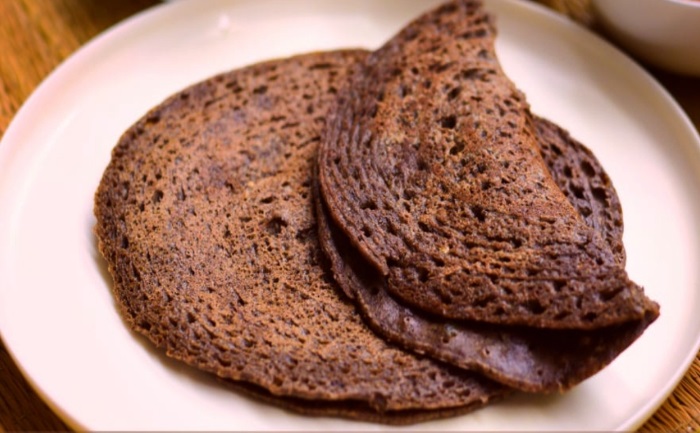 4. Makhana Kheer
Ingredients:
1 Litre Milk
1/4 cup Makhana (puffed lotus seeds)
2 tbsp Sugar
2 tsp Pistachios, chopped
2 tbsp Almonds, chopped
1 tsp Green cardamom powder (optional)
Recipe:
In a deep vessel, pour in the milk, break the makhanas into smaller pieces, add them to the milk and let it simmer for about 1 1/2 to 2 hours without covering, till the milk boils down and the seeds are soft.
Add the sugar and stir for a few minutes.
Add the pistachios, almonds and cardamom powder, stir well again.
 Serve hot or cold, as you like.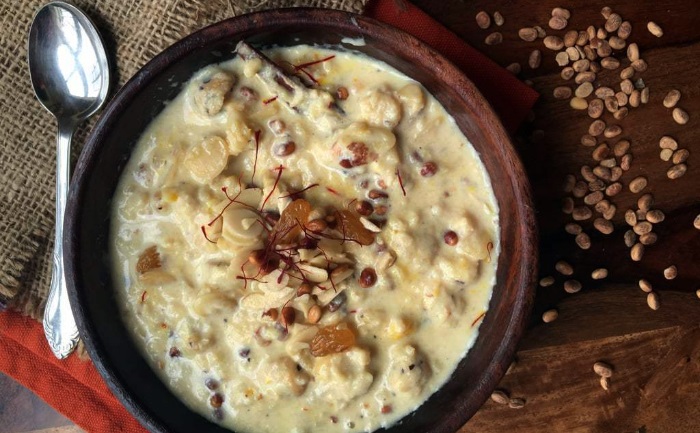 5. Kebab-e-Kela
Ingredients:
250 gm bananas
2 teaspoon white rock salt

3 pinches chili powder

1/4 cup Kuttu ka atta
1 black cardamom

2 green chili

2 tsp lemon juice

1/2inch ginger
2 tbsp Coriander leaves, chopped
2/3 tablespoon coriander powder
Ghee
Recipe:
Steam the bananas, elaichi, and ginger till they are soft and cooked.
Chop up the coriander leaves and green chilies.
When cool, mash the bananas; add all the spices along with the buckwheat flour, lemon juice, and coriander leaves.
mix well to form a dough1/2inch ginger
Shape them into cylindrical tikkis
take a pan over medium flame, add the ghee in it.
When the ghee is hot enough, dip in the kebabs in the oil and fry until golden brown.
Serve them on a plate and serve with green chutney.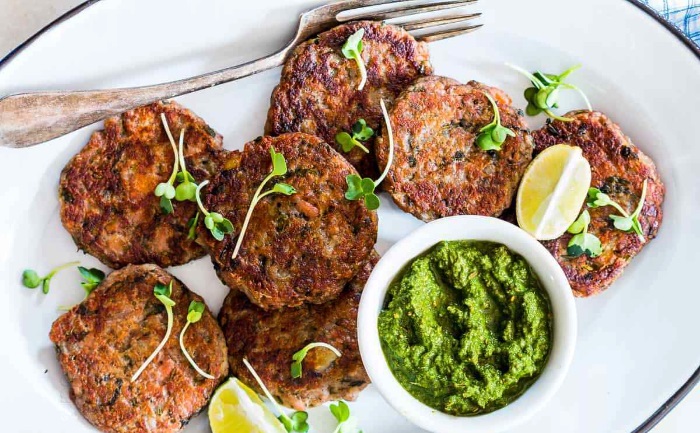 6. Chawal Ka Dhokla
Ingredients:
3/4 Cup Samwat ke chawal
1 cup sour yogurt
3-4 green chilies slit lengthwise
6-7 curry leaves
1 tsp cumin seeds
1 tsp black mustard seeds
1/2 teaspoon ginger paste
1 teaspoon rock salt
2 tsp oil or ghee
Grated coconut
Recipe:
To prepare the batter, add rice, rock salt, chili paste, ginger paste, and yogurt, whisk it well and let it ferment overnight.
To cook the dhokla, heat sufficient water, depending upon the size of your streamer, grease the dhokla plates with ghee and pour the prepared fermented batter.
Cover and steam for 20 minutes.
Remove from the steamer and set it aside.
For seasoning, begin with heating oil or ghee in a small non-stick pan. Add cumin, mustard seeds, curry leaves and let them splutter properly
Serve the dhokla with coriander and coconut.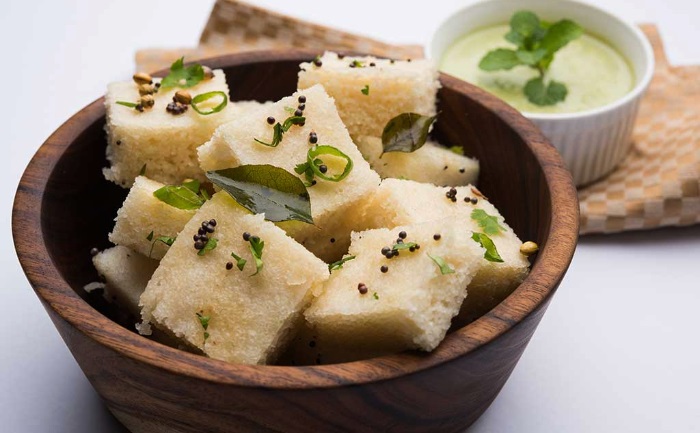 7. Coconut Ladoo
Ingredients:
2 cups fresh/desiccated coconut
1 tsp ghee
1½ cup milk
5-10 nos Cashew, Almond,

¼

 

tsp

 

cardamom powder, e

laichi powder
1 cup condensed milk
Recipe:
 Mix the desiccated coconut and 1½ cup milk in a pan
Add sugar as required

Mix continuously on low flame, until the sugar starts to melt

Saute it till light brown and add condensed milk, keep stirring.
Add the cardamom and elaichi powder. Keep the mixture aside and let it cool.
Make small round balls of the mixture.
Put cashews and almonds inside the coconut ball
Roll it with desiccated coconut. (optional)
Serve.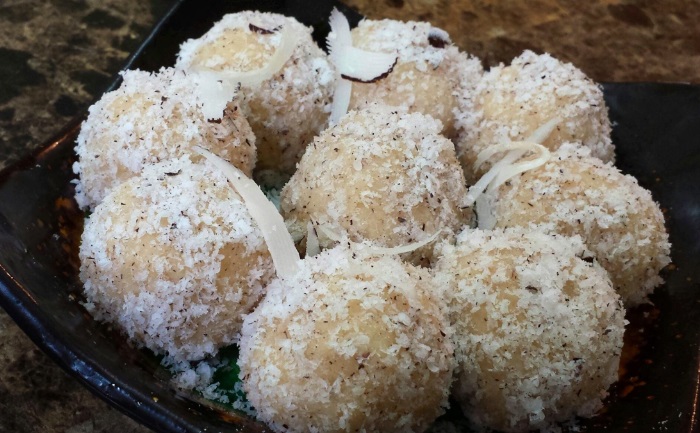 ALSO READ: Sharad Navratri 2020: Date, Timings, Puja Muhurat Of 9-Day Long Festival