Bigg Boss 14, Oct 20, Written Update: Hina, Gauahar allege Sidharth's team of cheating
Here's all that happened in tonight's episode of 'Bigg Boss 14.'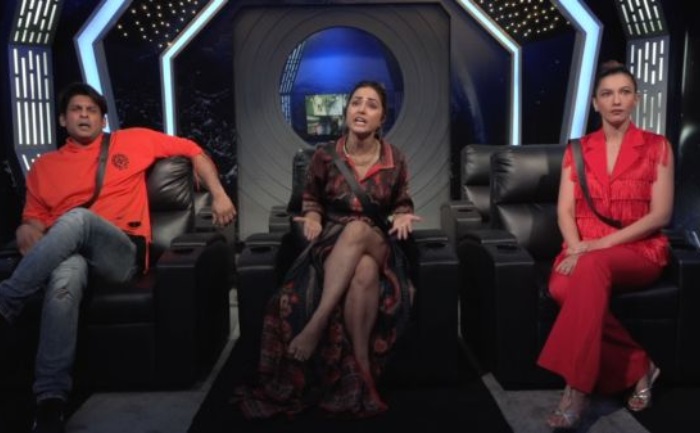 Bigg Boss 14, Oct 20, Written Update: The contestants wake up at 8 AM to the 'Hookup Song.' The toofani seniors discuss the strategies with the team. Rubina, Abhinav, and Nishant sort out their differences regarding the spraying task. Everybody starts discussing their duties for the week. Abhinav says that everyone should distribute their duties so that they can get time for themselves too.
Jasmin takes up the bathroom duty. Eijaz and Shehzad get into an argument over the distribution of duties. Rubina says she will not do cooking as it is too much for her and agrees to clean the lawn. Later, Rahul says that he will not take up the dishes duty due to his back problem. Jasmin accuses Rahul of lying about his medical condition, they both argue. Nishant comes to a conclusion and tells Rahul to do the dishes for the week and if his back starts aching he can stop. Rahul agrees and says he will do it, but just for 2 days.
Jaan gives Nikki a massage, she compliments him and calls him a sweetheart, and also says that he is her personal masseuse. Nishant, who was present in the halls, leaves.
Later, Bigg Boss calls Rubina in the confession room and asks her to share her feelings. Rubina tells Bigg Boss that it's bothering her that Salman Khan called her husband a 'samaan,' says that it is very disrespecting to her and breaks down. Bigg Boss tells Rubina that she has misunderstood and that they will never disrespect any contestant. Rubina says that she cannot work in such an environment and does not want to be a burden. Bigg Boss asks her whether she wants to quit the show, to which, she agrees. Bigg Boss calls Abhinav in the confession room and tells him about Rubina's decision. Abhinav tells Rubina that Salman Khan has passed a comment on him and he will reply. Bigg Boss says it was a witty reply from Salman, he also says that they can tell Salman not to joke with them, to which Abhinav and Rubina tell that it is not required.  Abhinav tells Rubina to take it as humor. Bigg Boss suggests Rubina to clear her misunderstanding with Salman Khan on the weekend if it continues to bother her.
The next morning, as soon as the contestants wake up, Bigg Boss announces that a few people will be leaving today and tells the contestants and seniors to pack their bags. A new task is announced and the contestants are split into three teams led by the three seniors- Hina, Gauahar, and Sidharth. The freshers are asked to protect the buzzer to get a ring if they want to win the task and the team that loses will leave the house along with the senior. The teams start strategizing. Gauahar and Hina form an alliance and decide to attack at Sidharth's team.
The task begins, Hina and Gauahar ask their teams to protect their buzzer. Gauahar yells at Sidharth as the latter tried to distract the other team members. The alarm rings and the contestants all attack. Sidharth's team attacks Gauahar's buzzer. Rahul presses on Sidharth's buzzer for 5 seconds. Hina and Gauhar's team celebrate their victory.
Gauahar and Hina blame Sidharth's team for cheating in the task. Pavitra abuses Gauahar in a conversation with Nikki. Sidharth yet again loses his calm over being criticized which will lead to an argument between him and the other two seniors. Bigg Boss calls the seniors in the theatre room and shows them the clip of the task. The trio starts yelling and arguing again. Bigg Boss says it was overruled by 2 teams. Sidharth thanks Bigg Boss.
(Episode Ends)
ALSO READ: Bigg Boss 14, Oct 19, Written Update: Freshers Pick Their Favorite Senior's Team