Bigg Boss 14, Oct 21, Written Update: 'Sanchalaks' Pavitra & Eijaz lock horns during captaincy task
Here's all that happened in tonight's episode of Bigg Boss 14.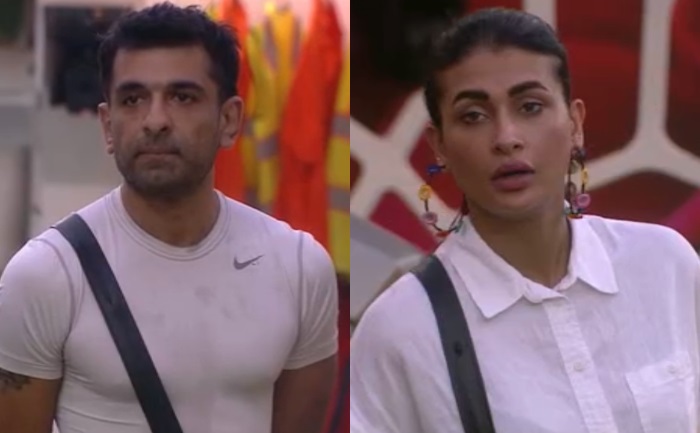 Bigg Boss 14, Oct 21, Written Update:  The episode begins with the three toofani seniors – Sidharth Shukla, Hina Khan, and Gauahar Khan arguing over the previous day's task in the theatre room. Sidharth refuses to accept that his team lost. The trio keeps on arguing over the same, Bigg Boss asks them to leave. Hina questions Sidharth, asks him, how did Nikki win the 'tray task'? She says she won it because Sidharth was 'sanchalak'. Then, she says, that now she is the 'sanchalak' and chooses to go with Gauahar's team. Shukla tells BB that if the decision was based on mutual understanding then why was he called.
The trio leaves, later, in the living area, Bigg Boss announces that Siddharth's team lost and he along with his team members-Eijaz, Pavitra will leave the house, except for Nikki as she is a confirmed contestant. Even Shehzad, who was given the tag as a 'ghayab' fresher was also asked to leave. The freshers get emotional and start crying, soon after, Bigg Boss announces that Hina and Gauahar also have to leave the house, this comes as a shock to everyone and the freshers burst into tears.
All contestants are hurt and in tears today. It is an emotionally exhausting day for the #BB14 contestants.#BiggBoss2020 #BiggBoss14 @BeingSalmanKhan pic.twitter.com/zMGNLLEKqs

— COLORS (@ColorsTV) October 21, 2020
.@GAUAHAR_KHAN de rahi hain @jaankumarsanu aur @nikkitamboli ko dilaasa. Are you watching?#BB14 #BiggBoss2020 #BiggBoss14 @BeingSalmanKhan pic.twitter.com/uklwcIQn0h

— COLORS (@ColorsTV) October 21, 2020
After some time, a few men in PPE suits enter the house, they break the side of the wall and they unveil a hidden wall. Two blindfolded people in PPE suit enter, and it is none other than Pavitra and Eijaz.  Bigg Boss says this is the new part of the house, calls it the 'red zone'. BB also says that those who are in the red zone will be the one whom at the end of the week will be eliminated.
Aakhir kya hone jaa raha hai aaj #BiggBoss14 ke ghar mein? Saara ghar ho raha uthal-puthal.#BB14 #BiggBoss2020 @BeingSalmanKhan pic.twitter.com/rS3L6uWd1l

— COLORS (@ColorsTV) October 21, 2020
Jaan tells Nikki to do the dishes which she refuses. Nikki says it's already evening and she will start working from tomorrow. Jaan tells her that everyone is working, to which, Nikki says that she is not like everyone and leaves. Jasmin, Rubina, and Abhinav laugh at Nikki for touching Gauahar's foot.
It's the next day and the contestants wake up to Beedi Jalaile.'  Eijaz gets furious and says that he does not deserve to be in the red zone. After some time, a new task is announced named, Jaan Bachi Toh Laakhon Paye which is the first captaincy task. Rubina, Jasmin, Abhinav, Jaan, and Nishant strategize to save each other in the task, whereas, Nikki, Pavitra, and Rahul plan. Eijaz and Pavitra are the 'sanchalak' of the task.
Rubina tells Abhinav that Rahul will try to get our dolls. and that they can't trust Nishant and Jaan if they become the captains as they will favor their team only.
The task begins and everyone grabs the dolls of the freshers they want to support and leaves. Eijaz says Rubina was the last to come out. Rubina disagrees. Pavitra says that Abhinav was the last one to come out. Rahul says Pavitra has a soft corner for Abhinav and that's why she is doing drama. Eijaz and Pavitra get into an ugly fight over their this.
(Episode Ends)
ALSO READ: Bigg Boss 14, Oct 20, Written Update: Hina, Gauahar Allege Sidharth's Team Of Cheating