Bigg Boss 14: Hina, Sidharth and Gauahar select which fresher is qualified to stay in the show
In the new promo, Salman Khan tells the toofani seniors to pick the contestant deserving to stay in the BB house.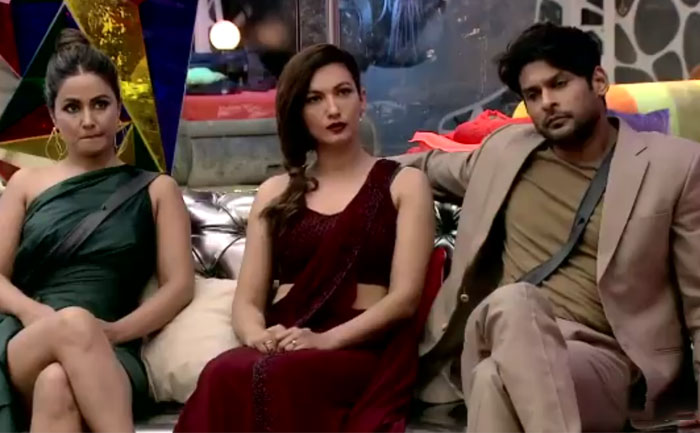 In the previous episode of Bigg Boss 14 Weekend Ka Vaar with Salman Khan, the host of the show, said that the real game will begin now. Now, the toofani seniors-Hina Khan, Gauahar Khan, and Sidharth Shukla will be divided into 3 teams and they will have to select a fresher they would like to have in their team.
In the new promo, shared by the official page of the channel, Salman Khan starts by saying that the seniors will have to select contestants they would like to see in the Bigg Boss in the future, he says that two freshers will stand behind a screen, and they have to choose one from the pair.
Watch the promo here:
The task begins and the first pair to come up is Eijaz and Rubina. Sidharth chooses Eijaz and says that he is being entertained and calls Rubina 'selectively dumb'. However, Hina denies and says that Rubina's way is more entertaining than Eijaz.
Next, it is Pavitra and Jasmin. Hina chooses Pavitra and says that Jasmin often controls her anger, Gauahar does not agree with her and says Jasmin is Bigg Boss worthy as she is a whole package. Up next, Jaan and Nishant stand behind the screen,  Sidharth calls Jaan strong and says Nishant is disappointing, to which, Gauahar disagrees citing that she has seen an improvement in Nishant.
Lastly, Abhinav and Rahul are up next, Sidharth and Hina state that Abhinav deserves to stay in the house as he is vocal, however, Gauahar does not agree and says that Rahul has had his own battles in the house.
Meanwhile, Shehzad, Jaan, and Abhinav are in the bottom three and the contestants have to mutually decide which nominated contestant should be evicted this time.
ALSO READ: Bigg Boss 14, Weekend Ka Vaar, Written Update: Jaan, Shehzad And Abhinav In Bottom Three