Bigg Boss 14, Weekend Ka Vaar, Written Update: Salman Khan reveals Jaan's true colors to Nikki
Here's all that happened in tonight's episode of Bigg Boss 14.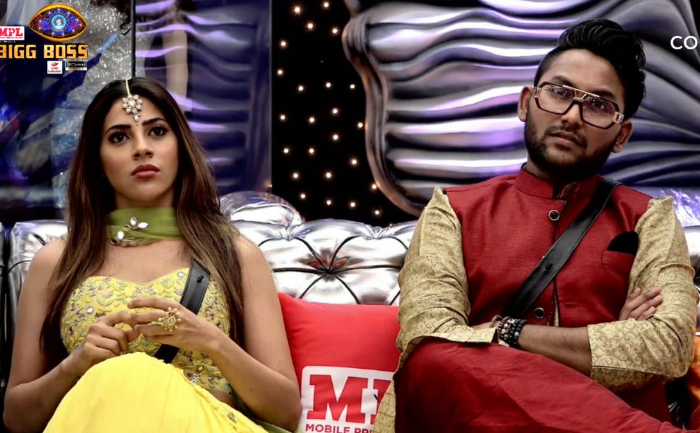 Tonight's episode begins with the sister duo, Preeti and Pinky enter the house and the contestants celebrate Navratri with the housemates, Salman Khan enters and greets the contestants. He asks Eijaz and Pavitra about their stay in the red zone area.
Navratri ki iss khaas mauke pe #BiggBoss ke ghar mein #PreetiPinky ne machaya dandiya dhamaal. #BB14 #BiggBoss14 #BiggBoss2020 @BeingSalmanKhan #WeekendKaVaar pic.twitter.com/u7TVuhDNJt

— COLORS (@ColorsTV) October 24, 2020
Salman talks to Rubina over calling Abhinav a 'samaan,' he tells Rubina not to involve him in her game. He also tells her about how Abhinav did not come on the show because of her and the topic ends.
Next, the host talks about the buzzer task, Salman points at Jaan for not discussing with Nikki or Sidharth before a task and instead of Nikki, forming an alliance with Nishant's team. Salman says the toofani seniors gave the idea to form an alliance but they didn't have any stake in this game. Nishant and Jaan's strategy get exposed, and this comes as a shock to the contestants.
Salman asks, "Yeh kissne kaha ke 'main pagal thodi hoon ke Nikki ko captain banne dunga'" Jaan accepts and says that this statement was made by him, this comes as a shock to Nikki and expresses her disappointment towards him.
.@BeingSalmanKhan kar rahe @jaankumarsanu se task aur unki dosti se related kuch sawaal! #BB14 #BiggBoss14 #BiggBoss2020 #WeekendKaVaarWithSalmanKhan #WeekendKaVaar pic.twitter.com/wG9oU4XeuJ

— COLORS (@ColorsTV) October 24, 2020
Salman asks the contestants if anyone can trust Rahul blindly and no one agrees. He asks the freshers the reason and they express it. Rahul defends himself and tells that he can't be sorry just for the sake of it and says that he stands by his arguments.
In the garden area, Rahul and Nikki discuss about Jaan, and Rahul tells her to be on her side throughout the game, to which, she says, that she is not his friend and will play the game alone. On the other hand, Jaan tells Rahul to tell Nikki that he himself did not want her to become the captain, he avoids the conversation.
Pavitra talks to Nikki and tells her not to trust Rahul, they talk about Jaan, Nikki says that he has survived until now in the house because of the seniors, Pavitra denies and says that he is still in the house because of her.
Salman enters again and tells the contestant that a special caller wants to interact, Kavita Kaushik enters and speaks to Eijaz, she lauds him for the captaincy task and asks him why the contestants find him confused and indecisive, to which, he says that when he entered the show, he was all excited but, ever since they saw a different avatar during the task, they have been confused, however, he says he is trying his best in the game.
Divya Khosla Kumar enters the show, and grooves on her new song, Teri Aankhon, and she plays a game with the housemates, Salman calls Jasmin Television's Katrina Kaif and Jasmin blushes. Divya gives the contestants a task, where, they will be divided into pairs and will have to look into each other's eyes. Eijaz and Pavitra go first, next, Jaan-Nikki, Nikki express her anger while playing the task and lastly, Rahul and Nishant play and they also express their disappointment. Salman leaves.
Kya aapko bhi pasand hain #PavitraPunia aur @KhanEijaz ki yeh pyaar bhari nok-jhok? Tell us in the comments below. #BB14 #BiggBoss14 #BiggBoss2020 @BeingSalmanKhan #WeekendKaVaar pic.twitter.com/kbZeVZJzYK

— COLORS (@ColorsTV) October 24, 2020
Nishant tells Jaan that he should not pretend to be friends with Nikki if he doesn't like her. He tells Jaan that he acts like a crazy lover with her but then back-stab Nikki. Jasmin, on the other side, tells Eijaz that he has made a barrier that people cannot cross it. Abhinav and Jasmin discuss about Jaan, she says that he feels bad for Jaan.
(Episode Ends)
ALSO READ: Bigg Boss 14, Oct 23, Written Update: Nishant Loses Captaincy; Contestants Celebrate Navratri