Bigg Boss 14, Weekend Ka Vaar, Written Update: Kavita Kaushik becomes the new caption of the house
Here's all that happened in tonight's episode of 'Bigg Boss 14.'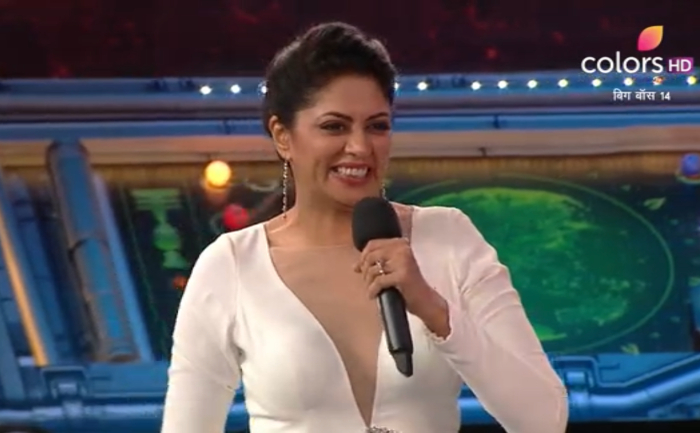 Bigg Boss 14, Weekend Ka Vaar, Written Update: Salman Khan enters and wishes everyone a Happy Dussehra. He meets the contestants and extends Dussehra's greetings to them. Yet again, he asks them buzzer kisne bajaya? Later, he says that Jasmin is the only one who ran the house this week. He says that when the house was being invaded by the red-zone and Jasmin was busy making tea and again when the contestants were busy fighting, she was telling Bigg Boss to give her clothes. Salman questions Jasmin for not standing up for herself during the captaincy task, he tells her that she should be vocal in the house, Rubina agrees and says that Jasmin will put her point when she realizes herself.
Salman tells the housemates that there are 2 wild card entries in the house and it is none other than Nora Fatehi and Guru Randhawa, they dance to their new song Naach Meri Rani. Nora plays a game with the boys of the house and asks them 'who is the rani of their life.' Rahul and Jaan take Nikki's name, Nora jokes and says this is a love triangle, Nikki denies. Eijaz flirts with Nora and says he is a fan, later, Eijaz says he hasn't found anyone and is waiting for the wild card entries. Salman asks Rahul, Jaan, and Guru to sing for Nikki, Salman also joins them.
Tyohar ke iss mauke par ghar mein aaye hain do aur naye mehmaan. Miliye @GuruOfficial aur #NoraFatehi se #BiggBoss ke ghar mein! #BB14 #BiggBoss14 #BiggBoss2020 @BeingSalmanKhan #WeekendKaVaar pic.twitter.com/jFR3nEBeRz

— COLORS (@ColorsTV) October 25, 2020
Nora and Guru teach the housemates the hook-up step of Naach Meri Rani, and they dance it out.  Nora then tells the boys to do the hook step of  Garmi, the boys dance, and this leaves everyone in splits.  Nora says Salman does the best, he did it with Shraddha and Varun and he was the best. Salman thanks her. Nora and Guru give the housemates a warning and say that the hotness is the house is about to go high, leaving the contestants shocked.
Who do you think nailed the #Garmi hook step? #BB14 #BiggBoss14 #BiggBoss2020 @BeingSalmanKhan #WeekendKaVaar pic.twitter.com/sZkm9NddMu

— COLORS (@ColorsTV) October 25, 2020
Salman Khan introduces the two female wild card entrants – Naina Singh and Kavita Kaushik. Later, the host plays the BB Quiz with the ladies. Naina answers them all, Salman says it's useless to ask more questions as Naina wins. Kavita says that she is embarrassed. Later, Salman introduces the third wild card entrant – Shardul Pandit, he shares his experience and talks about the difficulties he faced during the pandemic. ' Salman then plays the BBQ game with Shardul. The host asks Naina and Kavita to share their views on Shardul.
#BiggBoss14 ki stage pe laga di #NainaSingh aur @Iamkavitak ne aag. #BB14 #BiggBoss2020 @BeingSalmanKhan #WeekendKaVaar pic.twitter.com/UFGBZoMX2G

— COLORS (@ColorsTV) October 25, 2020
Shardul reminds Naina Singh about the time when she once sat on his lap, which triggers Naina. She says that she has already got a "mudda" to fight about in the house. Kavita says they have started fighting on the stage only. Salman tells Shardul that he will connect with his friend and he connects the call to Karan Patel and his wife Ankita, the duo give their best wishes to Kavitha and Shardul.
In the house, a new task, named, 60 minutes is announced, the contestants have to rate themselves based on the time they think they appear on screen every day.  The task begins, Eijaz says he deserves 23 minutes, housemates disagree, Pavitra says 17 minutes, but she contestants give her a 9-minute tag. Jaan says he demands the 9-minute tag, but the contestants disagree and give him 3 minutes. Rahul says he deserves the 9-minute tag, but the housemates disagree. Nikki, says she deserves the 23 minutes tag, the housemates ended up having differences of opinion. Bigg Boss announces that the time to is over, and as they don't come to a mutual decision, he tells the contestants to wear whichever tag they feel is for them.
Salman introduces Kavita, Naina, and Shardul as the weekend panelists and they talk about the 60 minutes task. Later, Salman announces that the three contestants are the new freshers, the housemates got shocked. The host gives the inmates the power to decide which wild card entrant should go to the red zone. Abhinav, Nishant, Eijaz, and Jaan pick Shardul while, Nikki, Pavitra, and Rahul want to put Naina in the red zone, and Rubina picks Kavita. Salman says that scene palat ne wala hai and Naina, Shardul who got 4 votes will go to the green zone, whereas, Kavita who got only one vote will become the captain of the house.
Kavita, Naina, and Shardul get a warm welcome from the contestants. Kavita goes and hugs Eijaz. Pavitra gets emotional meeting Shardul. Kavita tells Eijaz to not copy others and tells him that it felt like he was trying to copy Sidharth Shukla. Later, Kavita talks to Pavitra, Eijaz, and Nikki about Rubina and how she overreacted over Salman's samaan comment. She also says that Abhinav is not shown in the show because of Rubina's insecurity. Naina teases Jaan with Nikki. Kavita tells Eijaz and Pavitra that they look hot together. Nikki tells Rahul about how they should keep themselves as a priority. In the red zone, Punia and Eijaz plan to go on the green side.
(Episode Ends)
ALSO READ: Bigg Boss 14, Weekend Ka Vaar, Written Update: Salman Khan Reveals Jaan's True Colors To Nikki