Bigg Boss, Oct 28, Written Update: Pavitra and Rahul gang up against Abhinav
Here's all that happened in previous episode of 'Bigg Boss 14.'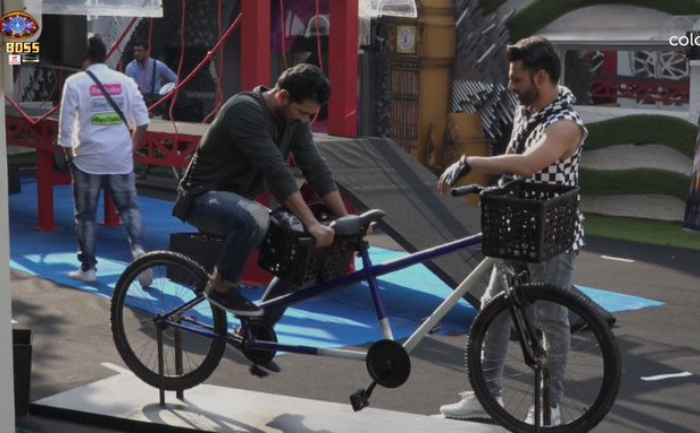 The episode starts with Jasmin and Rahul continuing their argument over the captaincy task, in anger Jasmin throws water at Rahul, she even accused Rahul of giving her dhamki. Abhinav, Shardul tell Rahul he is wrong. Rahul says she is playing the victim card and is trying take footage. Jasmin calls Rahul tuccha.  Bigg Boss house is divided as Jasmin maintains that Rahul threatened to harm her, Nikki and Pavitra support him. Kavita explains to Jasmin that Rahul didn't blackmail her rather it was his strategy. Naina also tries to talk and tell her that it was not Rahul's fault, she tells him it's a game and these things tend to happen. Jasmin disagrees and continues to blame Rahul.
The captaincy task begins, Nikki manages to take Nishant's bag.  Pavitra tells Shardul that he shouldn't be captain this week as he has just entered the house and should give others the chance. Pavitra snatches Kavita's bag. Jasmin says that during the buzzer task Rahul was about to bring a knife for protection. Nishant asks Rahul to clarify. Rahul accepts but says that he quit later. Jasmin discusses Rahul's remarks with Eijaz and tells him that he would have hurt her, Rahul defends himself. Both argue with each other. Abhinav tells Eijaz that the housemates should eliminate Rahul. Bigg Boss announces 'BB World Tour's' task is over for the day.
In the red zone, Rahul gets emotional as everyone in the house targets him. Nikki consoles him. Rahul says that he does not show his weak side, as people will take advantage of it. He tells Nikki that if she leaves the red zone he wouldn't survive as she is the only person he talks to. Nikki, Jaan, and Pavitra strategize, on how they will get saved. Pavitra tells Eijaz that she will support him in becoming the captain and says that she wants him to save Jaan. Eijaz tells the red zone contestants to play together, and not fight individually. Later,  Pavitra and Jaan talk, Pavitra reveals that she is attracted to Eijaz, she says she is confused about her feelings for Eijaz.
The next morning, the contestants wake up to Ghungroo, the contestants start planning ahead of the task. Rubina tells Kavita that she can't cut fruits for her. Kavita tells Rubina that she is behaving like Nikki, and dragging issues. Later, the duo gets into an argument. Kavita calls Rubina negative.
.@Iamkavitak ne bola @RubiDilaik ko unke liye fruits kaatne ko kyunki woh captain hain. #BB14 #BiggBoss2020 #BiggBoss14 @BeingSalmanKhan pic.twitter.com/07KXBwUkxp

— COLORS (@ColorsTV) October 28, 2020
Pavitra, Rahul, Nikki, and Jaan discuss their duty. Nikki refuses to do her duty.  Jaan says he will do the duty alone but not with Rahul. Rubina talks to Jasmin about Kavita's behavior and tells her that she is the captain and she has to lead the house, and not a dictatorship.
.@RubiDilaik is saying @Iamkavitak ko captaincy ka title mila hai, dictatorship ka nahin. Do you agree with her? #BB14 #BiggBoss2020 #BiggBoss14 @BeingSalmanKhan pic.twitter.com/T8rdG0R85t

— COLORS (@ColorsTV) October 28, 2020
Eijaz asks Nikki if he should dye his beard. Nikki tells him to take Pavitra's suggestion and tells him that Pavitra likes her and is emotionally attached to him.  Eijaz is seen confessing that he is single for the past three years and enjoys being that way and says that he does not have any feelings for Punia.
.@nikkitamboli says #PavitraPunia ko @KhanEijaz pasand aane lage hain. 🥰 #BB14 #BiggBoss2020 #BiggBoss14 @BeingSalmanKhan pic.twitter.com/IvH8N3IJLI

— COLORS (@ColorsTV) October 28, 2020
Bigg Boss tells Jaan Kumar that he has hurt the sentiments of the Marathi community over his comment two days ago, he apologizes for his remark and says that it was unintentional.
Jaan Kumar Sanu apologies for his remarks in relation to Marathi language made on the Bigg Boss episode aired on Tuesday, 27th October. #BB14 #BiggBoss14 pic.twitter.com/WIRugLSzW1

— COLORS (@ColorsTV) October 28, 2020
Pavitra makes a heart-shaped paratha for Eijaz.  Nikki and Jaan tease Eijaz, which leaves him blushing. The captaincy task begins again. Bigg Boss announced that the red zone members will snatch away two bags at a time. Jaan convinces everyone to save him. Nikki, Pavitra, and Jaan discuss whose bag they will snatch. Jaan says he will remove Eijaz. Nikki says she will not.
The task begins, Rahul tries to snatch Kavita's bag, but she manages to save her bag.  Abhinav makes a deal with Rahul, tells him to help him be the captain, and he will return the favor, Rahul does not agree. Rahul takes away Rubina's bag, while Jaan takes Kavita's bag.
.@ashukla09 ne bola @rahulvaidya23 ko ki woh unhe captain banate hain toh he will support Rahul. #BB14 #BiggBoss2020 #BiggBoss14 @BeingSalmanKhan pic.twitter.com/2Yi1F2z6f2

— COLORS (@ColorsTV) October 28, 2020
Jaan cries and says he can't betray Eijaz. Eijaz and Pavitra console him. While everyone is in the living area, Nikki wisely takes away Abhinav's bag, sanchalak Naina objects, and tells her to return it.  Bigg Boss tells Nikki to keep Abhinav's bag back. Pavitra tells Abhinav that she wants to give Eijaz a chance to prove himself. Abhinav tells Pavitra that she is his priority. The green zone contestants plan to go against Eijaz, Rahul and others.
The task begins again, Rahul and Pavitra try to snatch Abhinav's bag, things get aggressive and he falls off from the cycle. . Naina and Rubina lash out at Rahul and Pavitra's actions.
(Episode ends)
ALSO READ: Bigg Boss 14, Oct 27, Written Update: Jasmin Lashes Out At Rahul During Captaincy Task