Beirut Blast: Bride 'happy to be alive' after wedding video captures blast
Stunning video of bride during wedding shoot that captured the moment blast tore through Beirut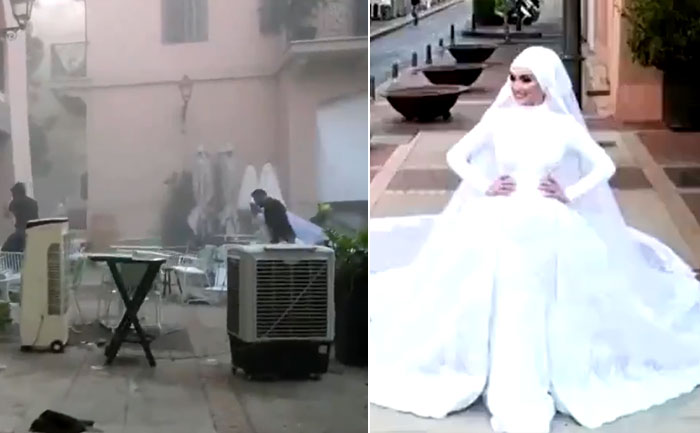 Two massive explosions in Beirut have so far killed at least 135 people and injured around 5,000. Innumerable people are feared trapped under rubble. Social media is abuzz with terrifying visuals of the explosion. A bride who was posing in the Beirut square had her wedding video cut short by the shocking blast.
Radiant in a long white gown and veil, 29-year-old Lebanese bride Israa Seblani stands smiling and posing for her wedding video. But the moment was shattered by a powerful shockwave that nearly blew the bride off her feet.
Watch the shocking video here:
Speaking to National Post Seblani said, "I was shocked, I was wondering what happened, am I going to die? How am I going to die?"
Seblani, a doctor working in the United States, arrived in Beirut three weeks earlier to prepare for her wedding. She helped to check on the injured nearby, before fleeing central Beirut's Saifi square to safety. After the blast, she and her husband tried to compose themselves and carry on with their celebrations.
The government announced that it was putting an unspecified number of Beirut port officials under house arrest. Pending an investigation into how 2,750 tons of ammonium nitrate came to be stored at the port for years. The 2,750-ton cargo had been stored at the port since it was confiscated from a ship in 2013. It is believed to have detonated after a fire broke out nearby.
Also Read: Beirut Massive Blast: Priyanka Chopra, Farhan Akhtar And Others Pray For People Of Lebanon