Bengaluru: 3 Killed In Police Firing Amid Violence Over Facebook Post
3 Dead in Bengaluru as Police Open Fire on Violent Protesters, Section 144 Clamped in City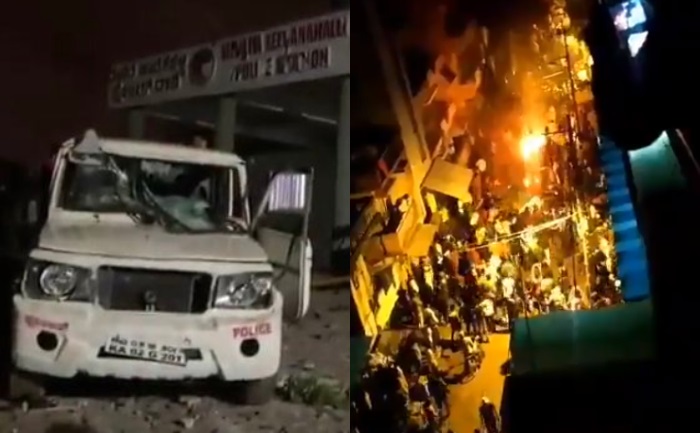 Violence erupted in east Bengaluru over an alleged derogatory Facebook post. The protestors attacked KG Halli and DJ Halli police stations. They were protesting a 'derogatory' Facebook post by the nephew of Congress MLA R Akhanda Srinivas Murthy. Around 60 police personnel, including as additional commissioner of police, have been injured in the clash.
Three people were killed as police opened fire on the protestors. 110 people have been arrested for violence, stone-throwing, and assault on police personnel. The police used lathi-charge, tear gas, and firing to disperse the violent crowd.
#bengaluruviolence update
2 confirmed death and more then 100 miscreants arrested by police.
Curfew is in place in affected areas.
Home minister @BSBommai has ordered strict punishment for those who indulge in the violence. Several spl teams formed to nab culprits. @indiatvnews pic.twitter.com/RTFX31UbN6

— T Raghavan (@NewsRaghav) August 12, 2020
Hundreds of protestors gathered outside Srinivas Murthy's house in east Bengaluru's Kaval Byrsandra area. They pelted stones and set the cars parked there on fire. Another group attacked the KG Halli police station. The protestors demanded immediate action against P Naveen. The man who allegedly wrote the derogatory post insulting Prophet Muhammad. The accused, Naveen, has been arrested for sharing the offensive posts on social media.
Karnataka: Visuals from Bengaluru's DJ Halli Police Station area where violence broke out over an alleged inciting social media post.

Two people died & around 60 police personnel sustained injuries in the violence in Bengaluru, according to Police Commissioner Kamal Pant. pic.twitter.com/QsAALZycs0

— ANI (@ANI) August 11, 2020
Section 144 has been imposed in Bengaluru and curfew has been imposed in DJ Halli and KG Halli police station limits of the city.
Also Read: Karnataka: No Lockdown in Bengaluru, CM BS Yediyurappa Confirms