The 39 Best MMO and MMORPGs Every Game Lover Should Play in 2019-20
Here's the list of the 39 best MMO and MMORPGs you must play right now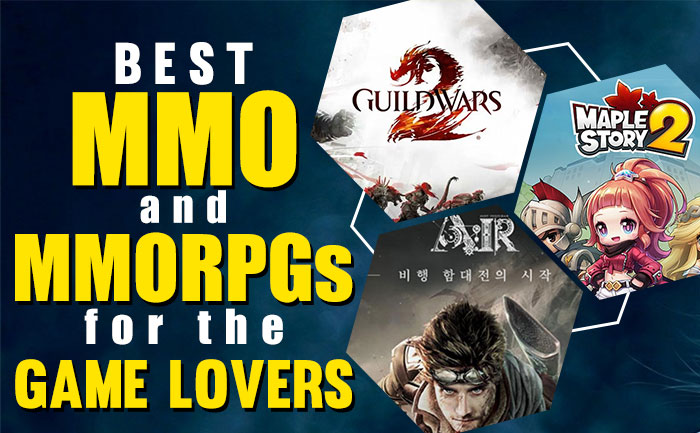 Best MMO & MMORPG to play 2019: The full form of (MMORPG) is Massively multiplayer online role-playing game in which players get an opportunity to play someone's role and interact with others throughout the world. No one across the world can deny the popularity of MMORPG. In addition, the revenues for this category have been drastically increased over a period of time.
In this article, we have brought you some of the best MMO and MMORPG video games that you should play right now. You would not believe, MMORPG fetches over 10 billion USD a year. These games are being played by over 10 million people across the world. Our list of the best MMORPG has the potential to keep you glued for a longer period of time.
Our list of Best MMORPG might contain some video games which were released way back but they are still being played by thousands of people. Making this easier for you, we have shortlisted top MMORPG that will surely make your day.
Unlike other video games, MMO and MMORPG require more attention, hard work, and patience. MMORPG is not only a game you play. Its like a vacation into another plane of existence, one that you can modify the way you want. After extensive research and discussion, we have enlisted 39 best MMO & MMORPGs to play right now. 
Here's the list of the 39 best MMORPGs:
Key features:
Interactive gameplay
Quite easy to become master but hard to stop playing
A griping story line
Developed and published by Square Enix, Final Fantasy XI is one of the most played MMORPG for Microsoft Windows personal computers. The game is set in the fantasy realm of Eorzea, in which players are allowed to take control of a customized avatar. Players can then explore the land. However, they are eventually caught up in both an invasion by the hostile Garlean Empire and the threat of the Primals, the deities of the land's Beastmen tribes.
Key features:
Challenging gameplay
Beautifully designed
Has Amazing twists
The Elder Scrolls Online is one of the best MMORPG game developed and published by ZeniMax Online Studios and Bethesda Softworks respectively. Like other MMORPG, this originally used a mandatory monthly subscription model, until it transitioned to a buy-to-play model with microtransactions and an optional subscription in March 2015.
Similar to previous titles, it is nonlinear, with a mixture of quests, random events, and free-roaming exploration of the world. You must know that MMORPG does not provide a mode for single-player offline play, although the developers stated that there would be "plenty of content" designed to accommodate players who prefer to play solo.
3. MapleStory 2
Key features:
It an entertaining and engaging
Has many options such as chat, trade and form guilds
Amazing design, focused on providing a very realistic gaming experience
MapleStory 2 is a multiplayer online game developed by NSquare in association with Nexon and NCSoft. It is a sequel to MapleStory and we have added this in our list of best MMORPG because developers have made several interesting changes in it.
MapleStory 2 is a mixture of PvP and PvE and one of the best video games for shorter bursts of gaming. In conclusion, this would not disappoint you if you play it for a longer period of time.
Key features:
Considered one of the best MMORPG that changed the gaming industry.
It's looking feature will make you feel accustomed.
Lucrative rewards for winners in Dual Arenas
RuneScape is one of the most famous fantasy MMORPG developed and published by Jagex. Do you know that it was initially a browser game? However, it was later replaced by a standalone C++-coded client in 2016.
You would not believe, more than 200 million accounts were created and the achievement is recorded by the Guinness World Records as the world's largest and most-updated free MMORPG. The game is divided into kingdoms, regions, and cities. This is touted to be one of the best MMORPG and you can notice many people streaming in popular video game streaming platform, Twitch.
5. Burning SoulWorker
Key features:
Breathtakinly amazing anime-style design
Simple but intriguing storyline
Scores of challenges for MMO and MMORPG players
Burning SoulWorker is undeniably one of the best MMORPG anime-style free action game developed by Lion Games Studios from South Korea. The story of the game takes you 15-years back after a portal, known as the void, started bringing demons into the world.
Childrens, who were lost some 15-years ago, were transported back to their world. Armed with supernatural powers, these children were to be known as SoulWorkers. The Korean version of Burning SouldWorkers was published by Smilegate on January 18, 2017, while the English version entered Open Beta on February 26, 2018 with Gameforge as its publisher. You can download the English version through Steam or through the official Gameforge website.
Key features:
A unique storyline which will make you addictive to this game.

Quite Challenging quest

No Subscription charges
Guild Wars 2 is undoubtedly one of the best massively multiplayer online role-playing game (MMORPG) we have noawadys. It was developed by ArenaNet and published by NCSOFT. Set in the fantasy world of Tyria, it takes place in a persistent world with a story that progresses in instanced environments.
It is a sequel to popular MMROPG Guild Wars, which features the same lack of subscription fees that distinguished its predecessor from other commercially developed online games of the time, though until August 2015 a purchase was still required to install the game.
As of August 2015, over 5 million copies had been sold, making it one of the biggest free-to-play MMORPG.
Key features:
One of the best anime games of all time.
Real-time battle systems
You have to master the PvE part of the game to advance to the PvP
Blade & Soul is yet another Korean game we have added in the list of best MMORPG, which is developed by NCSOFT (Team Bloodlust). Players in the game can create playable characters exploring around the world by completing quests assigned by various NPCs.
The game uses a real time battle system in the third person camera view and requires players to "combo" a series of attacks, much like that of fighting games. According to NCSOFT, the game also features an innovative "Downed" mechanic, allowing players to recover from the brink of death.
What's more interesting about this game is the wonderful homage to Asian culture, especially qinggong.
Key features:
Amazing futuristic design
Stunning parkour and combat incorporated
Plenty of options for improving skills and gear
Warframe is one of the best action role-playing and third-person shooter video game developed and published by Digital Extremes. The game was originally released for Windows PC and later on it was made available for PlayStation 4, Xbox One, and Nintendo Switch.
As we have mentioned in its key features that it has a stunning futuristic design, if you love playing games with that feature then you must add Warframe in your favorite games list. Talking about its story, in Warframe, players take control of Tenno members, a race of ancient warriors who have been awake from centuries of cryosleep to find themselves at war in a planetary system with different factions.
In order to complete the mission, the members of Tenno use strong weapons. The game has elements of shooting and melee games, parkour, and role-playing to allow players to advance their Tenno (ancient warrior) character with improved gear.
Key features:
Multiple different characters per account.
Constantly updated "sagas" and new storylines.
One of the best anime-based video games to impress all MMO and MMORPG fans
NCSOFT did a splendid job with this futuristically designed MMORPG and enough potential to make you fall with its features. Lineage II is one of the best massive multiplayer online role-playing game (MMORPG) for Microsoft Windows. Above all, the game was originally launched in 2003. It has been 19-year since it was launched but it is still being played by millions of people.
We have added this video game in our list of best MMORPG due to its compelling storyline and futuristic designs. There are two Sagas available in the game namely  "The Chaotic Chronicle" and "The Chaotic Throne".
10. Black Desert Online
Key features:
It has several real-life elements including weather disasters, day/night cycles
It has many events such as sieges between the kingdoms of Calpheon and Valencia
Black Desert Online is one of the best fantasy massively multiplayer online role-playing game (MMORPG) developed by Korean company Pearl Abyss. This RPG was originally published for Microsoft Windows in 2015.
The mobile version of Black Desert Online, which is also known as Black Desert Remastered will be out in December 2019. Giving users fast rendering, the developers of the game used modified engine. And that is the reason why it runs so smoothly. In conclusion, this is definitely one of the best MMORPG of the decade
11. World of Warcraft Classic
Key features:
Plenty of unique and interesting lore
An interactive raid and dungeon system
A constantly evolving community
World of Warcraft (WoW) is yet another interesting MMORPG released in 2004 by Blizzard Entertainment. Notably, it is the fourth MMO video game set in the Warcraft fantasy universe. Ever since it was launched, World of Warcraft has had seven major expansion packs released for it: The Burning Crusade, Wrath of the Lich King, Cataclysm, Mists of Pandaria, Warlords of Draenor, Legion, and Battle for Azeroth.
In 2019, World of Warcraft was one of the most popular MMORPG as it was being played by 10 million people. As of 2014, the game had a hundred million registered accounts. In addition, the game generated $9.23 billion in revenue by 2017, making it one of the highest-grossing video game franchises of all time.
In MMORPG, players can take a control of a character or first-person view, exploring the landscape, fighting various monsters, completing quests, and interacting with non-player characters (NPCs) or other players.
12. New World
Key features:
Instead of Fantasy world, it is one of the best MMORPGs that focus on past times
Plenty of classes and character types to imitate a nightmarish 17th century North America
The land evolves as it does in real life, something we do not get to see very often
Amazon Game Studios surprised millions of users by announcing the alpha version. After using this for enough amount of time, we came to the conclusion that it is one of the best MMORPG that you should play in 2019.
This MMORPG is set in the mid-1600s, players colonize a fictional land modeled after British America in the Atlantic Ocean.
Key features:
It is very beautifully designed
Players can compete for the throne
Each character has it own advantage or disadvantage
Crowfall in yet another MMORPG we have added in the list of best massively multiplayer online role-playing game-massively multiplayer online real-time strategy game. It is developed by ArtCraft. The game allows you to go anywhere. There are five systems of worlds namely "Eternal Kingdoms", "God's Reach", "The Infected", "The Shadow", and "Dregs", each with a different set of rules dictating them.
Besides multiple systems, it also has some characters or archetypes planned for the game consisting of a mixture of humans, demi-humans and animal-hybrids. The archetypes include Champion (melee dps), Ranger (specialist), Druid (support), Confessor (ranged dps), Knight (tank), Templar (tank), Forgemaster (specialist), Frostweaver (ranged dps), Assassin (specialist), Myrmidon (tank), Legionnaire (support), Duelist (specialist) and Stalker (ranged dps).
14. Lost Ark
Key features:
An action-packed playing format with additional strategic elements
Allows multiple camera angles to feel more realistic
Breathtakingly designed demons as skilled enemies
Lost Ark is undeniably one of the best MMORPG which will keep you hooked for a longer period of time. You must be aware of the controversy Lost Ark created in Gaming industry. The realistic feel signified to both critics and fans alike that Smilegate just might have created a legendary title.
The entire world is in chaos from the attack of Kazeros' demon army, as he opens the Chaos Gate with his six legions to invade the human world. Similar to legend that exists in myths, the word has bcastle siege warfare come a place where there are no heroes and everyone has forgotten about the Ark that defeated the demons in the past.
Key features:
It is set in a steampunk universe where machine rule over humans
Lots of aerial combat and Realm vs Realm combat
Players can use airships as their primary mode of transport
Ascent: Infinite Realm is one of the most popular and best MMORPG developed and published by Bluehole and Kakao Games respectively. The game mostly focus on aerial combat and Realm vs Realm Combat while players are allowed to use airships as their primary mode of transport.
The video game did introduce something new that we hardly get to see in any MMORPG.  In this MMO Game, users can engage in combat in a futuristic word. Its unique or never seen before features make Ascent: Infinite Realm one of the best MMORPG of all time.
Key Features:
Players get the chance to build the world they live in.
Every gameplay is different as storylines rely heavily on player choices
Castle siege warfare is a prime highlight of this game
Ashes of Creation has been a long time coming. Developed by Intrepid Studios, it raised $3,271,809 on Kickstarter, with 19,576 backers. However, the game is still in its Beta testing stage without a confirmed release date as of yet. Players who can't wait to get their hands on the game shouldn't be too disappointed though. Ashes of Creation: Apocalypse is a limited version open Beta, allowing players to test out the game.
The game's unique feature is its reactive gameplay which will allow the entire world to be built around player choices and actions. Ashes of Creation is set in a medieval world where players will have to survive a world unfettered by civilization.
Key features:
A social game focusing on player co-operation and group play
Pre-Planing and preparation is essential
Open sandbox gameplay
Pantheon introduces a gaming aspect rarely seen in MMORPG games i.e. preparation. The combat requires players to prepare according to the specific opponent.
Exploration is another aspect that can help players acquire spells and abilities from dungeons and challenging encounters. In addition, the game also focuses heavily on social interaction. Players will need to co-op to survive in a world full of dragons and sorcery.
However, Players may be in for some wait if they want to play the game. The game developers, Visionary Realm, is yet to announce a release date for the game beyond "TBA".
Key features:
Dynamic Ageing
Real time stakes with non-repeatable tasks
Skill based Character Development
Chronicles of Elyria brings real life stakes into the game by introducing the concept of dynamic aging into MMORPG. The characters can age and die. In addition, the realistic stakes of the game do not end here as all tasks are non repeatable. Players will need to manage a closed economy with finite resources while creating their desired character.
Choose your path and become anything from a King to a feared assassin. The skill based system means players can fully customize the kind of character they play with. This game takes choice based gaming to whole another level.
19. Camelot Unchained
Key Features:
Arthurian legend rolled into an open world gameplay
Extensive crafting and building system
Realm vs Realm
City State Entertainment and Mark Jacobs are doing their best to bring this game to its backers. However, the developers have recently announced that the game will be delayed till 2020 at least.
Camelot Unchained is an Arthurian fantasy about three realms in combat. The Arthurians, Tuatha Dé Danann, and The Vikings are the three realms battling it out for ultimate supremacy. The game focuses on Realm-vs-Realm gameplay. It also offers features such as player economy, housing and crafting amongst other things.
In conclusion, Camelot Unchained might be the best MMORPG to play if it ever sees the light of the day.
20. Identity
Key Features:
Freeplay
Open player economy and society
Modern setting
Identity is an MMORPG by Asylum Entertainment. The game gives players full freedom to do activities in its open world setting.
Players can choose to live as a criminal, or catch them as a police officer, or just make money as a business person. In conclusion, the game gives full control to the players to alter the narrative of their story.
Key Features:
No PvE
The players band together to defeat enemies and conquer parts of the world
Storylines that may take months to finish in their entirety
Saga of Lucimia is said to be one of the best MMORPG which you should not miss in 2019. The game is based on the legendary tabletop game that influenced the fantasy genre. This MMO game is touted to best for those who value careful planning and place value in well-orchestrated adventures, where every player has certain designated roles.
In addition, if you have been playing or ever played Dungeons and Dragons, you must have realized why we have kept Saga of Lucimia in the list of best MMORPG to play in 2019 and 2020.
Key features:
The theme is straight out of a Sci-fi movie
You have options to upgrade or downgrade hundreds of weapons
Star Citizen is yet another interesting and one of the best MMORPG to play in 2019. Developed and published by Cloud Imperium Games for Microsoft Windows, Star Citizen was initially announced in the year 2011 by director Chris Roberts.
Star Citizen is like a hybrid of World of Warcraft and Star Trek, that will make you re-imagine what MMORPGs are all about.
Key features:
Players are able to fully edit the environment by building structures
Set in a continuous single-shard universe
It is based on a server technology CSSC (Continuous Single-Shard Cluster), allowing millions of players to play the game simultaneously together
Dual Universe is one of the most popular massively multiplayer online role play game (MMORPG). It is developed by Paris based game development studio, Novaquark studio. The game is said to be a combination of Eve Online and Star Citizens as well as Minecraft, No Man's Sky, and Space Engineers.
The MMORPG is set in a continuous single-shard universe. It lets users edit the environment by building structures and altering terrain, as well as being given the ability to script the components within vehicles and other player-built objects.
24. Fractured MMO
Key features:
It has a potential to start your own business and choose your role in the world
The race you choose likely to affect your experience within the game
playing this game, you can become stronger and do more if you have a good guild
You must be wondering why we have put Fractured MMO in the list of best MMORPG to play in 2019. However, there are plenty of things making it worth to add in our list. As we have mentioned in the key features that you can start your own business, you can take your business to a new height and you will never be able to succeed as much as you could with a skilled guild.
The MMORPG is set in ancient times, Fractured MMO lets you to master 400+ skills and abilities. One skill and one business decision may be the difference between being a king or a peasant. Dynamight Studios really outdid themselves with this title.
Key features:
It has million possible scenarios depending on your decisions
Lore that expands with everything you and the other players do
You can manage a city, start a business or even be a spy
Legends of Aria is a sandbox MMORPG. It is a collection of online virtual worlds where the community has ultimate power; not just a game but a platform for player-generated content. In the Legends of Aria, players have the power to customize their experience. You can also explore an ever-expanding universe with deep lore and dynamic environments. In addition, the game also allows to create and run your own MMO, set your own rules and play the way you want. Shards will change the face of MMORPG and give players more power than ever before.
26. SoulWorker
Key features:
Enthralling Anime-style free action storytelling
Four Classes to choose from at launch
Large PvE content with over 100 PvE dungeons
Form a group and fight to earn your land
SoulWorker is an anime-style free action massively multiplayer online role-playing game developed by Lion Games Studios from South Korea. The game was published by Gameforge and is a third-person action MMORPG for PC. Soulworker's story revolves around a portal called Void that has brought demons into the world. The children lost in the void are transported back to their world 15 years later. These children become SoulWorkers, having the ability to save humanity from destruction.
SoulWorker also introduces an emotion system that guides character abilities with moods such as vengeance, madness, euphoria or sadness. Players can concentrate on the emotions to activate abilities that are rich in effects for defense or attack using class-specific weapons.
27. Bless Unleashed
Key features:
A visually stunning MMORPG experience courtesy of the Unreal Engine 4
Choose between five fantasy jobs, including the arcane wielding Mage or the bloodthirsty Berserker
Rich backstory and an intricate plot makes for an Immersive fantasy world
Bless Unleashed is an upcoming action MMORPG. The game is being developed by Round 8 Studio and NEOWIZ. It will soon be available on the Xbox One. Bless Unleashed will follow a free to play model. In addition, the game is designed to offer the best MMO/MMORPG experience while still offering solo players the opportunity to complete all the content. With the stunning graphics and rapid combat style, Bless Unleashed is certainly one of the best MMO MMORPG every game lover should try out.
28. Last Oasis
Key Features:
Intensive Lore
Find innovative ways to survive by gathering resources, crafting equipment, and improving your skills
Player driven economy
A large open world for players to explore
Last Oasis is a Nomadic Survival MMO developed by Donkey Crew. It is in Early Access on Steam. The game takes place in a post-apocalyptic world where survivors have to outrun the scorching sun while surviving the harsh conditions around them.
However, once players have conquered the basic survival and figured out a way to stay ahead of the sun, they can advance on to become political and economic powers. Guilds and clans would play a huge role in getting ahead in the game.
29. Gloria Victis
Key Features:
Build a unique character by earning stats and skills

Choose between the four nations of Midlanders, Azebs, Ismirs, and Sangarians

Engage in action-based, non-target combat where your skills and tactics matter.

Create your own items with ten different crafts

Enjoy challenging duels, mounted combat, naval battles, conflicts for territories and epic castle sieges

Build your own house, set up your village and fortify it together with your guild members.
Gloria Victis is an upcoming MMORPG being developed by Black Eye Games. However, no official release date has been announced yet. In addition, the developers have also said that the final version of the game could end up quite different from the early access one. The list of features includes mounts, player housing, sailing, naval combat, sieges, and an immersive, mature storyline.
All of these features sound like the ingredients to a great MMORPG. As of yet, there isn't much information about the game except that it will be set in a realistic, medieval world. The game will feature player based economy.
30. Population Zero
Key Features:
Explore new territories in search of traces of ancient civilizations
Fight hostile players, destroy their bases and seize resource-rich lands or create alliances with other colonists and participate in a large-scale conflict of opposing factions
Population Zero is an upcoming open-world survival MMO being developed by Enplex Games. However, there is no set release date yet. 
Population Zero is set on a hostile alien world. Players are divided into colonies and factions. They can compete, wage war, or cooperate for survival. In addition, the creatures inhabiting the place are hostile and sentient. Above all, the game offers a refreshing concept in the form of the ecosystem. Players will need to be mindful of the planet's ecosystem to survive.
In addition, Population Zero also offers a storyline that uncovers the fate of an ancient, lost civilization. Knowing these secrets may give players an advantage in the game. Similarly, players who pay attention to their surroundings will fare well in the game.
31. City Of Titans
Key Features: 
Fully Customizable characters
Choose to be a Hero or Villain, a classic Paragon or a scheming Mastermind, the choice is yours to make
Multiple fun travel options like flying, teleporting, swinging, running, jumping or even just the Subway.
City of Titans is an upcoming MMORPG from Missing Worlds Media. It is a fully-Kickstarter funded project with a focus on player choice. Players are given more control over their characters and can decide everything from basic player customization to personal storylines. The game is a buy to play MMO and has an optional subscription.
32. Ship Of Heros
Key Features: 
Customize your hero in everything from costume to height, built and proportions.
Choose from four Super Power archetypes: Tankers, Scrappers, Blasters, and Defenders.
Unique Jobs to suit your gameplay style.

Harvest, craft, and trade to make a tidy profit. 
Ship of Heros is an open world MMORPG that is in development under Heroic Games. The game does not have a set release date as of yet. Ship of Heroes will be available exclusively for Microsoft Windows. This MMORPG game will allow for an in-depth customization while offering a traveling spaceship as the setting of the game.
Ship of Heros will also put emphasis on harvesting, crafting, and trading as essential instruments to maintaining the game world's economy.
33. Valiance Online
Key Features:
The game will feature over 25 zones including a futuristic city, island fortress, Atlantis, subterranean maze, and space.
Travel in style by swinging, acrobatics, flash stepping, and many others.
Decentralized market system.
Several costume choices.
Content created by the players themselves.
Valiance Online is a superhero MMO being developed for Microsoft Windows by SilverHelm Studios. The game is set at the beginning of the 22nd century. While players can battle it out as superheroes and villains in a futuristic city, they can also explore more than 90 unique superpowers that can be experimented with for distinct gameplay. However, the best part of Valiance Online is that it will feature an open-world where player choices directly affect the world around them.
With a wide variety of both PvE and PvP content, Valiance Online might be one of the best upcoming MMO games to come around in a while.
34.
Conqueror's Blade
Key Features:
Realistic Medieval Combat Experience
Seamless, controlled battle experience with three or four combo skill modifications
Vast sandbox landscape featuring varied terrains like high mountains, deep rivers, and fierce deserts
Players may form Houses to take over the territory, and even create kingdoms and crown kings
Authentic weather effects with fires, explosions, thunderstorms, and sandstorms
Conqueror's Blade is an upcoming tactical action MMO that is currently in Beta testing. It is being developed by Booming Games and will be published by MY.GAMES near the end of 2020 for the Microsoft Windows. An Xbox One version for the game is also in the works.
Conqueror's Blade lets players choose from 10 powerful warlords with distinct fighting styles to take control of an army and command it in the vast open world. The combat in the game will require strategy as well as skill to maneuver. In addition, players get to experience an authentic medieval warfare experience. Set across a sprawling 1000 square kilometer map, Conqueror's Blade will let players clash it out in a dynamic open-world.
However, beyond combat players can also trade, gather and improve their holdings to maintain influence. With all of these features, Conqueror's Blade definitely has what it takes to become one of the best and popular MMORPG games in rotation.
35. Reworld Online
Key Features:
Stats will be affected by player equipment, magic, potions, and skills.

Skills can be increased up to level 100 and their maximum level is determined by the character's level. 
Reworld online is an MMO being developed by Qwerty Studio. While the game has no release date as of yet, it will be available for Microsoft Windows, Mac, and Linux. Players can truly create their own, unique world through Reworld Online.
Players can modify everything from their races, classes, events, house designs, dungeons, and gameplay systems. In addition, the developers have also announced support for crafting, gathering, player housing, and PvP. The game promises a unique take on the MMO and MMORPG genres.
36. Star Wars: The Old Republic
Key Features:
Choice Based Gameplay, Choose which side of the force you want to be on
Meet new companions on your adventure and team up to fight
Pilot your own customizable spaceship
Star Wars: The Old Republic takes place during the fragile state of a ceasefire between the Galactic Republic and the resurfaced Sith. The story revolves around the power struggle that has come into play after the Great Galactic War. It also concludes the story of Revan from the original Knights of the Old Republic.
The Old Republic has seventeen explorable planets as well as eight diverse classes divided between the Galactic Republic and Sith Empire. In addition, this MMORPG features over 1,600 hours of story making it the best choice for players who prefer story-driven gameplay. It also happens to be the first MMORPG featuring full-scale voice acting. The game gives several nods to pre-existing Star Wars continuity. Moreover, players get to explore thousands of new characters, locations, items, and groups introduced to the Star Wars universe through this game.
37. New World
Key Features:
Breathtaking Landscape
Fight to colonize a fictional world
Scavenge resources and craft items
New World is an upcoming MMORPG by Amazon Game Studios which is set to release in May 2020. The story centers around an ancient evil that wants to eliminate humanity. New World is set in the mid-1600s where players fight to colonize a fictional area that resembles British America in the Atlantic Ocean.
The brief teaser released hinted that players could also choose their own calling in the game. They can choose to be a farmer, a soldier, an explorer, or anything else you want to be in this world. Amazon Games has not revealed the payment model or the cost of the game yet. A closed beta will be held in April 2020 for players who have pre-ordered the game.
38. Magic Legends
Key Features:
Choose from five different classes.
Walk your own path
Control and chaos intertwine in real-time combat
Discover spells and collect spell fragments to make them more powerful
Choose to fight alone or with up to two other planeswalkers
Magic: Legends is an action role-playing game which was created as a collaboration between Wizards of the Coast, Cryptic Studios and Perfect World. The game is in the Beta phase as of February 2020. Magic: Legends is available on PlayStation 4, Xbox One, and PC.
The premise of the game revolves around an ancient force in the darkness which the players will need to fight. To do this, players will have to walk the planes and gather the power they need. Players can create powerful spells and control the chaos of battle.
39. Corepunk
Key Features:
Day/night cycle
Customize your unique character
Visually appealing open world
Corepunk is a dark fantasy cyberpunk MMORPG that allows players to carve out their own adventure in a vast seamless open world. Players can create and customize their own unique characters to go in search of an adventure. The game has a variety of different environments from arid deserts to a sprawling metropolis and they all have their own set of challenges and adventures.
Players can choose from a variety of professions, quests, guilds, camps in addition to exploring a rich lore. Corepunk's fog-of-war mechanics give the game an edge of danger. The game has a great visual style and promises a lot of adventure, complete with a large number of enemies to battle.
This is the list of best MMO video game we have found worth to add in our list of best MMORPG. The list now contains 39 games but we will update it soon with more MMO video games.