Diwali 2019: 7 Festive Food & Sweets to Make Festival of Light Memorable
Here are some Festive Foods and Treats to make your Diwali one of the most memorable festival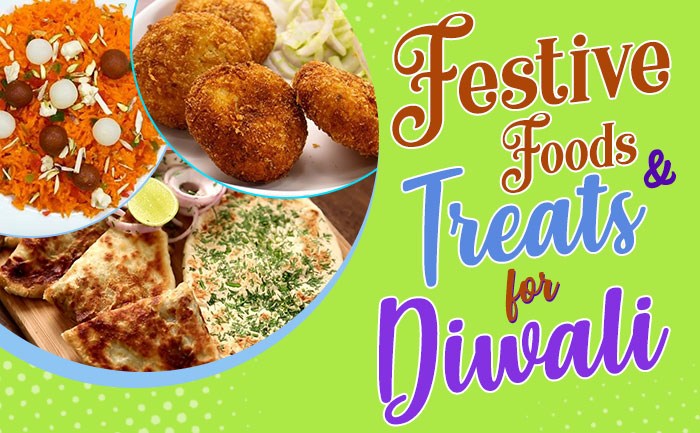 One of the most loved and awaited festivals in our country is Diwali. Yes, the Festival Of Lights is celebrated by Hindus, Sikhs, and Jains. It is all about the triumph of light over darkness and good over evil. Diwali, sees tons of people attend prayers and celebratory events across the world. It is also that time of the year when we not only feel more close to our families, friends but neighbours too.
Deepavali is traditionally celebrated all over India by lighting Diyas or oil lamps, playing with sparklers, adorning new clothes, visiting friends and relatives, indulging in delicious Indian food, and exchanging Indian sweetmeats. It is also the time when family bonds grow more strong as we savour the delicacies together. To make your day more special here we share with you some gastronomical festive foods that will not only be appreciated by your family but are easy to prepare too.
Here are some festive food and sweets to make Diwali more special:
1. Coconut Barfi: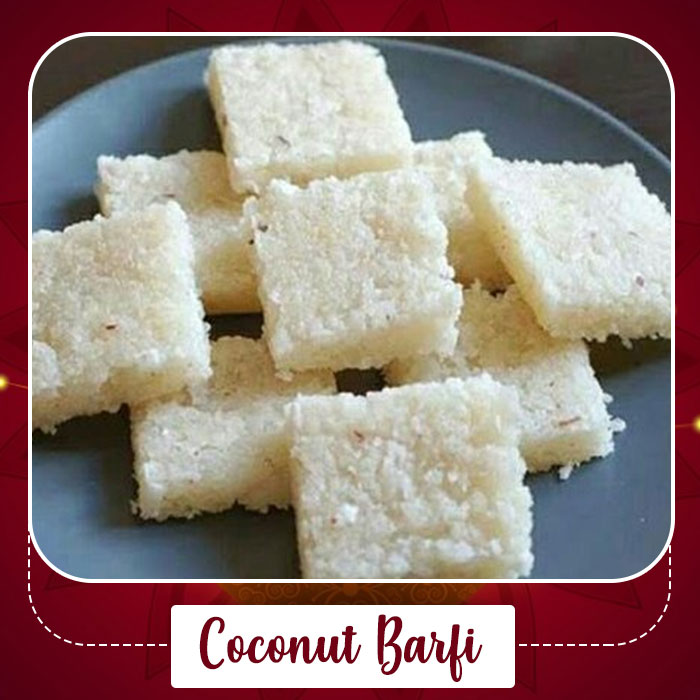 Ingredients Of Nariyal Barfi
1 cup of sugar
1 cup of water
1 1/2 cup freshly grated coconut
1 Tbsp khoya
1 tsp cardamom powder
4-5 chopped almonds
6-7 chopped pistachios
1 tsp ghee, to grease the tin
How to Make Nariyal Barfi
Make a sugar syrup by dissolving sugar and water completely. Let it thicken a little. Add grated coconut in it and mix them well. Let it reduce on slow heat. Now add khoya and smashed green cardamom. Mix them well. In a tray, apply some ghee and sprinkle some chopped dry fruits. Add in the mixture and keep it in the fridge for 15 minutes. Cut into squares. Serve cold. 10 Best Ways To Celebrate Safe & Eco Friendly Diwali This Year
2. Dahi Bhalla:
Ingredients Of Dahi Bhalla
For the bhallas:
400 gms moong dal
1 cup urad dal
2 tsp zeera
1 tsp chironji
Oil (for deep frying)
For the khatti chutney:
1 cup coriander leaves
1/4 cup pudina leaves
1 Green chilli
20 Ginger cloves
1/2 tsp black rock salt
 salt
1 Lemon (juiced)
For the meethi chutney:
250 gms tamarind pulp (soaked in 1 1/2 cup water)
800 gms sugar
1/2 tsp saunth powder
1 tsp degi mirch
to taste salt
1/2 tsp black rock saltFor dahi:
3 cups yogurt
For garnishing:
Pomegranate
Sev
How to Make Dahi Bhalla:
Prepare bhallas:
Soak moong dal and urad dal for 2 hours. Grind them together to a fine paste add jeera and chironji and a little salt. Keep it aside for a couple of hours. With wet palms add small portions of batter into the hot oil and deep fry them till golden brown.
Green chutney:
In a blender mix together coriander, mint, green chilli, ginger, black salt and salt. Grind them to a thick paste add some lemon jui8ce to the paste and your chutney is ready.
Sweet chutney:
Soak the tamarind pulp in water for 25-30 minutes. Squeeze it with your hand to extract all the pulp. Strain and throw away the residue Add the tamarind paste and sugar in a saucepan and cook on low heat till the sugar dissolves. Add some saunth powder, degi mirch, salt, black salt and garam masala.
Whisk yoghurt,  add the bhallas to the dahi, sprinkle some chaat masala and the sweet and green chutney while serving.
3. Mushroom and Pepper Chilli: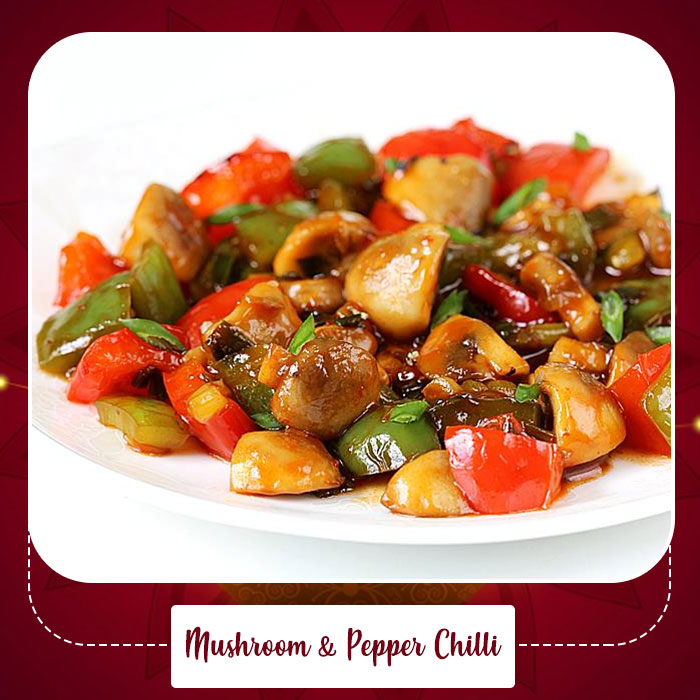 Ingredients Of Mushroom And Pepper Chilli
1 bay leaves
1 onion
1 Tbsp garlic paste
1 cup mushrooms
1 cup bell peppers
1 cup black beans
1 cup kidney beans
1 1/2 Tbsp cumin powder
1 Tbsp red chilli powder
Parsley
Some coriander
2 Tbsp olive oil
1 cup tomato puree
Thyme
Oregano
2 tomatoes
Salt and pepper to taste
1 1/2 cup tomato juice
2 green chillies
How to Make Mushroom and Pepper Chilli
Heat olive oil. Add bay leaves, onions. Then add minced the garlic and mushrooms. Cover the pan and cook mushrooms for some time. Add kidney beans, black beans and bell peppers and mix them well. Add some red chilli powder, oregano and thyme to it. lastly add the tomato puree, chopped tomatoes and tomato juice. cook till done garnish with coriander and serve.
4. Dahi Ke Kebab: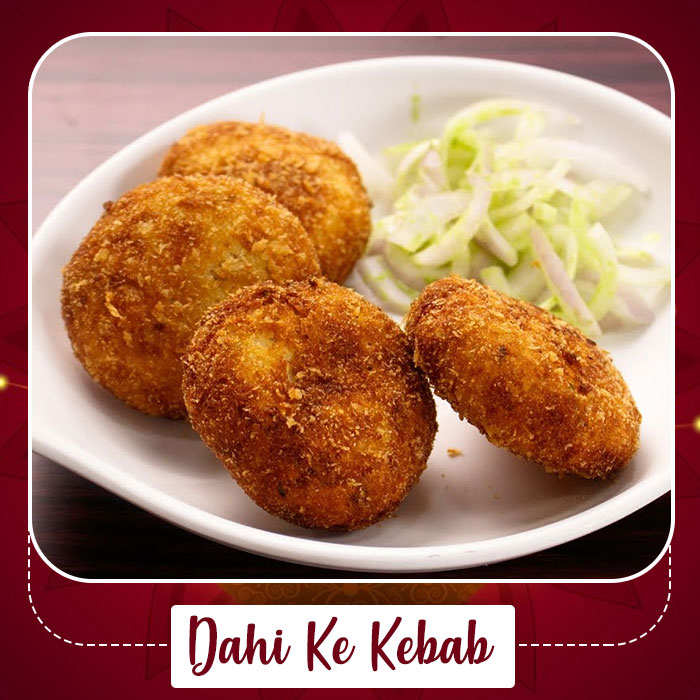 Ingredients Of Dahi Ke Kebab
1 1/2 cup hung yoghurt
1/4 cup besan (chickpea flour)
1 tbsp coriander leaves, finely chopped
1 tsp green chillies, finely chopped
2 tbsp onions, finely chopped
1 tsp salt
1 tsp cumin seeds (powdered), roasted
for frying oil/ghee
How to Make Dahi Ke Kebab
Mix all the ingredients except the ghee, and chill for an hour. Shape the mixture into flat rounds (like tikkis) and pan fry over medium heat till brown on both sides. The kebabs are quite soft, so you have to handle them carefully. Serve hot with green chutney.
5. Amritsari Kulcha: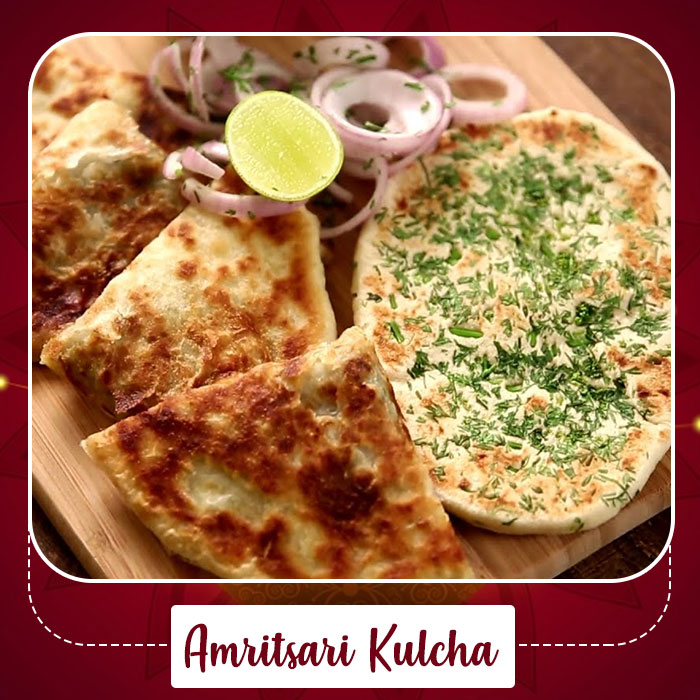 Ingredients Of Amritsari Kulcha
For the dough:
1 kg refined flour
400 ml water (add more if needed) (kneed all together for pliable dough)
A pinch of salt (optional)
100 ml canola oil
For the filling:
1 cup onion, chopped
1/2 kg potatoes (crushed), boiled
2 tsp coriander seeds (crushed), roasted
2 tsp ginger, chopped
2-3 green coriander sprigs, chopped
1 green chilli, chopped
1 tbsp anaar dana seed (crushed)
Lemon juice
How to Make Amritsari Kulcha:
Make a semi-firm dough with refined flour, water, salt and keep it covered with a moist cloth for 1 hour in a cool place. Take all the ingredients of the filling and mix them well. Keep it aside. Rub some oil on the palms of your hand make small balls of the dough and fill them with the stuffing roll it into a naan shape and fry.
6. Pashtooni Zarda Pulao:

Ingredients Of Pashtooni Zarda Pulao
750 gms rice
200 gms ghee
6 Green cardamom
6 Black cardamom
2 Cinnamon sticks
2 Bay leaves
150 gms khoya
4 Cloves
5 gms fennel seeds
200 gms sugar
25 gms pistachios
25 gms almonds
50 gms cashews
1 gram saffron
50 gms raisins
1/2 tsp rose water
How to Make Pashtooni Zarda Pulao:
Soak rice in water for 1 hour and drain. Mix milk, saffron, rose water and sugar in a bowl. Heat 10-15 cups of water in a pan. Once it comes to boil, add the soaked rice and cook further till the rice is about 80% cooked. Strain the water from the rice and mix half of the ghee. Heat the remaining half of ghee in a pan. Add dry fruits and fry till golden brown. Add whole spices and fry for about half a minute. Add the milk mixture and boil. Add the rice and cook on low flame for 10-12 min with cover. Garnish with khoya, nuts and serve hot.
7. Dal Makhani: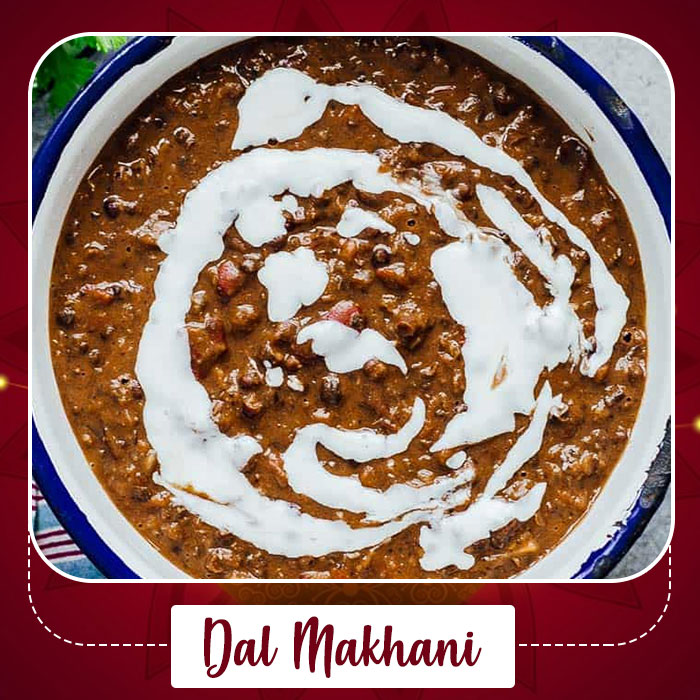 Ingredients Of Dal Makhani:
2 Cups Sabut urad dal
8 cups Water
2 tbsp Salt
1 tbsp Ginger, sliced
2 tbsp Butter
1 tbsp Oil
2 tsp Shahi jeera
1 tsp Kasoori meethi
2 cups Tomato puree
1 tsp Chilli powder
1/2 cups Cream
How to Make Dal Makhani:
Take I tbsp of salt and ginger and some water add it to the dal. Cook until dal becomes tender. Take some butter and oil in a pan add jeera and kasoori methi to it, as it starts spluttering add some tomato puree, chilli powder and salt. Add the cooked dal to it and bring it to a boil. Let it simmer on low flame till cooked. The consistency should be neither too thick nor too thin. Stir in the cream and garnish with coriander leaves. Serve hot.
To wash down all this you can have a hot fruit punch:
Ingredients Of Hot Fruit Punch: Take 1/2 litre of Orange Juice. 250 mil of Apple Juice, 1/2 litre of weak tea. Take an inch of ginger, 2 sticks of Cinnamon, a little grated nutmeg. mace and 6-8 cloves. I orange peeled, An apple sliced and 3 oranges segmented. and 3tbsp of grated jaggery. Combine all the ingredients in a pan, except lemon juice and fruit. Bring to a simmer. Add lemon juice and fruit. Serve immediately.
Enjoy your Diwali with these delectable dishes.
Also Read:  Diwali 2019: Fashion styles to make the festive season more thrilling