Top 10 Free YouTube Alternatives | Best Video Streaming Sites Like YouTube
Looking for best alternatives of YouTube, here are 10 video streaming sites like YouTube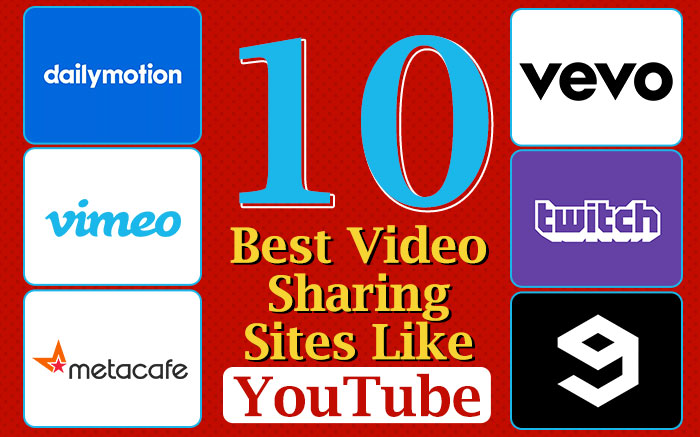 No one can deny the popularity of YouTube. However frequent changes in their guideline are compelled people to search for best YouTube alternatives. We know that YouTube is the biggest video sharing platforms but there are several other free video streaming applications or sites are available, which are considered to be YouTube's alternatives.
In this article, we will be talking about the top 15 Alternatives of YouTube and video sharing sites that are offering the same contents. We know we are addicted to watching videos on YouTube but there are several YouTube's competitors are available in the market which you should not miss.
Whenever we talk about any video the only thing that comes to our mind is YouTube. Before moving on to other video streaming sites, check out the list of alternatives of YouTube.
10 Best Free YouTube Alternatives or Video Streaming Sites In 2019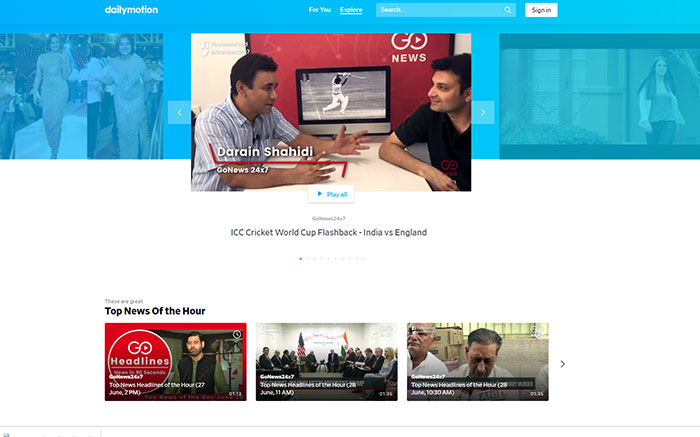 Dailymotion is also one of the most popular videos streaming site owned by Vivendi. This video sharing platform is available in 24 global languages. According to reports, Dailymotion has 300 million unique monthly active users. Yes, if you do not want to watch movies or videos on YouTube then Dailymotion is a better option. The site has almost the same layout that YouTube has and offers the same video categories. Once you start using Dailymotion, you will get accustomed to using it.
Notably, unlike YouTube, HD quality uploads are limited to pro users and the maximum size of the video is 2GB which means you can not upload a video more than 60 minutes. Yes, Dailymotion might not be good for those who want to upload comprehensive videos as it has some restriction.
Pros & Cons
It is available in 24 languages
The layout of Dailymotion is quite similar to YouTube
It has some strict rules than YouTube
HD uploads only available for Pro users
Video resolution limited it capped at 1080p
Maximum size of the video is 2GB
You can't upload more than a 60-minute video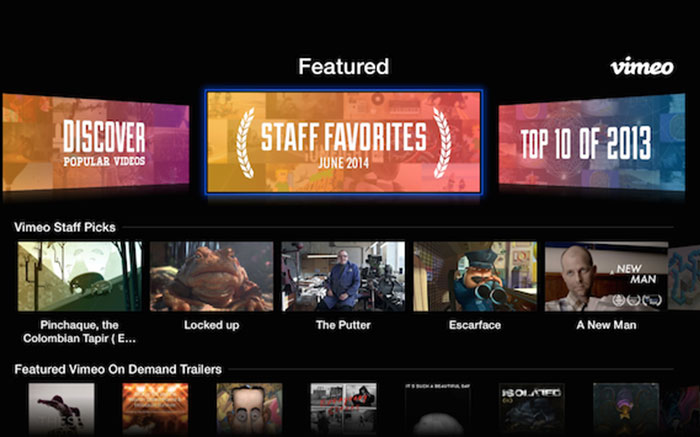 You would not get to see ads on Vimeo as it is an ad-free video platform. It was founded in 2004 by Jake Lodwick and Zach Klein. Vimeo provides free video viewing services as present itself as a competitor of YouTube. The company provides creators with tools and technology to host, distribute and monetize videos as we do on YouTube.
In the year 2017, Vimeo became the first video sharing site to support high-definition video. Vimeo is a SaaS business and offers subscription plans that service a range of customer segments. The major drawback of Vimeo is that it does not allow users to upload more than 500MB weekly. Nevertheless, this can be upgraded to 5GB but if we talk about YouTube, 5GB of data is nothing but peanuts to the amount of data uploaded to YouTube every day.
Pros & Cons
It is an ad-free video platform
You can monetize your content
A place for creative content creators to showcase their work to others
Encourages high-quality filmmakers to provide their magic
Vimeo homepage is a delight for the eyes
Can't upload more than 500MB per week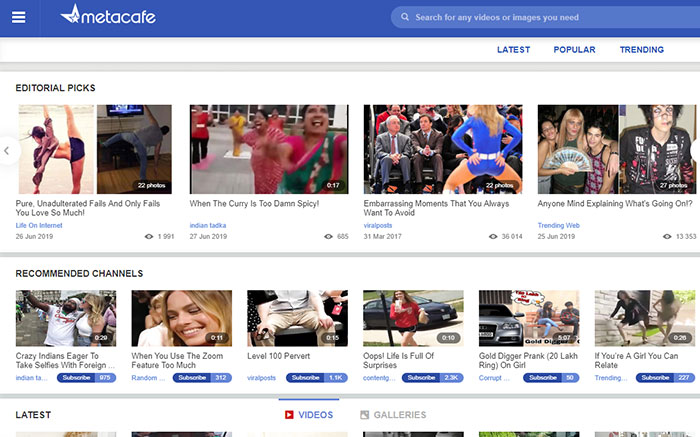 Metacafe is yet another video streaming site that specializes in short-form video entertainment in the categories of movies, video games, sports, music and TV. Headquartered in San Francisco, California, Metacafe was reported to have acquired by the Collective Digital Services in 2012 and at this point, Metacafe ceased to exist.
Metacafe looks similar to YouTube's competitors such as Dailymotion or Vimeo but has since turned in to short-form video entertainment. This video sharing site supports advertisement and closely works with brands in the entertainment, consumer electronics, telecommunications, consumer packaged goods, food & beverage, and automotive sectors.
This video streaming site has a 90-second limit on its videos, making it more appealing as a community-based YouTube substitute than an actual content streamer's delight making it one of the best sites like Youtube. It might not come close to its competitors but if you want to experience some shortened clips, there is no reason why you should not choose Metacafe.
Pros & Cons
Great platform for community-based content
Can't upload comprehensive and detailed videos will not be provided to viewers
Scarce viewership in comparison to YouTube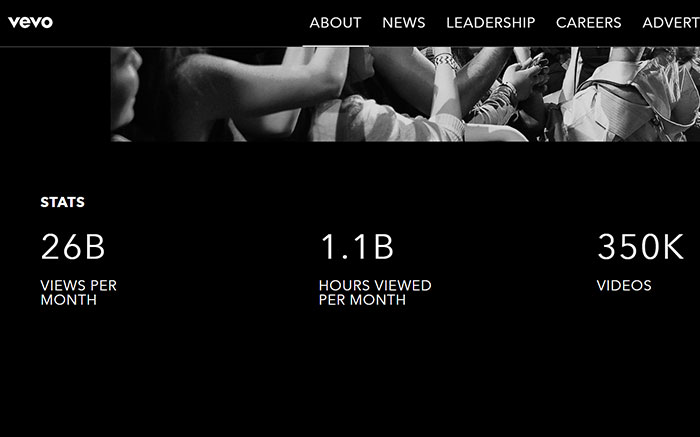 Vevo is yet another American video sharing platform, which was founded on 8th December 2009. It was launched as a joint venture among three major record companies including Universal Music Group (UMG), Sony Music Entertainment (SME) and EMI.
In 2016, Warner Music Group (WMG) — the third-largest record company — agreed to license premium videos from its artists onto Vevo. We can't say it is better than YouTube but if you love music videos than you should bookmark this site. Yes, Vevo is one of the fastest video streaming websites across the world. Believe us Vevo us thousands of music videos to make you feel happy.
You must have heard music is therapeutic and there is no better music platform than Vevo which will make you feel comfortable when you are feeling down. Unfortunately, it does not present diversified content like YouTube so you might be disappointed with what you find when you browse around it for the first time.
Pros & Cons
It is a treasure for those who keep searching for new music videos on the internet
Unlike other YouTube alternatives, Vevo allows HD contents
It has all features to hooked on the streaming platform in no time
Can't be as diverse as YouTube
You can't upload your own music videos on Vevo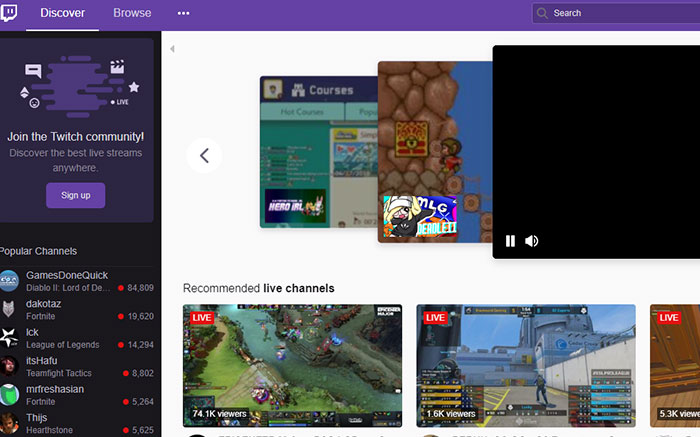 Twitch is one of the biggest live streaming video platforms. It is one of the subsidiaries of Amazon. On Twitch, you can either watch videos LIVE or on demand. The video streaming site also focuses on video game live streaming, including broadcasts of eSports competitions, in addition to music broadcasts, creative content, and more recently, "in real life" streams.
In the year 2007, when Justin.tv was launched by Justin Kan and Emmett Shear, the site had several categories but when they noticed the gaming grew phenomenally, they decided to make a separate gaming site and they launched Twitch.tv in 2011.
Despite having millions of monthly users, the popularity of Twitch is unimpressive when we compare it to YouTube. This site is quite famous for gaming users. If we talk about its payout option, which is also not as good as YouTube.  Talking about its popularity, as of May 2018, it had 2.2 million broadcasters monthly and 15 million daily active users, with around a million average concurrent users. Furthermore, it had over 27,000 Twitch partner channels (May 2018).
Pros & Cons
One of the best site for gamer content uploaders
Plenty of gaming contents available
A great alternative for watching live gaming videos

Payout is too less as compared to YouTube

You don't have an option to rewind videos

Streaming performance might be a little bit slower than other sites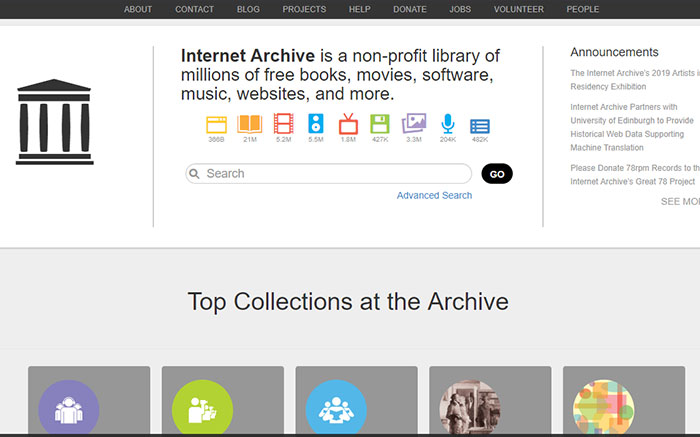 Based in San Francisco, The Internet Archive is a non-profit digital library which provides books, music, videos/movies, moving images and millions of public domain books for free. It is an activist organisation which advocates for a free and open market.
The Internet Archive allows its users to upload and download all the digital materials available on its site. It is a kind of Wayback Machine, which contains hundreds of billions of web captures. The Archive also oversees one of the world's largest book digitization projects. If you want to state your requirements of watching a wide-range of documentaries, TV series, movies and more, we highly recommend that you start following this free video streaming site religiously.
Pros & Cons
Huge collections of books, documentaries, Music and movies
User can upload and download the data for free
You might not find latest or updated content at The Internet Archive when compared to other streaming and uploading websites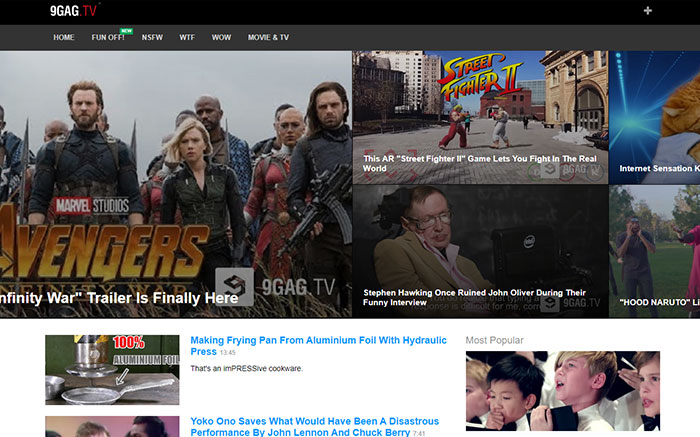 9CAG is basically based in Hong Kong. It is one of the video streaming sites which had hundreds of millions of monthly users. Similar to YouTube and The Internet Archive, 9CAGTV also allows its users to upload and share 'user-generated content' or other contents. Since it was launched almost a decade ago, it has gained immense popularity among youth belonging to the US, France, Brazil and the United Kingdom.
As of November 2017, 9CAGTV  had 223.35 million visitors, 11.03% from Germany, 5.55% from the United States, 4.40% from France, 4.19% from Brazil and 3.99% from the United Kingdom
If you are an avid Facebook or Twitter user, you must have come across the 9CAG brand, which provides copious amounts of entertainment in the form of images, GIFs, memes, and so much more but here is where things get even better. Do you know that it was founded by a group of five students belonging to Hong Kong?
Pros & Cons
If you want to have fun then 9CAG is a better option for you
You can upload and share the content
NSFW videos are also there, so be careful what to click on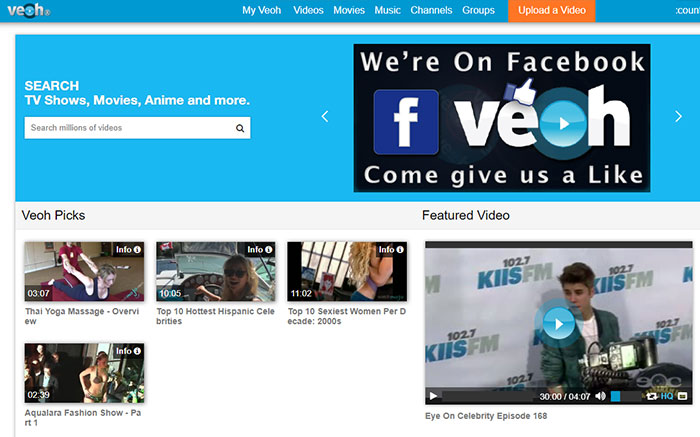 Veon is also one of the best alternatives to YouTube, which provides a clean interface for potentially millions of users, there are a lot of perks involved here. Similar to YouTube, there is no restriction on Veoh in terms of uploading videos of any length.
Similar to YouTube and 9CAGTV, Veoh offers numbers of features including sharing option. Yes, you can share any content with your friends and if they like your product your popularity is likely to increase. Notably, Veoh is a subsidiary of Israeli start-up Qlipso.
The video streaming platform has several viewing options. The site allows viewers to watch streaming web video from across the Web including via their iPhone, iPad, or iPod touch. Although somewhat like YouTube, Veoh.com offers users to allow viewers to watch full TV shows and full movies. Notably, TV shows are exclusively available for the United States.
Pros & Cons
Clean interface with a lot of social media features
Videos of any length can be uploaded and instantly shared
US citizens can avail exclusive shows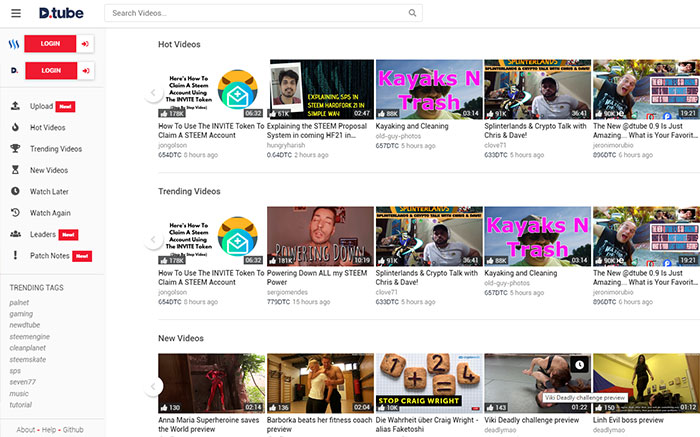 DTube, which is totally based on Blockchain and completely decentralised platform, is considered to be one of the best alternatives of YouTube. The interface of DTube is quite similar to YouTube. Notably, Blockchain is something that is slowly but steadily has become the latest trend in Technolgy.
DTube displays hot, trending and most watched videos on its homepage. The company uses Steem Blockchain to keep the records. This video sharing platform is completely free and if you upload a video on DTube, you will be rewarded with Steem cryptocurrency for seven days, and in addition to that, leaving comments on videos will also give you the chance to win. DTube is certainly using one of the best marketing ways to attract users on its site.
Since DTube is not quite old, they do not have a huge collection of videos. You might not find as many videos as Youtube has for its users. It is rapidly growing and has all the potential to become one of the best YouTube alternatives in future.
Pros & Cons
It would not distract you as it is completely ad free
Based on Blockchain.
Users get cryptocurrency rewards for uploading videos and leaving comments
Similar to the YouTube interface
Do not have a huge collection of videos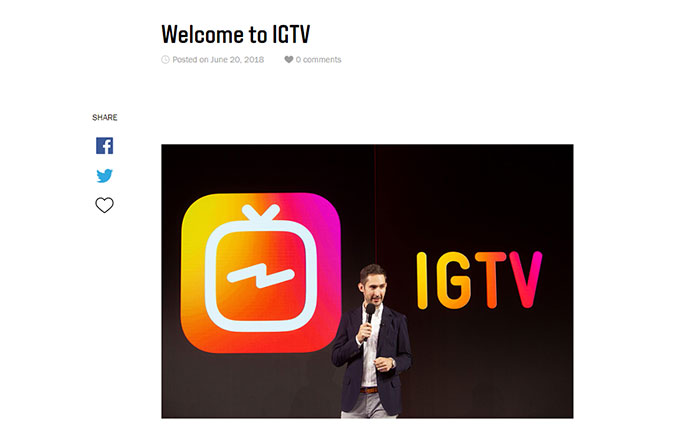 Instagram has recently surprised everyone by making an announcement of launching its own video streaming platform called IGTV. The video format of IGTV is totally different from its competitor YouTube. Yes, it offers vertical videos that quite long as compared to Instagram videos.
If you get bored watching videos on YouTube or want to explore more video streaming platform than you should opt for IGTV. Yes, it is completely free and you can upload your own video through the desktop. If you already have an Instagram account, the IGTV can be accessed right away, and free of cost.
There are plenty of channels are available on IGTV, it is totally up to you which channel you are going to follow. You can even browse through the feed that will show you all the content that is going to be based on your preferences. For content creators, IGTV is an excellent YouTube alternative, and you can show your content to a larger audience since you do not have to punch in a URL, search the video you want to watch, and then watch it.
Pros & Cons
Nice for watching videos on smartphones
Readily available for every Instagram users
Great for every size of videos
You can only upload videos from the desktop.
The vertical aspect ratio is not good for all
This is a list of top 10 alternatives of YouTube, which you should try. We hope you liked the content or video streaming site we presented here in the form of YouTube's competitors or alternatives.