Bigg Boss 13: Asim Riaz fans trend #ViewersChoiceAsim after Salman Khan schools him
Bigg Boss 13 contestant Asim Riaz has a huge fan following and currently #ViewersChoiceAsim has taken over the internet. Find out why.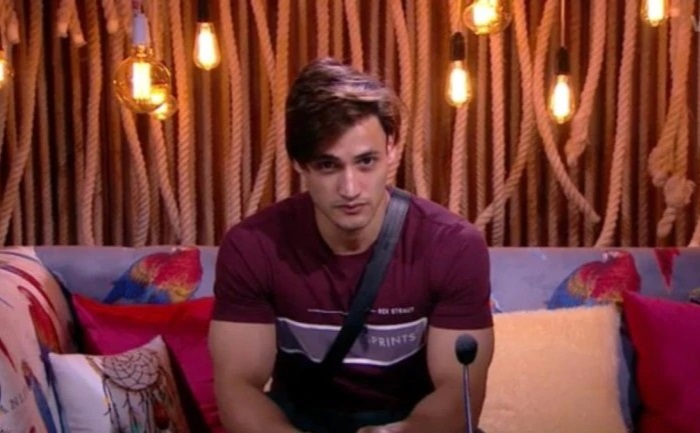 Asim Riaz is one of the most loved contestants of Bigg Boss season 13. He has a huge fan following on social media. Asim Riaz has gained so much fame and respect that many celebrities now are rooting for the handsome hunk.
The fans of Asim Riaz often trend hashtags like #JeetegaTohAsimHi and #AsimRiazForTover to extend support for the contestant and now a new hashtag has taken over on Twitter #ViewersChoiceAsim. In the promo video, we can see Salman Khan calling Asim 'irritating' and further to support him his Twitter fans have rallied behind.
In the new promo shared by ColorsTv, we can see the host Salman Khan schooling Asim for calling Sidharth Shukla's father a crybaby who is no more in this world. Further, he also calls him irritating for his constant nagging. Not only that he yells at the contestant for abusing a lot inside the house.
Watch the promo:
Not only that, his hashtag #ViewersChoiceAsim has been trending worldwide. Coming back to the trend, a user wrote, "The only guy who has the guts to call out the makers for their blatant favouritism towards a co-contestant.He is there to conquer!! #ViewersChoiceAsim."
Check out the Twitter comments:
Wow this is great #ViewersChoiceAsim is trending worldwide at number 8 with 838K tweets well done Asim Riaz Fandom I am sure Asim will be so happy after he comes to know about this I hope a record is created today pic.twitter.com/wIXqDX0luV

— s. (@its_s20) January 4, 2020
#ViewersChoiceAsim We'll always support you ASIM no matter whoever is against you. You are the only contestent who has grown in this show not like SHUKLA and others who faked a gentleman personality on TV soaps and revealed their pathetic shitty personality. @BiggBoss @ColorsTV

— Vaibhav ?? (@va1bhavD) January 4, 2020
@ColorsTV @BiggBoss @EndemolShineIND according to u u are not biased right then why didn't u give any power to #AsimRiaz during his captaincy oh yah i got it coz he would nominate one of sid gang member which u didn't wanted #ViewersChoiceAsim

— Sadikshya B (@a6208ad06c5249a) January 4, 2020
Reason for @imrealasim viewers choice??

For me, he is the only one who can play alone without any support unlike other HMs. And
He always stand for the right thing doesn't matter which player is in opposition that makes him unique in BB house.#ViewersChoiceAsim #Asimians pic.twitter.com/SXvxaPphTF

— manimahal (@manimahal11) January 4, 2020
Asim… Keep going man… You arr doing so well man and don't worry about outside… We are with you to make you winner ? You are killing it bro inside og @BiggBoss house and ur fandom killing outside ?#ViewersChoiceAsim pic.twitter.com/odvxpZKj55

— Mahdiahmed15 (@Mahdiahmed151) January 4, 2020
Develop an attitude of gratitude, and give thanks for everything that happens to you, knowing that every step forward is a step toward achieving something bigger and better than your current situation. Aesa hai hamara asim #ViewersChoiceAsim@ColorsTV@BiggBoss

— Zohaib Nasir #AsimRiazSupporter (@ZohaibN19495064) January 4, 2020
#ViewersChoiceAsim do you Know why

_stood up against his bullies..
_fearlessly called out the show is bias..
Took stand for the women…
_rose to fame in short span of time from a lesser known face….

Nd last but not the list pure soul ❤️❤️ @imrealasim

— parmar chirag (@parmarc46668980) January 4, 2020
The most strongest,honest, handsome,loyal and lovable person in Bigg Boss

#ViewersChoiceAsim pic.twitter.com/vXIiXyNG12

— Vedantpvk.774 (@VedantPvk) January 4, 2020
On the other note, as per the recent reports on the internet, the Bigg Boss 13 contestant Asim will be a part of Khatron Ke Khiladi 11. As per the same news, his brother Umar Riaz was approached by Colors TV to talk about his participation in Khatron Ke Khiladi season 11.
For more updates, watch Bigg Boss13 Mon-Fri, 10:30 PM & Sat-Sun, 9 PM only on Colors TV and watch all the episodes of Bigg Boss 13 on Voot App anytime, anywhere.
Who do you support in the Bigg Boss 13 house? Sidharth Shukla or Asim Riaz.