Bigg Boss 13: Twitterati reacts to Madhurima Tuli and Vishal Aditya Singh's awful fight
In yesterday's episode, Vishal Aditya Singh and Madhurima Tuli were seen indulging in a nasty fight which left the fans shocked. Check out the Twitter reactions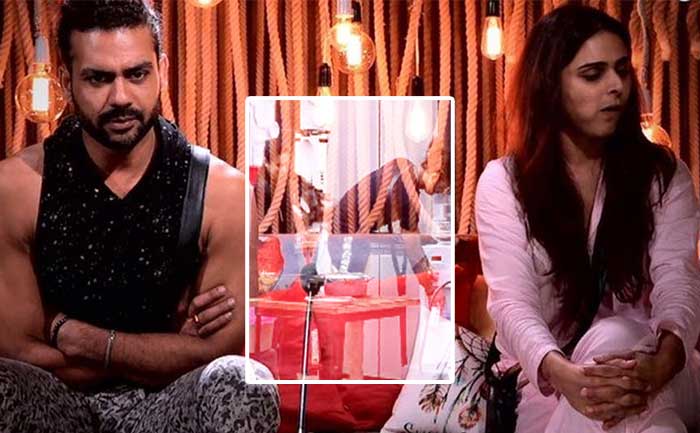 Bigg Boss is unquestionably one of the most controversial reality shows in India. The 13th season of Bigg Boss has witnessed a lot of drama, twists, controversies, and romance ever since it was premiered last year. In yesterday's episode ex-couple Vishal Aditya Singh and Madhurima Tuli locked horns yet again.
Vishal was furious with Madhurima as she kept pointing to him as "behenji" and "munna" to irritate him. But, she does not pay attention to it and continues doing so which results in him throwing water on her, which in turn provokes her, and to retaliate, Madhurima takes a frying pan from the kitchen and thrashes him hard, leaving Shefali Jariwala and other contestants in shock.
Bigg Boss tells them that this kind of behavior is unacceptable and punishes the ex-couple by locking them inside separate jails and also restricting from participating until the next weekend.
Fans of the duo were left in shock and extremely frustrated with their behavior. Twitter users expressed their views and lashed at the ex-couple.
Check out the tweets:
First time in #BB13 I liked #ParasChabra
Neeji mamlame khoon bhi karegi kya that's was right#MadhurimaTuli should get eliminate for what she has done today
After doing all that she is not every saying sorry jarasa bhi regret nahi hein#ShowStopperAsim #AsimRaiz

— Hawkeye (@Hawkeye60073789) January 15, 2020
I Feel sad for #VishalAadityaSigh he is really good human being. #MadhurimaTuli is disgusting and I don't know why #ShehaazGill is taking her side?? No one deserves what Happened with Vishal.

— Sunny Rana (@SunnyRa89888341) January 15, 2020
I want #VishalAdityaSingh to never meet #MadhurimaTuli after this show.
Its about self-respect. Madhurima is really dangerous ! She really has behavioral issues. #BiggBoss13

— ? (@parashikha) January 15, 2020
I really salute #VishalAadityaSigh for his patience.

Btw, he deserves to stay in this house. Because, he is ENTERTAINING

Not like this psycho #MadhurimaTuli , who just know to do senseless fights. #BB13 #BiggBoss13 @ColorsTV @EndemolShineIND @BiggBoss

— Asim Riaz ka Fan (@AsimRiaz_Ka_Fan) January 15, 2020
Yesterday felt hilarious abt #ViRima fyt.. But today felt bad fr #VishalAadityaSigh
Worst thing is #MadhurimaTuli has no regrets abt she hitting vishal.. Strange..really sad #BiggBos13 #BB13

— Elixir (@elixiron123) January 15, 2020
Earlier talking to Hindustan Times Vishal spoke about his relationship with Madhurima and said, "Besides finding me desi and not fluent in English, I think she felt that I wasn't financially strong. She would fight with me every time before we went out. I once asked her if she was ashamed to be seen with me in public, and she agreed. She was also abusive."
Do you think Madhurima should be evicted for her violent behavior? Let us know in the comment section below.