Bigg Boss 14, Nov 18, Written Update: Aly & Jasmin support Rahul in captaincy task
Here's what happened in tonight's episode of 'Bigg Boss 14.'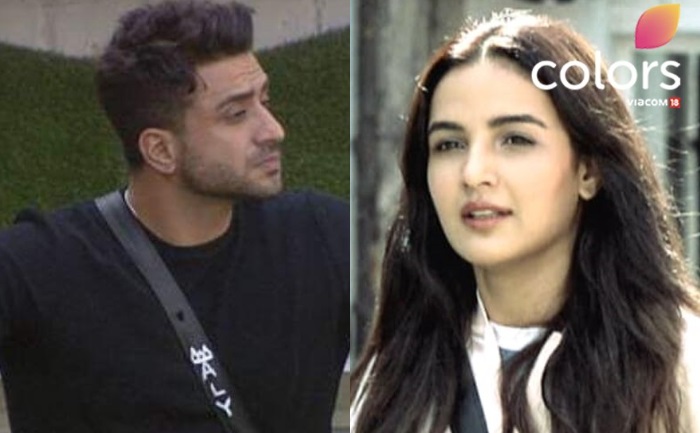 Tonight's episode starts with Jasmin, Jaan, and her team members decided to tears the hearts of Rubina's side. Pavita, Eijaz, and Abhinav try to defend. Bigg Boss tells Rubina and Rahul to come to the scoreboard. The singer mocks Rubina and calls her teacher, she gets offended and says he is mocking the teachers. Abhinav interrupts. Rahul and Abhinav get into an argument. Bigg Boss asks Rubina and Rahul to come to a decision for the second round and they fail to decide. BB announces that the second round is a draw too. Next, Jasmin taunts Kavita. Kavita asks Jasmin to not talk to her. They get into a verbal argument. Jasmin and Abhinav talk, she says that Kavita's presence is irking her and Abhinav says Rahul's presence is irking him but they can't help it.
RubiNav shares a talk in the garden area and makes the strategy for the task. Whereas, Aly makes a strategy with Jaan, Nikki and Rahul. Jasmin says that she has a strong attachment and respect towards Abhinav. Nikki tells Rubina that she is not playing with any team. Eijaz- Pavita talk and he tells her to talk to the contestants so she can become a captain. Rahul talks to Jasmin and Aly. Aly says he wants Rahul to become the captain.
It's a new day, the contestants wake up to Dil Yeh Ziddi Hai. Kavita and Nikki talk, she tells Nikki that Rahul is using them for the task and they decide to make a new strategy. Abhinav, Rubina, and Pavitra make a strategy. Abhinav and Rubina count the money and they come to know that someone has stolen the money. Jaan talks to Punia about the same and Jaan tells her that Eijaz has stolen the money, she denies it.
The contestants get ready for the task, Rahul waits for his teammates as he sits on the throne. Nikki starts breaking the hearts, Jaan and Rubina tell her not to as the task has not begun, Nikki continues to break the hearts and says that the task has begun. The task begins and the contestants start making the hearts. Jasmin and Aly break Rubina's red hearts. Bigg Boss asks Rubina and Rahul their decision, an argument happens between them and they fail to come to a mutual decision. Bigg Boss draws the third round too.
Nikki tells Eijaz that she wants a dress from the BB Mall, and in return, she will give him her 10K. Eijaz agrees, later, Eijaz tells Aly, Pavitra, and Rubina that he has stolen money from Rahul's side. Eijaz and Aly strategize about the captaincy. Nikki gives her BB money to Abhinav, and he hides it inside his T-shirt. Jaan is breaking the hearts of Rubina's team. Pavitra tells Eijaz that Rahul is sad. Eijaz says he was fooled, nobody is playing for him.
The buzzer starts and the task begins again,  Rubina announces from her side, Pavitra and Abhishek will go. Eijaz and others laugh as Rubina calls Abhinav as Abhisekh.  Rahul says from his side Jaan and Aly will go. Abhinav makes the heart for Rubina. Aly tries to attack him, Jaan tries to attack but Eijaz pulls him back from his shirt. The task gets wild and they start attacking each other. Bigg Boss interrupts and tells them to stand facing BB gate. Bigg Boss asks if any hearts are any completely unbroken heart remaining in the garden, Rubina and Rahul agree that there is not heart remaining. Bigg Boss cancels the task. He says no one is a nominee for the captain.
Eijaz and Nikki argue over dishes duties as she says that she has washed her dishes and will not wash other's dishes.  Abhinav and Rahul ask Eijaz not to perform Nikki's duty. Kavita and Nikki talk about Eijaz. Eijaz tells her that she is just running her mouth and she won't get a job in the industry. Nikki says that he is playing a victim card. Kavita calls him a fake victim. Nikki says that Eijaz thinks that she will be alone after Kavita leaves. Kavita talks to Eijaz and asks him not to drag her into his fight. Rahul tells Eijaz that to not fight with a person who is not credible to him. Eijaz says Nikki is trying to make everyone dance to her tunes and that they should give her back. Rahul agrees. Jasmin talks to Abhinav and says that she felt bad when Rubina didn't trust her. Jasmin clears it out and says that his and Aly's game is different. She also says that her friendship with Abhinav is unconditional.
Jaan sings Lag Ja Gaale, Jasmin, and Aly dance romantically. Abhinav asks Jasmin to not blush. she says she is just smiling as she likes the song. Nikki compliments Jaan's voice, she says she wants him to sing Zara Zara, Kavita tells her that she has a soft corner for him, she agrees. Nikki asks Jaan to sing Zara Zara. He agrees to sing and smiles.
(Episode ends)
ALSO READ: Bigg Boss 14, Nov 17, Written Update: Rahul And Rubina Compete Against Each Other