Bigg Boss 14, Nov 17, Written Update: Rahul and Rubina compete against each other
Read to know what happened in Bigg Boss 14's episode.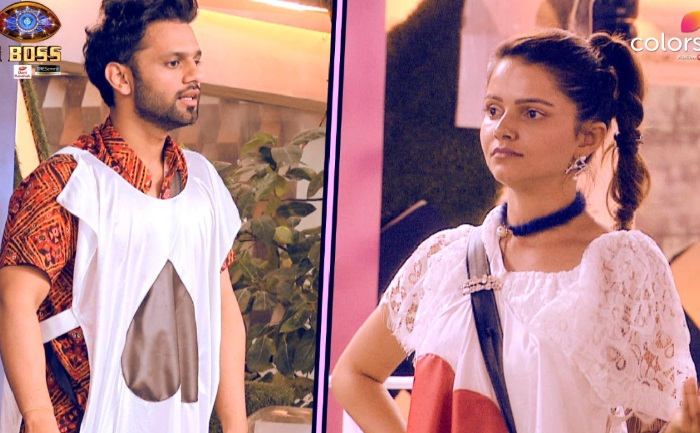 The contestants wake up to Dil Toh Pagal Hai. Abhinav ad Jasmin shares a talk with each other about the Kavita. Kavita tells Nikki that the contestants don't play the game like a game. A new game is set up, Kavits gets angry over the kitchen counter being unclean. Jasmin argues with Kavita and asks her not to reflect negativity always. Aly supports Jasmin and calls Kavita 'ghatiya' and 'fraud'. Jasmin asks Aly not to argue with Kavita.
Eijaz goes into the kitchen to make eggs but Kavita is cleaning the slab. Eijaz and Kavita argue. He yells and talks loudly. Kavita asks Eijaz not to come closer to her and pushes Eijaz back.  Eijaz says she can't push him. Nikki controls Kavita. and Abhinav controls Eijaz. Jasmin asks Eijaz to not bring fights in the kitchen. Aly and Eijaz try to make Jasmin understand. Kavita talks with Nikki, Abhinav, and Rubina. Pavitra tells Kavita to leave the BB14 house. Kavita tells Rubina that all are provoking her. Jasmin talks to RubiNav and says that she is hurt by Kavita.
Bigg Boss talks to contestants and says that physical violence is not allowed and gives Aly an option to punish or warn the person and let it go. Aly decided to warn Kavita. The argument between Eijaz and Kavita continues. Rubina gathers everyone to read the task rules. Pavitra refuses to join.
Bigg Boss tells Punia to sit in the living area, she agrees. A new task is announced, Ek Tha Raja Ek Thi Rani. Rubina turns the queen for the task and Rahul king, while the contestants are the workers.  Aly decides to strategize with Rahul and Jaan. Rahul says he wants to become the captain and asks Nikki to be at his side. Punia says she will support Rubina. The buzzer starts,  Rubina and Rahul make their strategy for the task.  Jasmin, Kavita, Pavitra, Eijaz, Nikki, and Jaan craft the heart.  Rubina rejects Rahul's team hearts. Abhinav interrupts, and he and Rahul get into an argument. Rahul rejects all the hearts of Rubina's team. Bigg Boss asks Rahul and Rubina to make a mutual decision on who won the round, they argue and BB decides the first round is a draw.
The second round begins, Eijaz and Rubina say the mutual decision will not happen and Aly will destroy. Rubina says they will do the same. Nikki demands 20k from Rahul to destroy Rubina's, side heart. Nikki tries to negotiate and tells him that there are no friends during the task. Nikki, Jaan and Jasmin spoil Rubina's hearts.
(Episode ends)