Bigg Boss 14: Vikas-Arshi to Jasmin-Rakhi, ugliest fights of this season
As the fourteenth season of 'Bigg Boss' comes to an end, here are some of the biggest fights that occurred in this season.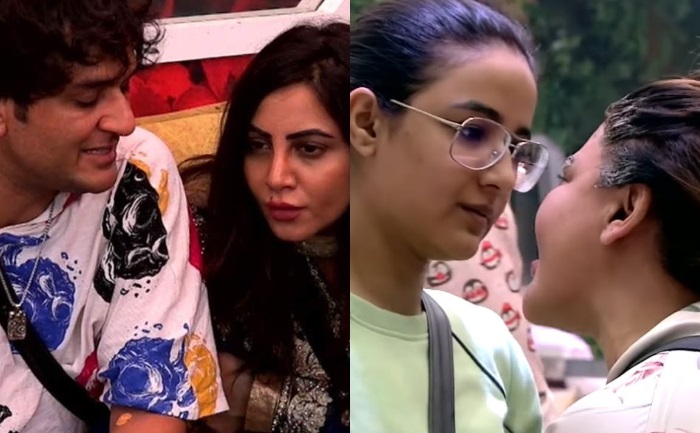 After a long run of over four months, 'Bigg Boss 14' is finally coming to an end and the reality show will have its finale on Sunday, February 21, 2021. The five contestants who have made it to the finale week are Rubina Dilaik, Rahul Vaidya, Aly Goni, Nikki Tamboli, and Rakhi Sawant. The show has been running for 14 years now and it makes headlines every year, for both good and bad reasons. Ahead of the show's finale, let's take you back to the times when contestants had the ugliest fights inside the house.
Bigg Boss 14 ugly fights:
Vikas Gupta and Arshi Khan
Arshi Khan and Vikas Gupta's enmity is quite famous and there has not been a moment when the duo has not fought with each other in the Bigg Boss 14 house. Arshi would not leave a chance to poke him and in one of the episodes, during their heated argument, Vikas lost his calm and pushed Arshi into the swimming pool. Following this, he was expelled from the show but he later made a comeback.
View this post on Instagram
Rakhi Sawant and Rubina Dilaik
Rakhi Sawant has become one of the most controversial figures in the 'Bigg Boss 14' house, ever since she started flirting with Rubina Dilaik's husband Abhinav Shukla. However, things went south between Rubina and Rakhi after she called Abhinav 'Tharki' and this did not go well with Rubina and she poured a bucket of water on Rakhi. . As a result, the actress was nominated for the rest of the game
View this post on Instagram
Jasmin Bhasin and Rahul Vaidya
During the captaincy, Jasmin Bhasin and Rahul Vaidya got into a heated argument after the latter tried to snatch away the former's bag from her. Jasmin started crying and abusing Rahul as she felt threatened by him during the task. She also said that the singer tried to intimidate her and show his physical strength. Later, in anger, she went and threw water on him.
View this post on Instagram
Pavitra Punia and Eijaz Khan
Pavita Punia and Eijaz Khan had some major fights in the house. Pavitra was also seen hitting Eijaz during the fight. During one of the nomination processes, Eijaz was the captain and was given a special power to save one contestant from the nominations and he picked Jasmin Bhasin and which upsets Pavitra and she broke down and cried uncontrollably. However, things turned and they started gaining feelings for each other.
View this post on Instagram
Jasmin Bhasin and Rakhi Sawant
Rakhi Sawant and Jasmin Bhasin engaged in ugly verbal banter which soon turned into a physical fight. Later, Jasmin loses her cool and slams a large bird head mask on Rakhi's head, which results in Rakhi's breakdown and she claimed that Jasmin broke her nose. Rakhi continued to cry and said that she would require surgery, however, Jasmin did not pay any attention and said that she is faking it.
Rubina Dilaik and Kavita Kaushik
Kavita Kaushik, who entered as a wild card contestant on 'Bigg Boss 14' walked out of the house after her heated argument with Rubina Dilaik. Kavita, and Nikki Tamboli, pointed fingers at Rubina and Abhinav for making the show 'boring, after which, Rubina criticized her behaviour on the show, later, Kavita was seen telling Rubina that she will teach her a lesson once they are outside the house. Kavita also made personal attacks on Abhinav and Rubina and Kavita storms out of the house.
View this post on Instagram
Devoleena Bhattacharjee and Arshi Khan
Devoleena Bhattacharjee's outrage horrified the audience. She was seen throwing away a bowl full of food towards Arshi at another she is seen tossing the latter's plate of food from her hand itself. Arshi had told Rahul Vaidya and Devoleena, during a fight, that they would lose someone close to them and after a few hours, Devoleena started crying, stating that Arshi had been cursing her family. Devoleena entered 'Bigg Boss 14' as a proxy for Eijaz Khan
View this post on Instagram
Kavita Kaushik and Eijaz Khan
Eijaz Khan and Kavita Kaushik's fights have been the talk of the town. She claimed that they were not friends and that they hardly spent any time together. During the Weekend Ka Vaar episode, Kavita had told  Salman Khan that she cooked for Eijaz during the lockdown, which got a lot of backlashes online. Kavita entered the house twice and was later seen leaving the house after having a major argument with Rubina and Abhinav.
View this post on Instagram
Sonali Phogat and Rubina Dilaik
Sonali Phogat had a massive fight with Rubina Dilaik, for which, she even received an earful from Salman for her misbehaviour. She was also seen was seen hurling abuses at the TV actress. Rubina also claimed that she threatened the housemates about her political power. Sonali's journey was one of the shortest.
View this post on Instagram
ALSO READ: Bigg Boss 14: Nikki Tamboli To Accept Prize Money And Exit The Show?