Bigg Boss 15: Karan Kundrra Confesses His Fondness For Tejasswi Prakash
In the latest episode of 'Bigg Boss 15,' Karan Kundrra confesses that he is fond of Tejasswi Prakash.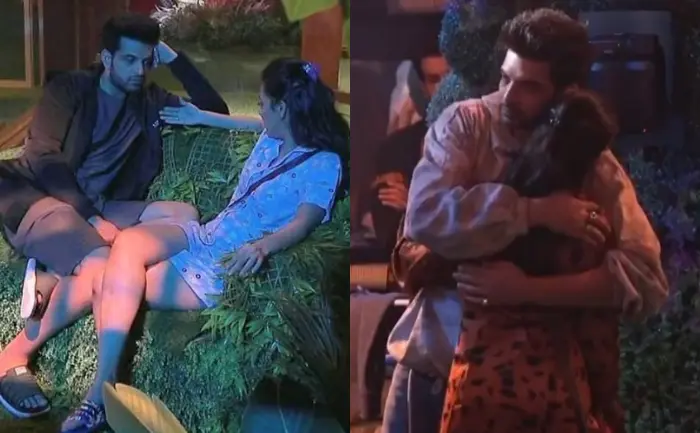 Looks like after Miesha Iyer and Ieshaan Sehgal, the audience is set to witness yet another love story in the 'Bigg Boss 15' house after Karan Kundrra, in last night's episode confessed that he is fond of Tejasswi Prakash.
Karan Kundrra and Tejasswi Prakash were seen sitting in the garden area. Prakash started the conversation by saying that she feels distant from Kundrra, she said: "I am feeling a bit distant from you since a few days. It is becoming bit difficult to converse with you, approach you or get through you. It is annoying at times. We have never spoken together ever. I think this is the first time our footage will come together. I thought when you said our vibes match and we talk together, it will be nice. But it is not happening."
Watch video:
Karan and Teju sorting their differences out and getting on talking terms again.#KaranKundrra || #Tejran #BiggBoss15 || #BB15 pic.twitter.com/7Sa1vdQWcV

— • (@BBKingKaran) October 18, 2021
Karan agrees and tells that he can't speak to her in front of others. Further, expressing his feelings, he added: "I am extremely fond of you. Mujhe expression issue hai. I wasn't happy when you went inside the main house. I was even making faces. It took a lot for me to actually say 'Teju I miss you a lot.' It might have happened that we have never spoken, but I have a problem in expressing my emotions."
The actress replied, "When I was upset, you didn't do anything about it. I am not saying that you should be caring and all, but as a courtesy, you should at least ask."
To which, Karan said, "Notice, whenever there is any commotion happening, I am always there to see that if you are ok. You be you. So I am telling you this that I need to be given rights. So now that you know, I will be there for you."
ALSO READ: Bigg Boss 15: Anusha Dandekar & Raqesh Bapat To Enter As Wild Card?