Bigg Boss Kannada 7: Raksha Somashekhar in tears due to Kuri Prathap's taunts
The wild card entrant Raksha Somashekhar, had an emotional breakdown. Find out why.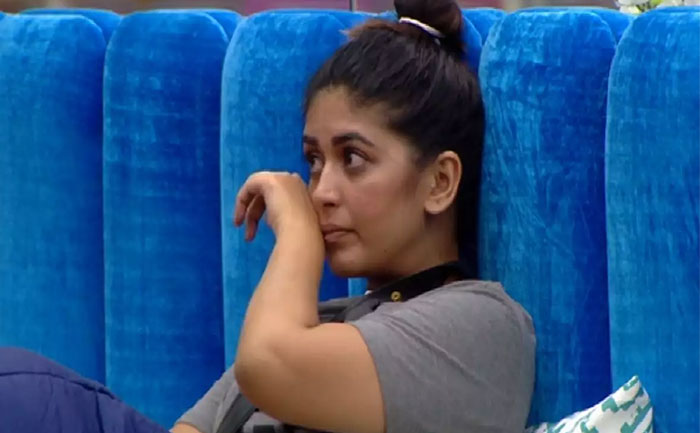 The 7th season of Kiccha Sudeep's TV reality show Bigg Boss Kannada was premiered on October 13, 2019. Similar to Hindi Bigg Boss, only celebrities have taken part in Bigg Boss Kannada season 7.
Bigg Boss Kannada 7 has entered the eighth week and it looks like the contestants living inside the house have started missing their families and their loved ones. Recently, the wild card contestant Raksha Somashekhar ended up in tears as she missing her family.
The actress of 'May 1st' fame has proved to be the strongest contestant in the Bigg Boss house both physically and emotionally. This happened after Kuri Prathap taunted Raksha over her personal life. Raksha ended up having an emotional breakdown as Kuri's words and his tone didn't go down well. She was seen crying in the bedroom.
Meanwhile, Shine Shetty tried consoling Raksha and explains how Prathap might have just joked, the 'May 1st' actress said that she was deeply hurt by Kuri's words. Raksha also highlighted that even her family has never spoken to her in such a manner. She also claimed that she is really missing her family.
On the other note, the wild card contestant RJ Prithvi was eliminated from the show on the basis of audience votes. Raksha was also seen getting teary-eyed lately after her BFF exiting the show. Not only Raksha but, Deepika Das also broke down in tears. Looks like the popular reality show has witnessed several bonds developing inside the glasshouse.
Before leaving the Bigg Boss Kannada 7 house, RJ Prithvi nominated Chaitra Kotoor and put him in the danger zone.