Bigg Boss OTT: Akshara Singh Cries After Moose Jattana's Disrespects Her Profession
Bhojpuri star Akshara Singh breaks down on 'Bigg Boss OTT' after Moose Jattana's 'hurtful' comment.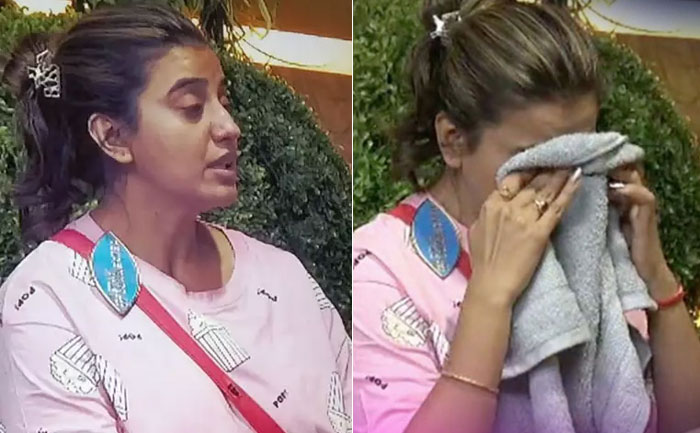 On August 8th, the much-awaited reality show, 'Bigg Boss OTT' began which is currently hosted by the filmmaker Karan Johar. The first day was full of drama and fights. In yesterday's episode, Akshara Singh and Muskan Jattana aka-Moose Jattana's got into an intense fight, which left the Bhojpuri star in tears.
While having dinner, Akshara comes and sits down in presence of Milind Gaba, Nishant Bhatt, Neha Bhasin, Raqesh Bapat, Pratik Sehajpal, and others. She stated that she used to be good friends with Moose but not anymore.
When questioned the reason, Akshara said: "I was casually asking her (Moose) to look for Gaba (Milind) for dinner and she said, 'Gabe mere g**nd me hai'. I felt bad. She is friendly with me but I didn't like the tone. She also made a comment about my work saying 'Ye jot um Bhojpuri gaana waana gaati ho…' She spoke like this."
Further, Akshara said that she does not feel good and Moose has no right to comment on her occupation. "I earn my bread and butter because of the Bhojpuri industry/ That's my profession. You make me do anything with love I will do. But don't talk like that," said Akshara.
Akshara starts sobbing, and Pratik and Ridhima Pandit console her. Later, Milind hugs her and asks her not to cry. To which, Akshara says, "I don't want to cry." Moose tries to clarify things with Millind and Akshara. She also says it wasn't sexual or disrespectful, and she said it in a joking tone. Milind says such jokes are not appreciated.
ALSO READ: Bigg Boss OTT: Shamita Shetty And Pratik Sehajpal Get Into Heated Argument