Bigg Boss Tamil 3 Contestant Admits He Used To Molest Women On Bus Rides
On Kamal Haasan's Show, Saravanan admitted that he used to molest, grope women on bus rides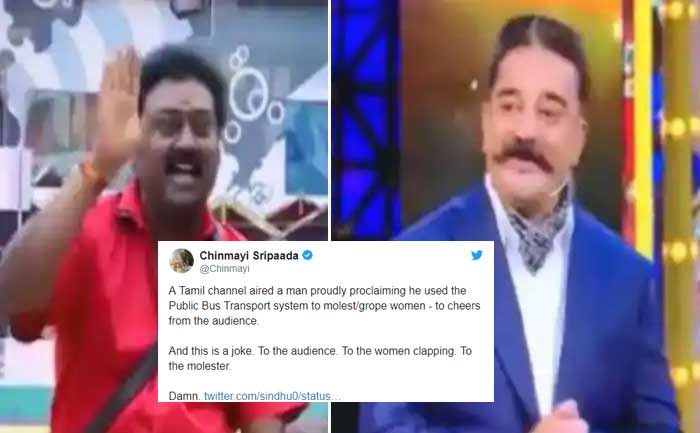 Saravanan — one of the Bigg Boss Tamil season 3 contestant and popularly known his role in Karthi's Paruthiveeran — seems to have landed in trouble. On the show, Saravanan made a startling revelation which stirred controversy and made thousands of fans angry.
Saravan revealed that he used to travel on a bus to touch women inappropriately or grope them when he was studying in college which did not go down with the netizens on the microblogging site.
While addressing a tussle between Bigg Boss Tamil 3 contestants named Meera Mithun and Cheran during the show, Kamal Haasan had spoken about the difficulties of travelling in public transport bus. Kamal Haasan, who is hosting the show said on Saturday, "To travel on a busy bus is a big hassle. While there are people who are rushing to reach office on time, there are those who get in just to touch women inappropriately."
Saravanan, meanwhile, interrupted Haasan and said, "I have done it." People thought that he must have beaten the perpetrators but for misbehaving with women but that was not the case. Saravanan, on the contrary, admitted that he used to take bus rides to molest and grope women.
When Kamal laughed over Saravanan's statement, he justified saying, "It was long back, when I was in college." When his shocking statement stirred controversy, Kamal Haasan's spokesperson clarified saying that the actor was being sarcastic.
If you watch the video, not only Kamal Haasan's gesture but Saravanan's statement was received with a loud cheer and bigs round of applause from the audience sitting at the show. Unlike the sitting audience, the video did not go down well with the netizens and they lashed out the makers of the show.
Not only common people, but Singer Chinmayi Sripaada called out the incident after a fan posted a short clip of the Bigg Boss episode in question:
Check this pic.twitter.com/qYDH7KORlN

— Sindhu (@sindhu0) July 27, 2019
Here's how social media users reacted to Bigg Boss Tamil 3′ controversial statement:
Not surprised with the shit that came out of Saravanan's mouth, but Haasan defending it with a cheeky line is so disappointing. He could've politely schooled him but no has to make a joke ? https://t.co/CGo0bu6W7n

— Haricharan Pudipeddi (@pudiharicharan) July 28, 2019
Not only that, Did you know that @ikamalhaasan justified and glorified a man who touched a woman without her consent in an inappropriate place and pushed her aside. He went on to shame that woman for complaining. @vijaytelevision #BiggBossTamil3

— Shankar (@shankar8989) July 27, 2019
Not acceptable but sadly that's current state of society. Can't help to get this changed immediately as it was grown over years.
We just reached a stage where it irks 20-30% which was only felt by victims before. Still hv long way for ppl to react correct. Wish to hv this asap/1

— Kothai (@KothaiKirthi) July 27, 2019
That guy is also a polygamist and polygamy is treated like a joke on the show too. Talk about @ikamalhaasan claiming he wants to set an example for society with the show. No dearth of apologists for guys such as these, what a shame.

— megzie (@megzie__) July 28, 2019
Also Read: Bigg Boss Tamil 3: Raja Rani Star Alya Manasa To Make Wild Card Entry?