Bihar Floods: 4 dead,18 lakh affected, six districts under water
Bihar Flood situation worsened with six districts under water; NDRF deployed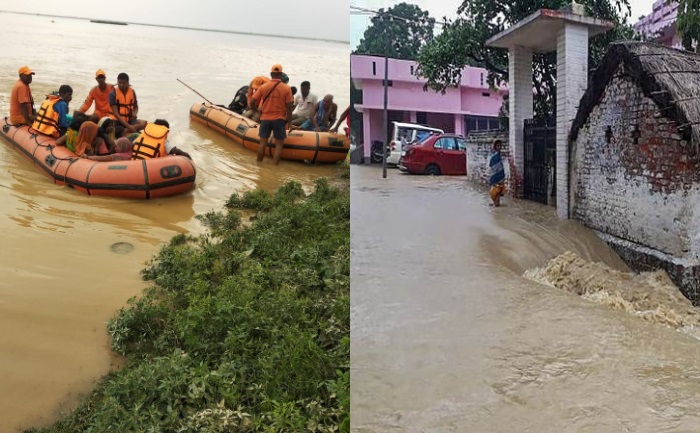 The monsoon has reached the Northern States of India causing disruption of normal life. The incessant rains over the last three days have caused a flood in six districts of Bihar. It has displaced lakhs of people in the state. The floods have ravaged Sitamarhi, Sheohar, Muzaffarpur, East Champaran, Madhubani, Araria, Darbhanga, Supaul and Kishanganj districts in the state.
#BiharFlood: Over 18 lakh hit in nine districts, CM #NitishKumar conducts aerial surveyhttps://t.co/SrVcBBqTG6 pic.twitter.com/scge7B6mHc

— Financial Express (@FinancialXpress) 15 July 2019
Floodwaters of different rivers on Sunday spread to more than 600 villages under 352 panchayats A population of around 18 lakh has so far been affected in Sitamarhi is the worst-affected district where a population 11 lakh has been affected.
Many villages in #Bihar's #Sitamarhi district is affected by flood. The administration has imposed section 144 in the affected areas. While, leaves of the officials and employees of the district have been canceled

#Biharflood pic.twitter.com/1gSe3KLSxu

— shailendra kamat (@kamat61) 14 July 2019
A newlywed couple had to hop on-board a makeshift boat on their way home, as their journey was halted due to a flooded road. The incident took place in Bihar's Araria district when a wedding procession was returning to Jogbani from Garha village.
#WATCH A bride and a groom cross a flooded street in Forbesganj on a makeshift pontoon boat made out of plastic drums. (13.07.19) pic.twitter.com/QA9U1HzCXi

— ANI (@ANI) 14 July 2019
Three people have reportedly drowned in different locations, there is no official confirmation of any death. Meanwhile, the National Disaster Response Force (NDRF) has been deployed to conduct rescue and relief operation.
Relief and rescue operation by @NDRFHQ at my village MURLI.
But very poor coordination and help by local government @NitishKumar @SushilModi.#Biharflood pic.twitter.com/yPZ8qZh2Vb

— MD SHAHZAD (@ermdshahzad) 14 July 2019
Along with the rains, additional water discharge in Kosi, Gandak and Bagmati rivers from Nepal have caused an upheaval in Bihar. Due to increased water pressure on banks of Kosi in Supaul, all 56 gates of Birpur barrage have been raised since Saturday evening. Nearly four lakh cusecs water was discharged from the barrage on Sunday morning, causing floods in Supaul, Kisanpur, Marouna and Nirmali. Bagmati river, which has been flowing above danger marks, has caused floods in over 200 villages of Sitamarhi and Sheohar in North Bihar.
Also Read: Assam Flood: 8.69 lakh people in 21 districts affected