Bihar seat-sharing deal: BJP, JD(U) to contest 17 seats each, LJP gets 6 in 2019 Lok Sabha elections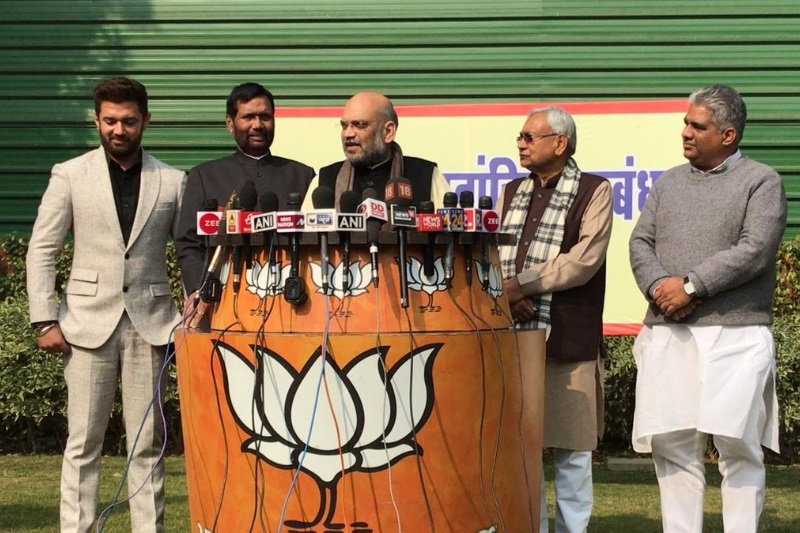 Months ahead of the 2019 Lok Sabha elections, the three key players of the NDA in Bihar – Bharatiya Janata Party (BJP), Janata Dal (United) and Lok Janshakti Party (LJP) – announced their seat-sharing formula on Sunday. Under the latest seat sharing formula, BJP and JD(U) will contest on 17 seats each while Ram Vilas Paswan's LJP will take on Opposition on 6 seats.
In an announcement, BJP president Amit Shah said, "BJP will fight at 17 seats, Janata Dal (United) at 17 and Lok Janshakti Party at 6 seats in Bihar in upcoming 2019 Lok Sabha elections." "NDA will also nominate LJP chief Ram Vilas Paswan to the Rajya Sabha," he added.
While announcing the agreement in New Delhi, Amit Shah said, "We hope to do better than 2014."  On the other hand, Bihar Chief Minister Nitish Kumar said that the decision of the candidates for the seats will be taken later. "We will work together and will improve our performance than 2009 and 2014," he added.
Notably, the decision was announced after several rounds of closed-door meetings.
Recently, Chirag Paswan asked BJP for finalisation of the ruling coalition's seat-sharing arrangement in Bihar. The Paswans were reportedly upset, not about their share of seats to contest in 40-seat Bihar, but about one Rajya Sabha seat promised to them by the BJP months ago.
Earlier, former NDA-ally Rashtriya Lok Samta Party (RLSP) joined opposition's grand alliance. RLSP had quit the BJP-led National Democratic Alliance following the rift over a seat-sharing deal for the 2019 Lok Sabha Elections.
Also Read: Ram Vilas Paswan, son Chirag call on Amit Shah; discuss seat sharing