Ram Vilas Paswan, son Chirag call on Amit Shah; discuss seat sharing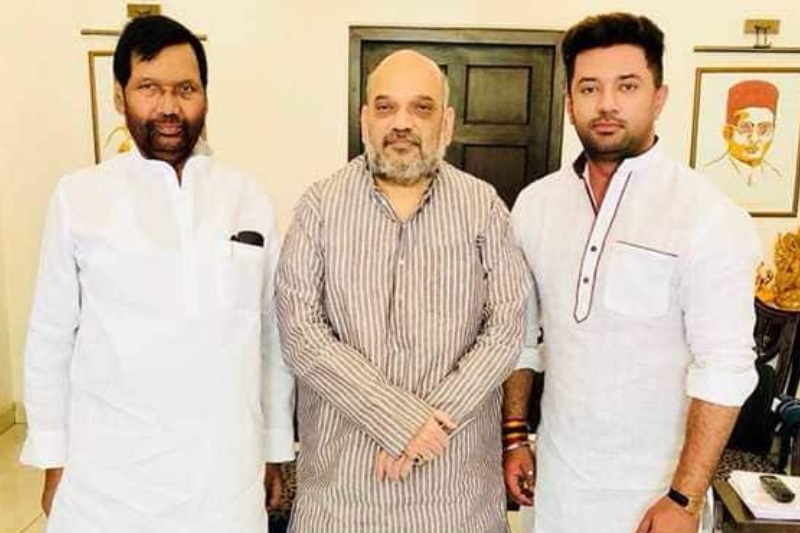 With an aim to tackle a growing conflict between the allies just months before the 2019 general elections, Union Minister Ram Vilas Paswan and his son Chirag Paswan met BJP president Amit Shah in Delhi on Thursday.
According to the NDTV, an hour-long meeting, which was also attended by Finance Minister Arun Jaitley, remained inconclusive.
Earlier, the Lok Janshakti Party (LJP) leaders have signaled their resentment with the BJP over a seat-sharing pact in Bihar for the upcoming Lok Sabha elections. Ram Vilas Paswan, however, officially denied it. He said, "There is no animosity, whatever is our decision, will be taken by Chirag."
Meanwhile, in a tweet, Chirag Paswan asked BJP for finalisation of the ruling coalition's seat-sharing arrangement in Bihar. According to the sources, Chirag Paswan has cleared his party's stance that it will not settle for anything less than six seats in the Lok Sabha and one in the Rajya Sabha.
The Paswans are reportedly upset, not about their share of seats to contest in 40-seat Bihar, but about one Rajya Sabha seat promised to them by the BJP months ago.
Earlier in the day, former NDA-ally Rashtriya Lok Samta Party (RLSP) joined opposition's grand alliance. RLSP had quit the BJP-led National Democratic Alliance following the rift over a seat-sharing deal for the 2019 General Elections.
Also Read: After ditching NDA, Upendra Kushwaha says willing to join grand alliance