15 Unknown Facts About Bill Gates Daughter Jennifer Gates
Here are some unknown and interesting facts about Bill Gates' daughter, who will tie the knot with Egyptian Muslim, Nayel Nassar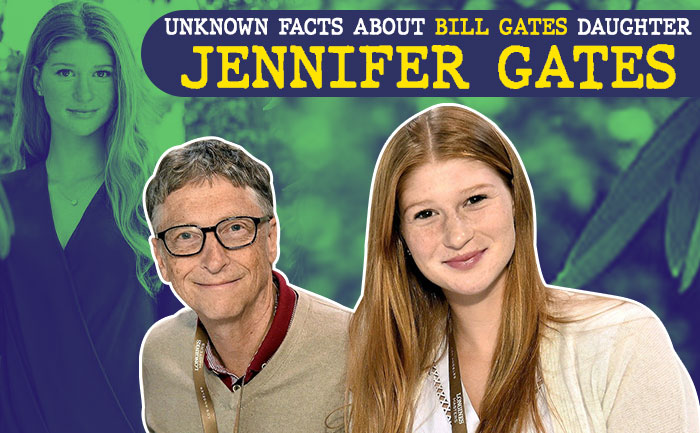 Jennifer Katharine Gates — The daughter of World's second wealthiest man Bill Gates — has recently joined the social media bandwagon. Some people might not know who Jennifer Gates is while others would be guessing on the basis of her last name, Gates. Yes, Jennifer Gates is the eldest daughter of Bill Gates, the founder of Microsoft Corporation. Bill Gates' Wife Responds Daughter's decision to Marry Muslim Man, Nayel Nassar
Jennifer, who was born with a silver spoon in her mouth, currently lives in one of the most expensive mansions in the world.  Do you know, Jennifer Gates has been working at Microsoft in the Marketing department since 2005. There are plenty of things you did not know about Jennifer Gates and that's why we have brought you some facts about her.
15 Unknown Facts About Bill Gates Daughter Jennifer Katharine Gates
1. Jennifer Katharine has two siblings
Jennifer Katharine Gates's mother, Melinda Gates is an American philanthropist and a former general manager at Microsoft. She has two siblings, Rory John Gates, and Phoebe Adele Gates.
2. Jennifer loves Horse Riding
Jennifer Katharine Gates is known for her avid love of horse riding. Jennifer has also competed in various horse-riding competitions and recently took part in 2018 Longines Global Champions Tour. She is ranked 19th in show jumping by The United States Equestrian Federation.
3. She was born in Bellevue
Jennifer Katharine Gates was born on 25 April 1996, in Bellevue, Washington State USA. She was raised in a very humble and disciplined environment. She was not allowed to access cell phone until her teenage and her screen time was limited to 45 minutes on weekdays and 1 hour on weekends.
4. Jennifer is not single
Yes, you read it right, Jennifer Katharine Gates is in a relationship with a professional equestrian and showjumper Nayel Nassar.
Both Jennifer and Nayel have studied together at the Stanford University and have represented the team Paris Panthers at the Global Champions League. After keeping their relationship private for a year, the couple wished each other on social media on their one-year anniversary on 15th January 2018 making their relationship public.
5. Jennifer's net worth is almost $20 million
Jennifer Katharine Gate's net worth is estimated to be around 20 million USD.
6. She puts money above human morality
Jennifer Katharine Gates knows the value of money and never put the money above human morality.
7. She studied at Standford University
Jennifer Katharine Gates is a student at Stanford University.
8. She has a pet dog
Jennifer Katharine Gates has a pet dog named Earl Grey.
9. She participated in the Sunset Polo
In 2018, Jennifer participated in the Sunset Polo and White event in Wellington, Florida, raising funds and awareness for Brooke USA.
10. Bill Gates spent $1 million for her hobby
Bill Gates spent hefty $1 million to rent a mansion close to the site of the Winter Equestrian Festival in Palm Beach, Florida, so his daughter Jennifer can go for her love of horse riding by competing with the 2,800 riders from 30 countries.
11. She completed her schooling from Elite Private School
Jennifer went to Lakeside School, Seattle's most elite private school.
12. She is an American
Her nationality is American and ethnicity is North American.
13. She makes huge money
Jennifer has also earned money as a professional equestrian, participating in tournaments all around the world.
14. Jennifer Promotes EQUUStar
Jennifer Katharine Gates promotes EQUUStar, which works for keeping the working horses safe. She also promotes the event 'Ride of Our Lives' which works against gun violence in school. She supports and promotes several organisations which work towards the betterment of working horses, mules and donkeys all over the world.
15. Jennifer Gates won U25 National Championship competition
Jennifer Gates won the U25 National Championship competition in Lexington, Kentucky.
Despite being born in the house of World's second richest man, Jennifer Gates is too humble and down to earth. She is often seen rising her voice for children and animals. She wants to be an independent and successful like her da, Bill Gates.
These are the unknown and interesting facts about Bill Gates daughter Jennifer. If you liked this article, do not forget to share with your FRIENDS.