BJP calls for Bengal Bandh on Wednesday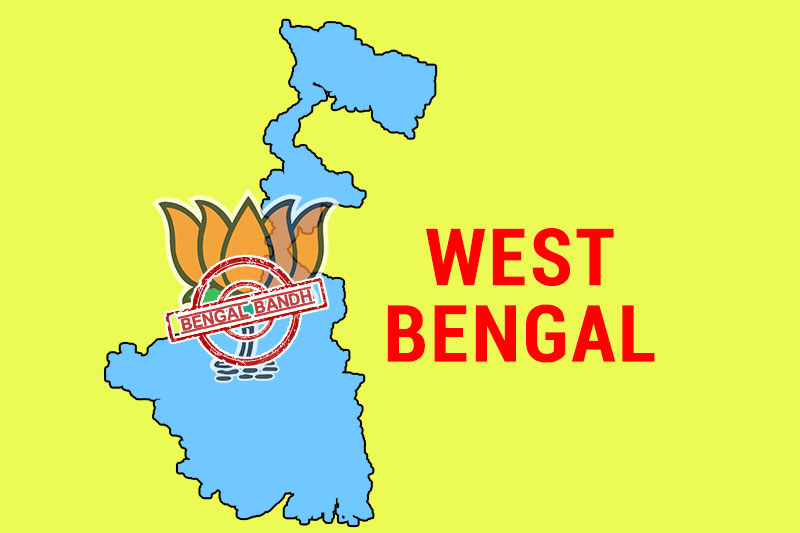 Bandh or strike is a powerful weapon for any political outfit to at least get noticed if not anything else. The tendency of calling strike or Bandh when chips are down is almost a trend across party lines. Yes, even the BJP — the ruling party at the Centre — which was pretty vocal when Congress followed the same line and had called for 'Bharat Bandh' on 10 September, in regards to the fuel price hike.
BJP has no reason to call for a Bandh in the states it is currently in power, but have all reasons to do so in states where its credibility is at stake. Like the West Bengal. To protest against the killing of a student in Islampur is the issue for which it called for the Bandh on Wednesday, September 26.
The administration under Mamata Banerjee has completely failed to control violence and unrest in the state for last few years. The government's apathy towards public development, syndicate raj and large-scale corruption are the issues Trinamool Congress is still plagued with. The opposition Left Front and Congress are training guns at Banerjee every now and then.
On Thursday, ITI student Rajesh Sarkar died in alleged police firing while the death toll increased on Friday when another third-year student Tapas Burman breathed his last after having sustained bullet hits the previous day. Local residents accused the police of killing two students from their area in North Bengal, but Jayanta Paul, DIG Raigunj range, denied the charge point blank.
This has given rise to a fresh controversy as to on whose order DIG was forced to deny the charge. "We just want to know who from Nabanna (the state secretariat) ordered the police to shoot and asked the DIG to deny the charge. If we don't get a proper explanation within 24 hours, we will resort to revolution in larger scale throughout the state," a Bengal Rashtriya Swayamsevak Sangh (RSS) leader said.
Trouble started over recruitment of Urdu teachers for Daribhit High School in Islampur area of North Bengal. It is learnt that the students had demanded for teachers in English and Science, but three Urdu teachers were hired which led the students to disallow Urdu teachers to enter the school on Thursday. They demanded that all vacant posts be filled up with immediate effect.
While accompanying the teachers, several cops also suffered injuries during the clash on Thursday. Protesting against the law and order situation, the BJP had already called the 12-hour Bandh (6 am to 6 pm) in North Dinajpur district on Friday.
Banerjee though has put up a brave front and scoffed at the possibility of Bandh or strike on Wednesday. "I can assure you that there will be no Bandh on September 26," Banerjee told the media soon after BJP's declaration of the same.
Also read: Bharat Bandh today: Rahul Gandhi, Opposition leaders march in protest against fuel price hike