'Those who thrash north Indians, how can they serve Lord Ram' BJP leader taunts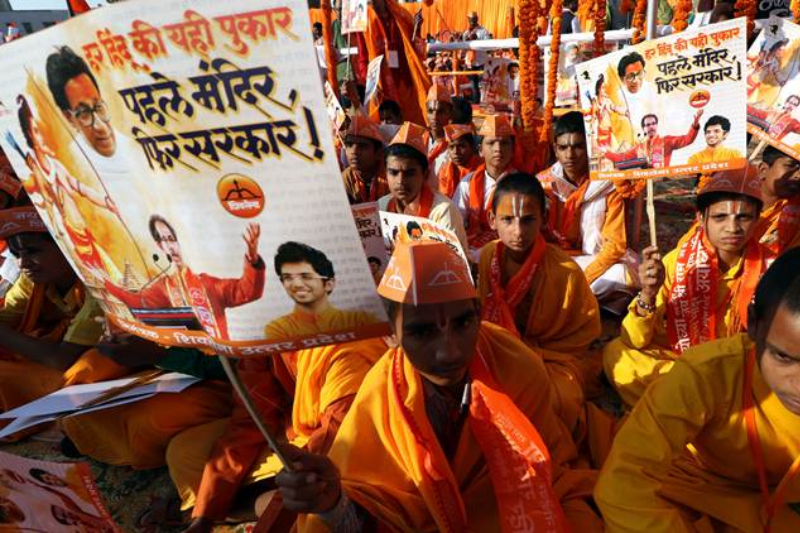 Shiv Sena chief Uddhav Thackeray, who is currently in Ayodhya to support Dharma Sabha organised by Vishwa Hindu Parishad (VHP), lashed out at the BJP-led government for not taking Ram Mandir issue seriously. Thackeray also warned BJP government saying that Hindus sentiment should not be taken for granted.
"I am only asking (BJP) that when you were campaigning for elections you said all possibilities will be explored under the Constitution …what has been done in four years ..when will you explore possibilities,"  news agency PTI quoted him as saying.
Thackeray also came down heavily on Uttar Pradesh chief minister Yogi Adityanth, saying that Yogi said that there was a Ram Temple in Ayodhya and there will always be one. "But when will it be visible… it should be constructed at the earliest," Thackeray asked.
Hitting back at Sena Chief for his latest tirade against BJP over Ram Mandir-Babri Masjid, BJP MLA Surendra Singh Sunday said, "How can Shiv Sena hijack the issue? The people who thrash north Indians and drive them out, who don't even have the mentality to serve humanity, how will they serve Lord Ram?"
Issuing a warning to Centre, Thackeray urged that Ram temple will be built in Ayodhya irrespective of whether the BJP government returns to power next year. Adding on he said, "Whether it is an ordinance or a bill, we want the construction of the Ram temple. If this government does not fulfil our demands, then, they shouldn't forget that only a few days are left for the Lok Sabha polls."
In meantime, the All India Muslim Majlis-e-Mushawarat (AIMMM) has written to President Ram Nath Kovind, seeking his urgent intervention into the developments in Ayodhya. "If any attempt is made to forcibly change the status quo at the disputed site at Ayodhya, it would tantamount to a gross violation of the orders of the Supreme Court," AIMMM chief Navid Hamid said in the letter.
Also read: Congress scares SC judges, asked to delay Ayodhya hearing: PM Modi