BJP Manifesto 2019, 10 Highlights: Ram Temple, NRC Among Party's 'Sankalp Patra'
BJP Manifesto 2019 PDF Download: Zero tolerance towards terror, Ram Temple highlights of party's 'Sankalp Patra'.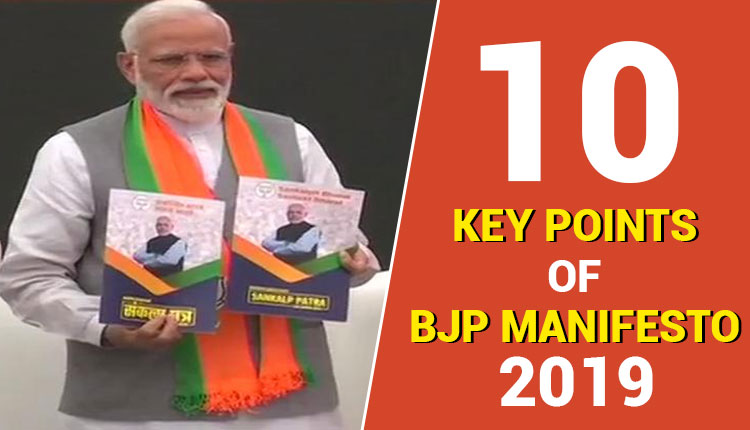 Days after Congress President Rahul Gandhi released Congress 2019 Manifesto, Indian Prime Minister Narendra Modi and BJP chief Amit Shah have finally dropped BJP 2019 Manifesto today. Launching BJP Manifesto, Narendra Modi called it Sankal Patra, a bunch of paper promising good governance, security of the country.
At BJP Manifesto launch event, Amit Shah claimed that India had slipped in the eyes of the world when Congress was in power between 2004-2014 and now it comes under one of the top six economies. Praising Modi's work between 2014-2019, Shah said that PM Modi did justice to every sector of the society. PM Modi and Amit Shah have talked about a number of issues.
Here are 10 key points of the BJP manifesto 2019
1. If BJP voted to power, BJP will strengthen Indian armed forces and will buy outstanding defence equipment to make it more powerful.
2. Indian armed force will continue to get a free hand and will adopt zero tolerance towards terrorism.
3. Talking about NRC,  BJP will implement NRC (National Register of Citizens) in a phased manner in other parts of the country.
4. BJP vows to invest Rs. 100 lakh crore in the infrastructure sector by 2024.
5. One of the most controversial issues, BJP has once again promised to build Ram temple will as soon as BJP is voted to power
6. Modi described the BJP Manifesto 2019 is an aim to fulfil the aspirations of 130 crore Indians.
7. In order to prevent any illegal infiltration in the north-east, advanced technology and smart fencing will be used.
8. Interest-free farmer credit card loans, short term agricultural loans up to Rs. 1 lakh to be given at zero per cent interest, for one to five years, on the condition of prompt repayment of principal amount.
9. Reiterate position since the time of the Jan Sangh, to scrap Article 370 (special status to Jammu and Kashmir); committed to annulling Article 35A or the law which says that no outsider can own property in Jammu and Kashmir.
10.BJP will build pakka house by 2022 for those who are living in kaccha house or do not have a house.
Download the BJP Manifesto 2019 in PDF File here:
BJP Manifesto 2019 Hindi by on Scribd