Congress Manifesto 2019: Highlights, Promises Made By Congress Party
Congress Manifesto 2019 List of Promises: NYAY, Farmers, GST 2.0, Jobs, Women Reservation, Kashmir; Highlights And Full Text of Party's Vision Document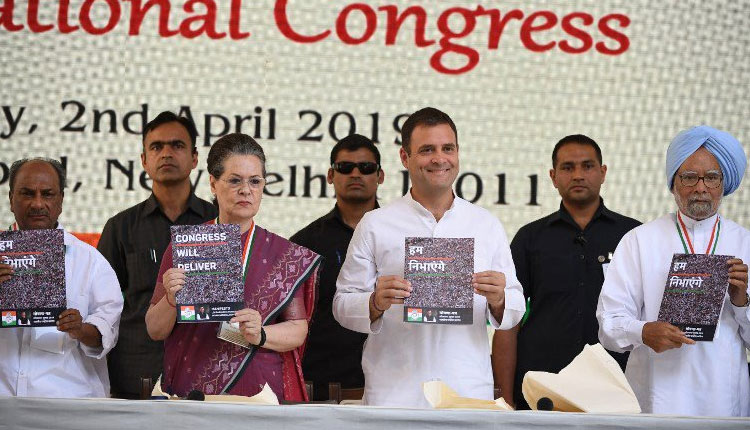 Congress party has finally released its Manifesto for upcoming Lok Sabha Elections today. The tagline of grand old party's manifesto for the 2019 General Election is 'Congress Will Deliver'. We have covered everything and will provide you copies of Congress Manifesti 2019 in PDF or in the Hindi language so you can download and read in peacefully.  As expected the manifesto was launched by Congress President Rahul Gandhi under the presence of his mother Sonia Gandhi, sister Priyanka Gandhi, former prime minister Manmohan Singh and several senior party leaders.
Congress in its manifesto has promised to provide 22 lakh government jobs by March 2020 and Farmers would not be sent to jail for not paying their debts as it will not be a criminal offence once Congress voted to power. On the other Finance Minister Arun Jaitley called the manifesto  "dangerous and un-implementable, and an agenda for Balkanisation of India".
Congress Manifesto 2019 Divides Into Six Categories
Congress Manifesto has been broadly divided into six categories including Kaam, Daam, Shaan, Samman, Sushasan and Swabhimaan. They have also mentioned that amendment of the Armed Forces Special Powers Act (AFSPA) 1958.
The Congress party seems to have more focused on NYAY Schemes assuring Rs 72,000 per year for India's poorest citizen. Yes, they have included the below poverty line people in the top five main themes of their manifesto. While launching the manifesto, Rahul Gandhi said that it will hel remonetize what Prime Minister Modi had demonetised in 2016.
He said the country was going through an "economic emergency" and shock therapy was needed. "That will happen when we give directly to the poor and increase their buying power." Rahul also promised to change Gabbar Singh Tax for Goods and Services Tax and simplify it. (Also Read: Top 15 Free Movies Download Websites To Download HD Movies)
"The narrative is NYAY. It is if (Prime Minister Narendra) Modi can give Rs. 30,000 crore to Anil Ambani, then Congress can give Rs. 72,000 to the poorest. Modi has got a shock effect of this. He's hiding behind excuses. He can't hide behind the reality, which is joblessness," said Rahul Gandhi.
Congress Manifesto Pledges To Double GDP
Gandhi has also promised that total government expenditure on healthcare will be doubled to 3 per cent of GDP by the year 2023-24. The party has also promised to pass the Right to Healthcare Act providing healthcare services including free diagnostics, out-patient care, medicines and hospitalisation to citizens through a network of public hospitals and enlisted private hospitals.
Rahul Gandhi said the once they voted to power they will pass the Constitution (Amendment) Bill to provide for reservation of 33 per cent of seats in the Lok Sabha and State Legislative Assemblies for women in the first session of Parliament after 2019 polls.
Speaking about Congress's prime ministerial candidate, Rahul Gandhi said: "It is on the country, it is not on me. I just work. You have to ask the people of the country."
Congress Manifesto 2019 Key Points in PDF File (English)
Congress Manifestro 2019 In… by on Scribd

Congress stated that their manifesto process reflects the commitment to a higher vision – that of listening to the Jan Awaaaz. It is not the 'mann ki baat' of one individual but the collective voice of lakhs of people. If anything to by Congress official website, they have used all possible tools – website, WhatsApp, email, online petitions, along with meetings with citizens, experts, stakeholders and grassroots activists.
Between October 2018 and February 2019, many of you engaged in a conversation with the Congress, in at least 16 languages, through the medium most easily available to you. Congress Manifesto Committee organised 121 consultations with the public and 53 consultations with experts such as farmers, entrepreneurs, economists, students, teachers, women's groups, doctors, lawyers and many others. We held consultations in over 60 locations across 24 States and 3 Union Territories. We also met with NRI representatives from over 12 countries.
Read Congress Manifesto 2019 In Hindi and Download
Hindi Manifesto MobilePDF 2… by on Scribd

Wants to Read Full Text of Congress Manifesto You can Click Here…
Source: NDTV